After more than a month since its opening, I finally made it down to the pop-up Pokémon Cafe located at Parco Bugis Junction. This was another one of those spontaneous meet-ups with Lin Ying, a theme cafe veteran, and Natasha, a theme cafe new recruit. Me? I'm just there because it's Pokémon!
Geek Alert!
I used to be a Pokémon fan – watching the cartoons and movies – but it really peaked when Sean and I started dating. He got us the games to play and gradually, we started collecting the figurines, most of which are in ratio to their actual size. Now, we've even gotten the children on board!
Pokémon Themed Birthday for Blake!
And since I've read reviews from others who went earlier, they had brought their own props, I came prepared with a few Pokémon and Pokéballs from our own collection to up our game in food photography!
I arrived at Pokémon Cafe early, about 40 minutes before opening hours, as I was excited Natasha only had lunch time to spend with us. We had to get a table as soon as we possibly could. Turns out, I was the first in line. Yay!
Unfortunately, first in line don't necessarily mean first to be seated.
We had to order a minimum of three items before being shown to our table as it was a table for three. Neither of us knew about this. So while I was scrambling to find out what Lin Ying and Natasha wanted to eat, the girls queuing behind me had already placed their order and were led to their table. Oh well!
Food was served within a reasonable time frame and we began to snap away!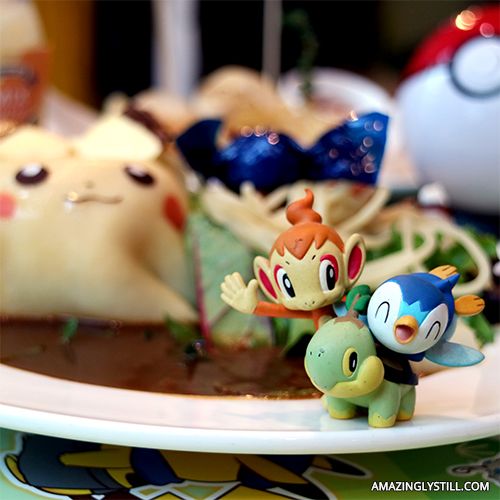 We were playing around with various angles, placement of the food and props (which included the place mates that came with the meals) so much that fellow diners came to ask if they could take photos of our food with the props. We have leveled up! Haha!
An hour was spent taking photos, which meant that our food had gone completely cold. This had me entering the following food review with the mindset of whether the food passed the Cold Food Taste Test. I'm pretty sure I won't be the only one eating cold food from Pokémon Cafe!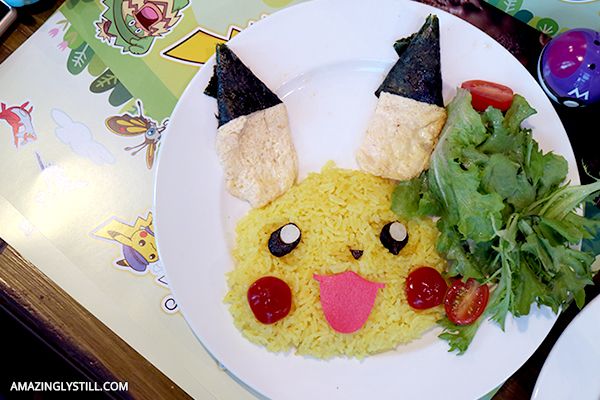 Pikachu Smiling Rice Omelette with Magma Sauce
Probably the plainest tasting thing ever, only because the Magma sauce is a little too strange for my taste buds. The only reason anyone should consider getting this dish is just so they can collect the official Pokémon Cafe Mug. That said, the rice wasn't that bad. I just wish I had some meat to go with it!

Battle on Pikachu! Level up with Rare Candy!
This I like very much! The mash potato and beef patty found under the Pikachu crepe still tasted pretty good even after it had gone cold. It was a tad drier than it's supposed to be, but the brown sauce kind of makes up for the lack of moisture. Decent for a dish that was left out for an hour!

Pokémon Cafe's Truffle Fries
The truffle fries weren't particularly special in terms of presentation. The images of Pokémon that were supposed to be on the chips failed to appear, except for one. As such, we ate it and it was pretty good. However, once it had gone cold… It's a whole other story.
By the time we were done with the main dishes, Natasha still hadn't arrived. She was on the verge of bailing out on us when I text her, "But we ordered for 3!" And next thing we got was a love message from her, saying that if she gets caught between the doors of the train, know that she loves us. So drama! Haha!
So whilst waiting for Natasha, we placed our dessert orders and I went to take a look at the Pokémon Cafe merchandise.
Some are exclusively for Singapore's Pokémon Cafe, while some can be bought in department stores around our island.

DIY Pikachu Cheesecake Kit is also available at the front counter
Just as I finished looking around, Natasha showed up. And our desserts were served! What awesome timing! Round two of photo-taking commenced!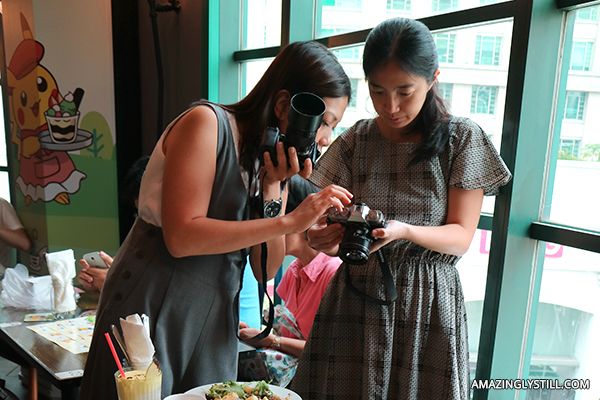 I got a little bored taking photos of food, so I went rouge and snapped photos of these two at work. Haha!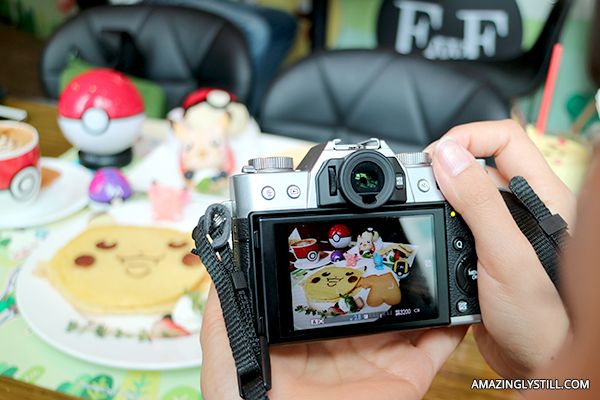 Got artsy-fartsy feel or not? Haha!
And at one point, this happened…


Pikachu's "Thunder Shock" Parfait
This is the most delicate item on the menu. And I say with utmost plea… If you're going to order this and take photos of it, have the server place it for you at where you want it to be at, AND DO NOT MOVE IT until you're ready to eat it. The biscuit that made up the tail of Pikachu is very fragile and just the lightest touch will send the entire biscuit crumbling down.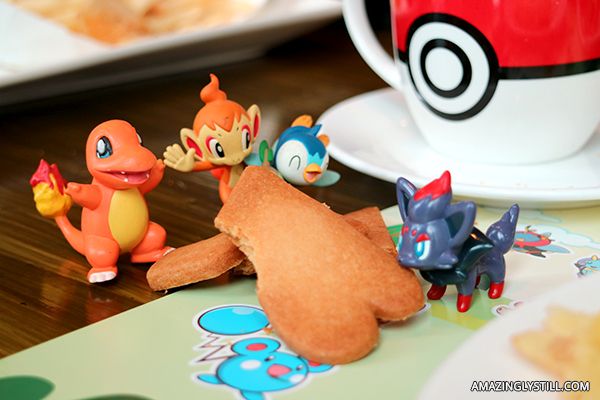 We broke two pieces in the process
The other is from Natasha's latte
But the biscuit is good! I just don't understand why it has to be so fragile! The overall verdict of this dessert is that it's not bad. I thought the cotton candy was a little overkill as it didn't really go very well with the parfait and whatever that yellow thing below Pikachu is.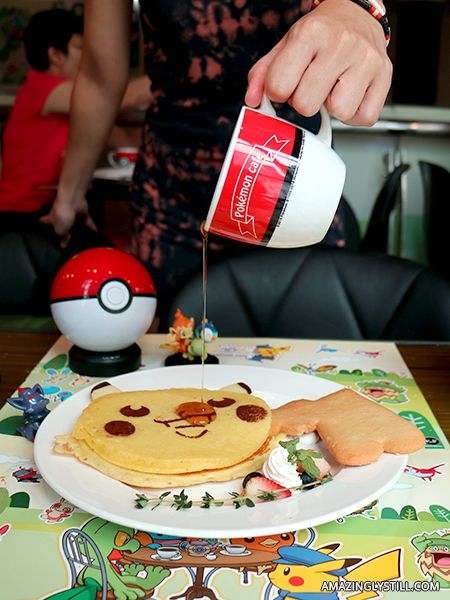 Pikachu's Sweeeeet Pancake
This absolutely failed the cold food taste test. It doesn't even come close to its name of being sweeeet, even with the maple syrup. The biscuit was the best thing to be found on the plate. The only reason that will compel people to order this, is for the Pokémon Cafe Mug that comes with the meal.
Need my opinion? Go for the Pikachu Smiling Rice Omelette with Magma Sauce, if you really want to get that mug.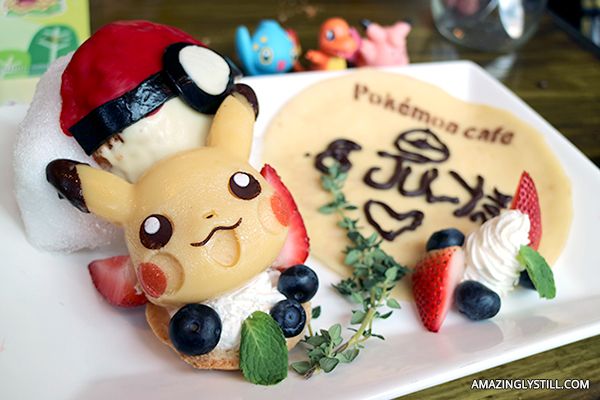 Pokéball Cream Puff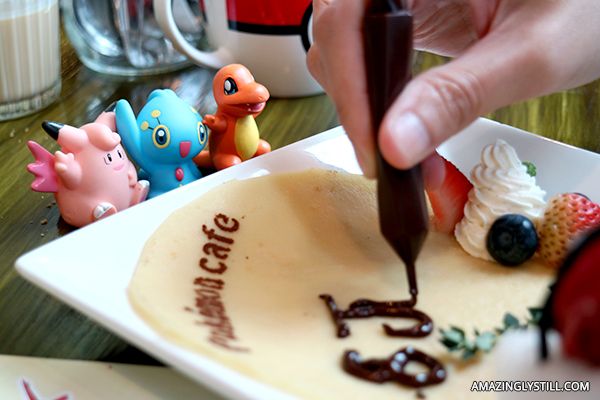 The Pokéball Cream Puff has got to be my favourite from the dessert menu. However, the crepe that it comes with… Don't bother eating it. It's as bad as the pancakes.
Instead, spend time decorating it with the chocolate "pen". If you're having a hard time squeezing the chocolate out of the tube, just let the staff know. It needs to be warmed up so that the chocolate will melt and flow out of the tube.
You probably can't see it in the photo above, but I was the given the honor of writing on the crepe. See how Lin Ying and Natasha bullied me into it – here and here. Sigh.
By the time we finished our photo-taking and sat down to finish up our desserts, we discovered that Pikachu had gone missing!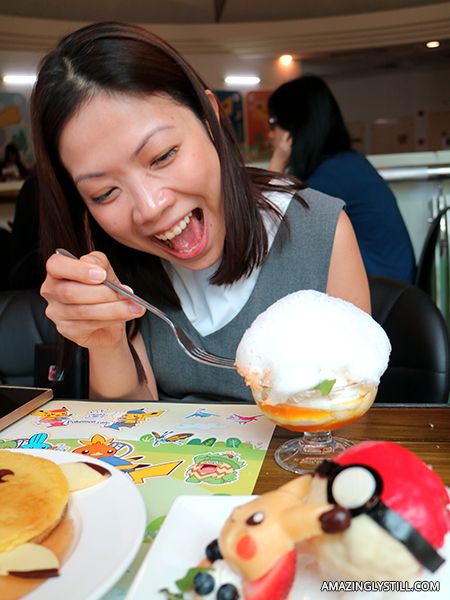 Come out, come out, wherever you are!
The Cotton Candy had collapsed over Pikachu, hiding it from our sight! Oh no!

Ah… There it is!
And before we finished up the impromptu meet-up that was met with one obstacle after another, we just had to make use of the photobooth located next to the front counter before we finally went our separate ways.
Actually, only Natasha. Lin Ying and I lazed around a little longer before we went home to our motherly duties. Haha!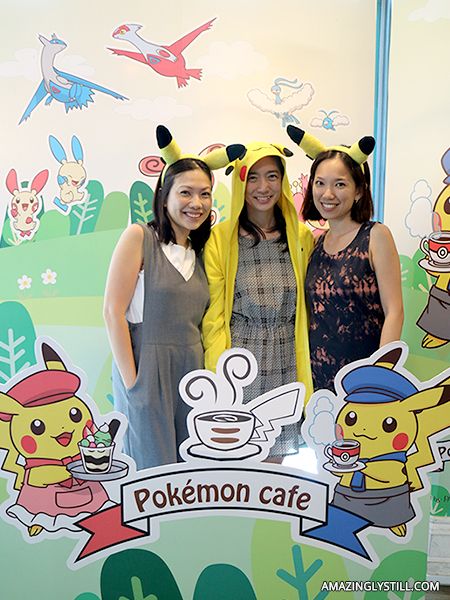 Say… PIKACHU!
Oh! And before I forget! There's actually one other item that I really liked from Pokémon Cafe, but I didn't take any photos of it, so I have plucked the image from Lin Ying's post. Haha!

Pokémon Cafe's Mix au Lait, inspired by Pokémon's lemonade
Super delicious and comes in a big mason jar. Bound to quench your thirst throughout the time spent at Pokémon Cafe!
* * *
POKÉMON CAFE
Bugis Junction #04-05
200 Victoria Street
Singapore 188021

Opens daily from now till 31 July 2016
11am to 10pm
Disclaimer: Not sponsored. Wish it was though… My wallet is crying!