Media Invite
And we're back again at SHAPE Run!
Co-presented by Skechers once again, I'm so glad that the Family Fun Run category continued to be open to all genders, encouraging fathers to participate as well.
After last year, I realize the real joy I derive from participating in all these races is being with my family!
And this year's SHAPE run is a little more meaningful than the previous years. Mostly due to the fact that it's on 24th July – our anniversary date! And this year marks the 12th year we've been together from day one.

How silly that neither of us realized it until we sat down to have brunch! Haha!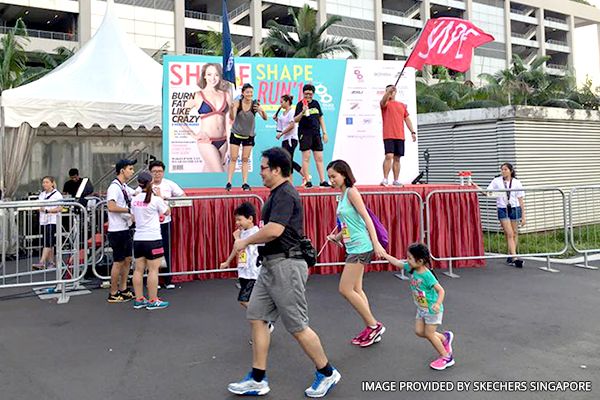 We reached the starting line a little after flag-off, and received great welcome from the team on the podium. They gave us our own flag-off and encouraged the children with cheers. What a treat!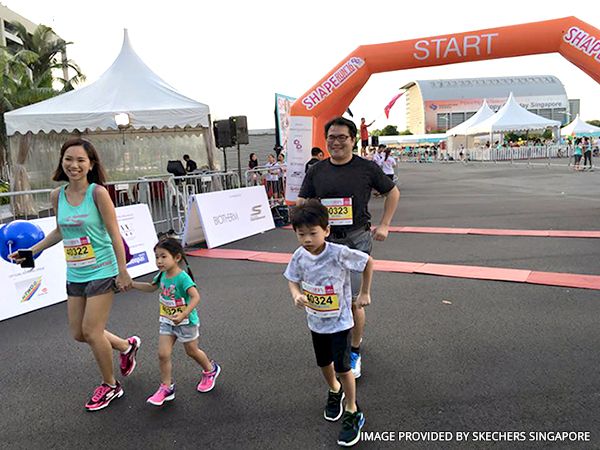 Zoom! Off we go!
Throughout the 1.8km, we did a mixture of brisk-walk, slow jog and sprint. I was surprised that Blake wanted to run together as a family, following Nakayla's pace instead of dashing off with Sean as usual. So happy!
Perhaps it was because Blake wanted to race with Nakayla. They took it upon themselves to race one another and would yell, "I WIN!" even though we're still mid-run. Haha!
I have to say though, our Skechers were the main highlight of the run as the children couldn't stop gushing about them!
Skechers Girls: I love my pink shoes! It's so glittery!

Skechers Boys: My shoes has lights, means I can run at night.
And I can run very fast because it's light!
It's not just the children who were gushing over Skechers shoes. Us, the parents, were too!
GOrun 4 (Men): Light-weight and cooling.
Definitely made for high performance as it feels so comfortable!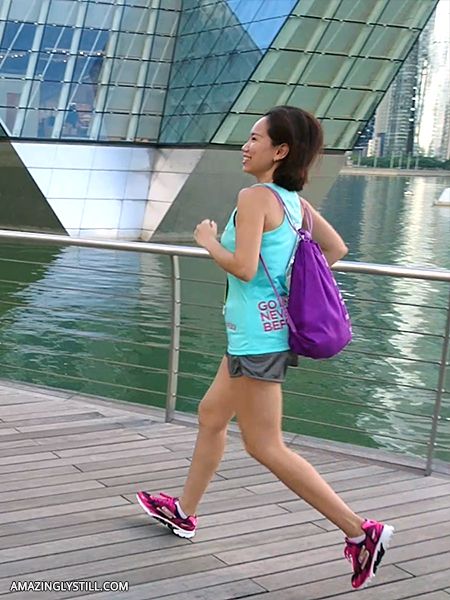 GOrun 4 (Women): Absolutely LOVE the colour and how well-fitted this pair is for my feet.
Didn't realize I'm now a heel-strike runner. Could barely feel the difference!
After completing the race and collecting our medals, we hydrated ourselves with all the readily available drink options around the event space. We then went in search of our friends who were at the run too!

Soon, the time came for us to leave; Our stomachs were calling for food! Haha!

What a great start to celebrate 12 years together!
Ending this post with…

* * *
OH! Look! Summer's husband managed to capture us running at the start!
* * *
SKECHERS can now be found at Junction 8 too!
We are now open at Junction 8 #01-10/11! Pop by for opening special and fun in spin the wheel games! #skecherssg #skechersjunction8 #newstore

Posted by SKECHERS on Tuesday, 19 July 2016
Disclaimer: We were invited to participate in this year's SHAPE Run. Skechers also kindly provided our running shoes for the race. No further compensation was received. Shoe reviews for the children's series are exactly what the children said when I asked why they like their new shoes.