Media Invite
It's our third year at SHAPE run! Well, that's the case for Nakayla and myself, at least. Haha!
In case you missed it, Nakayla and I first participated back in 2013 where she happily sat in a super comfy stroller for the Stroller Race. The following year, Blake and my mom joined us for the Me and Mini Me category!
And for this year's SHAPE run, co-presented by Skechers once again, a new category was introduced – Family Fun Run! I love all these changes they make year after year. It just keeps getting better!
Oh, and I joked that thanks to the new category, the men finally got to infiltrate this all-women's run as participants. Haha! I'm loving it!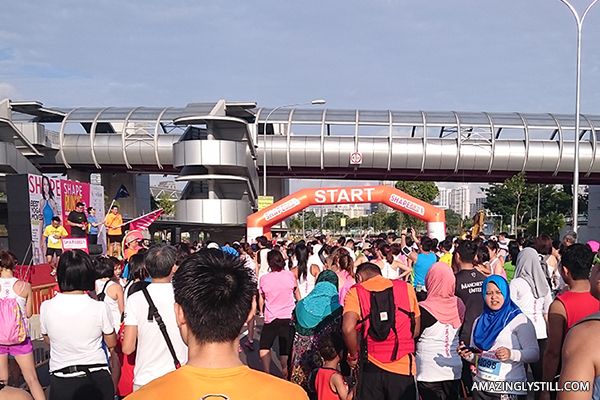 The children were super psyched to be running, Blake especially. He just couldn't wait for the race to begin! And just like the earlier race we participated this year, we lost sight of Sean and Blake the moment the air horn went off.

June and her family
Nakayla and I were probably at one-third of the full 1.8km distance when we spotted June and her family! Managed to grab this awesome shot of them in a split second before they dashed off. And moments later… Nakayla and I saw…

Blake and Sean!
My little champ got tired half-way through the race. Perhaps 1.8km is still a little too long for him (and Nakayla) at the moment. The blazing morning sun didn't help either. He was a little disappointed, but I'm glad he knew when his body had reached the current limit and he needed to go slow, instead of pushing himself harder. I guess this also means more training is needed! Hehe.
At the final stretch, Blake and Nakayla gathered all the strength they had and ran towards the finishing line! Seeing them give their all to cross the finishing line was such a proud moment for Sean and me, one that we may have forgotten to capture on camera, but one that will forever stay in our memory.

They were super happy to receive medals for their effort!

Yay! We did it!
Thanks for taking the photo, Estella!
Disclaimer: We received an invitation from Skechers to participate in SHAPE Run's Family Fun Run. We also received a pair of shoes each from Skechers.