Media Invite
Breakfast is the most important meal of the day, but due to work and school on weekdays, we hardly spend the most important meal of the day together. What a bummer!
So whenever possible, we try to make our breakfast on weekends together a good one.
And on one of the most historical Saturday for Singapore ever, Joseph Schooling brought home Singapore's first Olympic Gold medal, we ate our heart's out at Swensen's! Best way to celebrate in Singapore – EAT! Haha!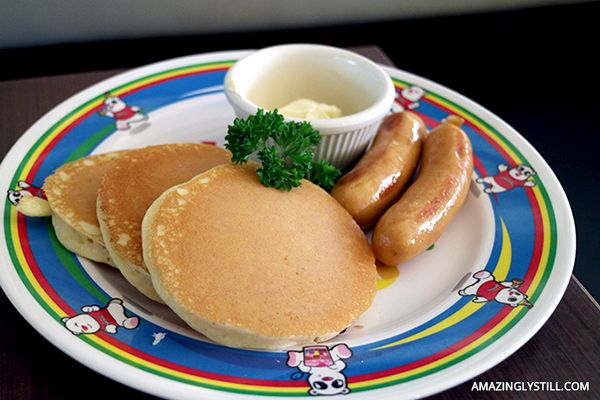 Simply Pancakes, $7.80
Vanilla buttermilk pancakes with homemade honey buttercream and cheesy sausages
Blake enjoyed the pancakes, but more so with the cheesy sausages. He was done in record time, and was the first among the four of us to declare he had finished his breakfast. This usually signals delicious food in his presence. Haha.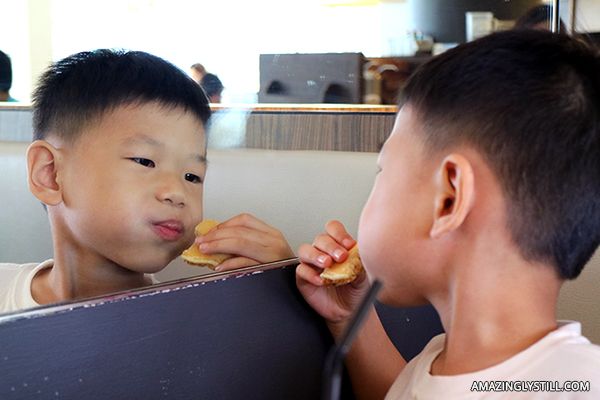 In the words of the first finisher, "It's really tasty and nice. It's good!"

Super Trooper Waffles, $7.90
Waffles with honey buttercream and strawberry
The moment I saw the children's menu, I knew Nakayla will pick waffles for breakfast. And the reason is simple… There's a strawberry on it.
And sure enough, she set her eyes on her prize instantly, announcing to anyone who would listen to her, "I want the strawberry!" Never underestimate a mother's instinct.
While she had no problems finishing up the strawberry, buttercream and one waffle, Nakayla struggled with the final waffle which proved to be too much for her little stomach to handle. She tossed in the towel, and ended her breakfast by polishing off her ice cold Milo that came with the meal.

She only had one word to describe the meal, "Good!"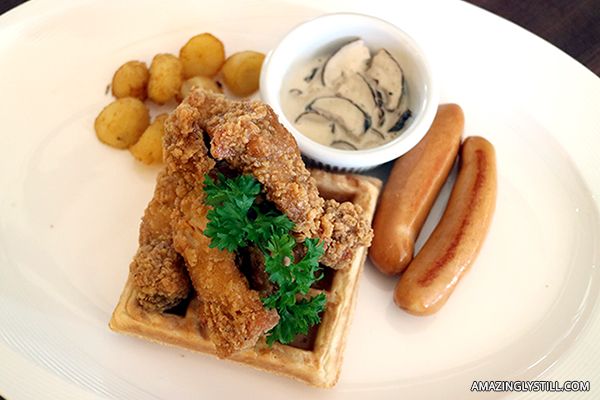 Chicken N Waffle, $13.90
Crispy chicken on a waffle with butter lime dressing
Served with buttered potatoes, creamy mushrooms and cheesy sausages
This has a great balance of carbs and protein and Sean was happy to find the chicken succulent on the inside and crispy on the outside. He was pleasantly surprised by the new butter lime dressing. It adds a zesty tinge without being overly sour. It was refreshing!

Triple Cheese Toasties, $12.50
Three layers of special cheeses on sourdough bread
Served with cheesy sausages, buttered potatoes and creamy mushrooms
I ordered this with the impression that it will be crispy and cheesy (think thin crust pizza) because of the word, "Toasties". Alas, it didn't have the crunch I had expected. While that was disappointing, it was still a good meal nonetheless.
The buttered potatoes and creamy mushrooms that I ate between bites made all that cheese less heavy on my palate than one would expect from such a cheese-filled meal.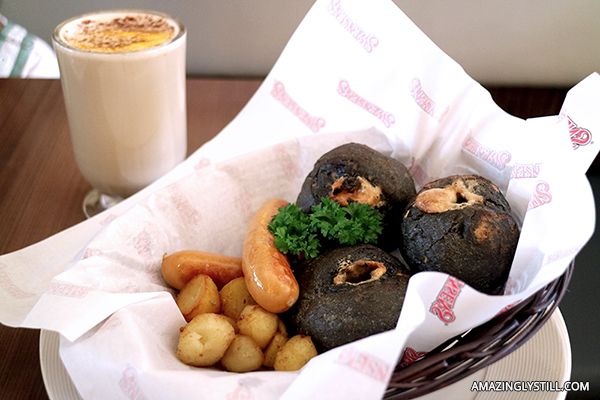 Salted Egg Lava Rolls, $10.80
Charcoal bread rolls with salted egg butter cream
Served with buttered potatoes and cheesy sausages
The latest item to be included in Swensen's new menu is the Salted Egg Lava Rolls! This had me drooling because I love salted egg with anything! Almost. Don't put it on vegetables, please. Haha!
The bread rolls were crusty and the salted egg butter cream was savory. My only gripe was that the salted egg butter cream wasn't evenly distributed. One bread roll had an acceptable amount, while the rest was just sad. I honestly will appreciate more salted egg butter cream in each bread roll, so that I can tear it open and go, "OMG! Quick, rescue every drop!"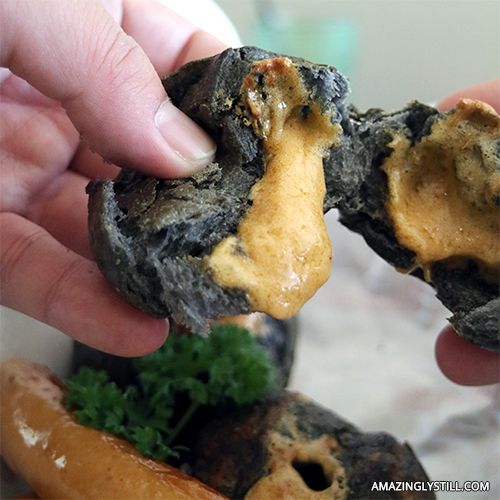 On the bright side, less filling means less chances of looking unglam while eating.
Overall, we had a sumptuous breakfast with our loved ones while sharing the joy of knowing Joseph Schooling won the first Olympic Gold medal for Singapore. Definitely a great way to start the day!
* * *
For more information on Swensen's menu, outlets, operating hours, and on-going promotions, please visit their website.
Note:
– Choice of drink for the children's menu include Apple juice, Orange juice or Iced Milo.
– The breakfast meals comes with a complimentary coffee or tea. An upgrade to cappuccino or cafe latte is available at $3, apple or orange juice at $1.
Disclaimer: While we were invited to the media tasting of Swensen's new menu, this review was written on a voluntary basis. No further compensation were received.