Media Invite
First and foremost, I need to declare that this is one of the most enjoyable and filling media tasting I've done in a while. Mainly because of the company present and amount of food we shared with one another! It felt more like a gathering with friends than work. And as long as friends are around, things will automatically become fun!
We were the first to arrive and promptly got ourselves comfortable at our table. The children got super excited when they were presented with colouring pages and pencils! While the children were creating their master pieces, Sean and I browsed through the menu to see what dishes appealed to us.
As the children were getting hungry, we decided to place orders for them and let them have their meals first. Choosing the children's food was easy-peasy. There were three options – Burger Builder, Volcano Mash and Noodle Nest.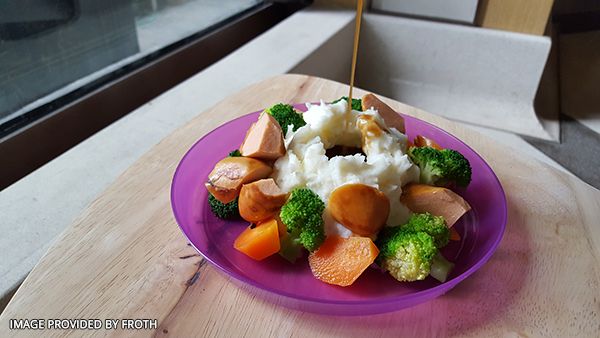 Volcano Mash, $8.90++
Mashed potatoes, smoked chicken bratwurst, carrot wedges and broccoli
Being my children, they devoured the bratswurst and carrot wedges upon arrival and took their time to finish up the mashed potatoes. They left the broccoli untouched for Sean because they want to make sure he eats well and will be around for a long time.
Sean and I had a taste of the mashed potatoes, and going by the cold food taste test (also applicable when parents have to finish up the leftovers of their children), it passed. It's really not bad with the brown sauce all mixed in.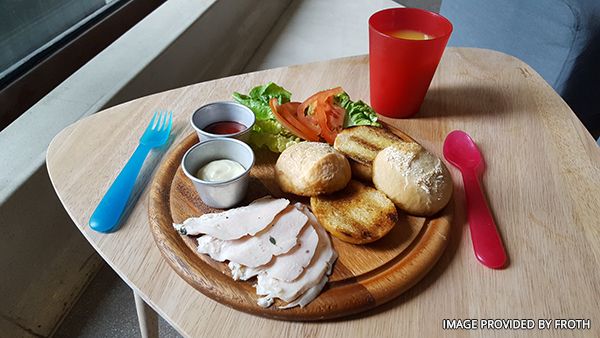 Burger Builder, $8.90++
Chicken breast slices, lettuce, tomatoes, mini buns and side of fries (not pictured)
You know how our parents used to say, "Don't play with your food!"? Well, with the Burger Builder, the children have to. They are supposed to put their burger together before eating.

As demonstrated by Natasha's boy, Liam
My children… Well, the potential hipsters ate their deconstructed burger as-is. Deconstructed.
That's how it's served, and that's how I'll eat it!
Blake and Nakayla clearly enjoyed the mini buns, chicken slices and fries, wiping them out in no time. I didn't even get a bite of the mini buns or the chicken!
Note: Kids dine for free on weekends! With every purchase of a main course, one kid will get to enjoy a free kid's meal.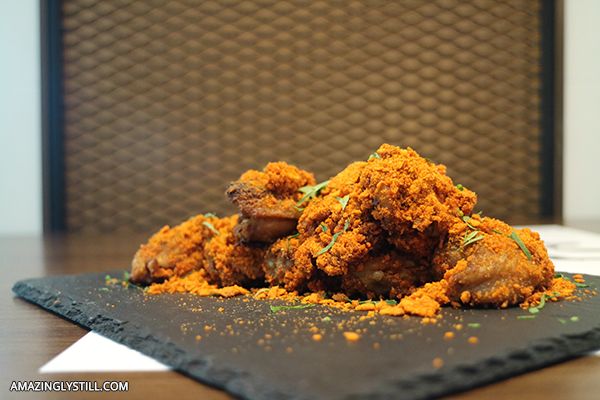 Doritos Crust Winglets, $16.90++
Confit Wings crusted with spicy Doritos mix
Sean ordered these winglets for starters and while I'm not exactly a big fan of spicy food, all the brunches and lunches with Irene, Natasha and Lin Ying has trained me to at the very least give it a try. And thank goodness I did!
The winglets had their bones removed (no unglam moments!), and the spicy Doritos were tolerable. No sips of water between bites were required! Just thinking about it makes me wish I knew magic. You know the one where the magician can just pluck food out of a picture? Yup. That magic trick!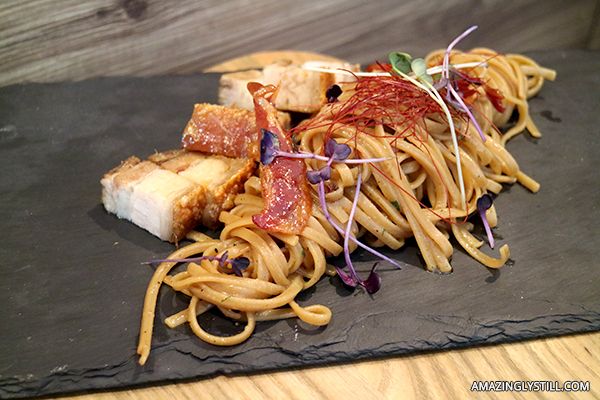 Siobak Aglio, $25.90++
Linguine served with homemade slow roasted pork belly crackling and pork jerky
Another spicy dish I took the plunge with is the Siobak Aglio. It looked so delicious that I couldn't resist a bite. Or two. Or more. My mouth was literally watering while I was taking photos of it.
Most of the spiciness is on the linguine, which was cooked to al dente. I managed to finish about half before I surrendered. Worth burning my mouth for! The skin of the roasted pork belly is so crispy and the meat was tender. Such a delectable contrast!
And the pork jerky! Oh gosh! If it was served as a side dish, I'll totally order it!
Note: This is spicy to me only because I avoid chilli as much as I can. Not sure how it'll be like for those who can take spiciness.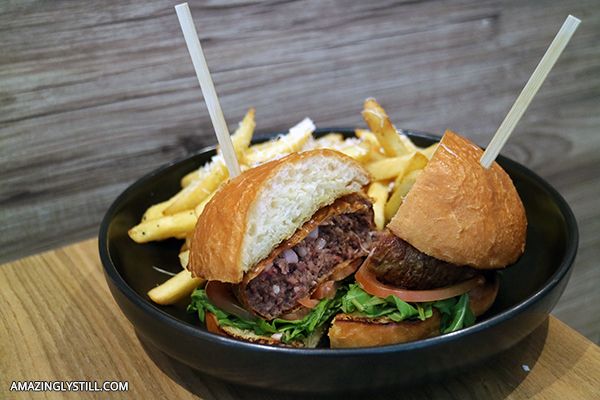 Five Spice Wagyu Patty Burger, $34.90++
Homemade five spice wagyu patty wrapped in crispy beancurd skin, with baby arugula and tomatoes on a soft brioche burger bun
This was the one dish that really got Sean and me raving over. What an interesting way to remake one of my favourite food, Ngoh Hiang (5-spiced rolls), and with wagyu beef too! The moment I took a bite, I was in love!
The meat was juicy and flavorful. The saltiness from the crispy beancurd skin was a great welcome too! And given that it's a remake of Ngoh Hiang, water chestnut definitely had to be present, and that offered the burger patty a flavor that is just so divine to my palate.
The truffle fries that came with the burger is a must-eat while it's hot! Gosh. I can't remember the last time I had such delicious truffle fries. How can there be so much goodness be in one plate? Unbelievable!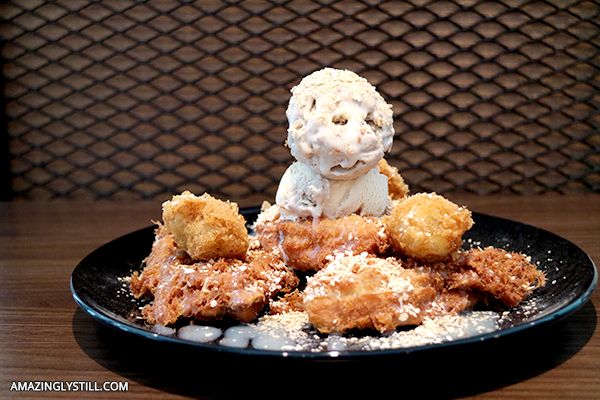 French Toast Waffles with a Single Scoop of Ice cream, $16.90++
(add-on ice cream is $4.90++ each)
This was highly recommended and I must say, I can easily have this for breakfast too. Waffles prepared like french toasts (french toasts are breakfast food, right?) with added calcium (from the ice cream!). On top of that, there's fruits too! See the little balls that are lighter shade on top of the waffles? Those are fried bananas (goreng pisang)! It's a wholesome breakfast meal for sure! Hehe.
We ordered ours with Sea Salt Caramel and Toasted Marshmallows ice cream. The latter kind of disappointed us as the texture didn't feel as smooth and creamy as we had expected it to be. The Sea Salt Caramel, on the other hand, was awesome! Definitely one of the best Sea Salt Caramel ice cream I've ever tasted.
The French Toast Waffles had a slightly different outer texture compared to regular waffles. This gave it a little more chew factor without losing the essence of a basic waffle. Eat it together with the ice cream and BAM! We have a winner for all sweet-tooths and carb-loving individuals!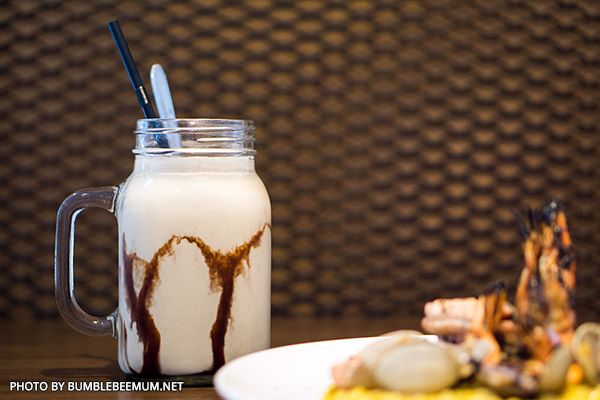 Speculoos, $14.90++
Finally, we have THE milkshake of all milkshakes – The Speculoos!
It is also another highly recommended item at Froth, and boy oh boy, am I in all kinds of dessert heaven with this keeping me company throughout my meal. This large mug of goodness was what I relied upon to push through the spicy Siobak Aglio!
It may not be aesthetically appealing, but it's so rich and tasty. Yummy!
By the end of the day, we were all happy and well-fed people! Yay!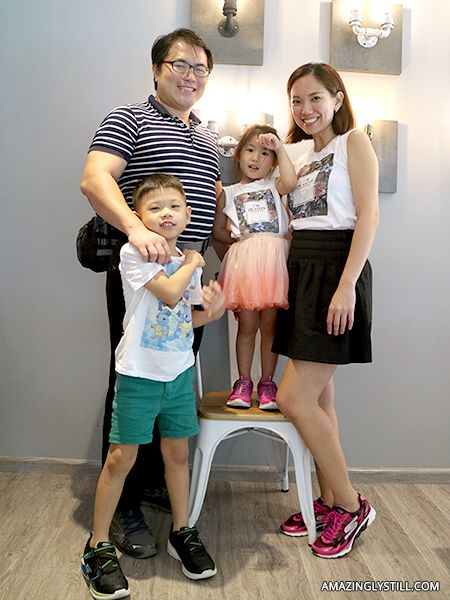 Thank you for such a wonderful meal and awesome spent with my loved ones, Froth!

* * *
Lin Ying from Bumblebeemum.net has written a really comprehensive review on the other dishes available at Froth. Read it!
* * *

Froth
Ascott Raffles Place Level 2
2 Finlayson Green
Singapore 049247
(Exit I at Raffles MRT Station)

Daily Operating Hours
Breakfast – 7am to 10.30am
Lunch and Dinner – 11.30am to 10pm

Contact: +65 6336 1228

For more information, do visit their website.
To make a reservation, you can do so here.
Disclaimer: Froth reopened at Ascott Raffles Place Singapore and invited us for a media tasting of their latest menu. While we were invited, this review was written on a voluntary basis (if it's not nice, it's not worth mentioning!). No further compensation was received.
Note: Please pardon the usage of stock photos for the children's dishes. It's more important to feed the children when they're hungry than to get Instagram-worthy shots and leave them with cold food to eat.