Campaign
Almost at the finishing line!
Day 4 of 5
Breakfast: Grilled Ham and Cheese Sandwich +
Scrambled Eggs + Strawberries and Bananas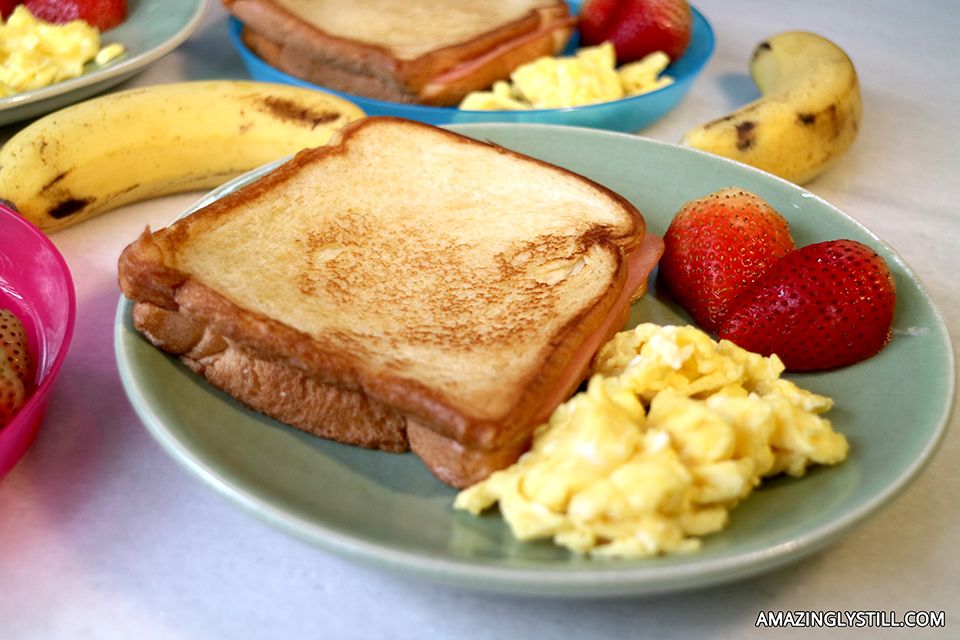 This particular sandwich brings back wonderful memories I had as a student. I'll always remember running to the western stall in the school's canteen to order myself a grilled cheese sandwich, be it during recess or after school. The way the auntie prepared it left a deep impression on me. So much so that when it came to making grilled sandwiches at home, I have only used her technique – to just keep hitting and flipping the sandwich!
While I haven't been able to replicate the taste of her sandwich completely (I think I'm missing an ingredient somewhere), I have developed my own style that caters to my current taste buds, as well as my children's.
Grilled Ham and Cheese Sandwich + Scrambled Eggs + Strawberries and Banana
Serves: 4

Ingredients:
8 slices Fairprice wholemeal bread
4 slices Fairprice Ham
4 slices Fairprice Cheddar Cheese
4 eggs
4 strawberries
3 bananas
McCormick Garlic Spread

Ham and Cheese Sandwich:
1. Spread garlic spread on one side of every slice of bread.
2. Place the cheese and ham between 2 slices of bread. Make sure the side with the garlic spread on is facing out.
3. Grill till the cheese has melted. No additional oil or butter necessary.

Scrambled eggs: Using the same pan after all the sandwiches are grilled, scramble the eggs. No additional oil or butter necessary.

Fruits: Slice and serve
Lunch: Chicken Mee Suah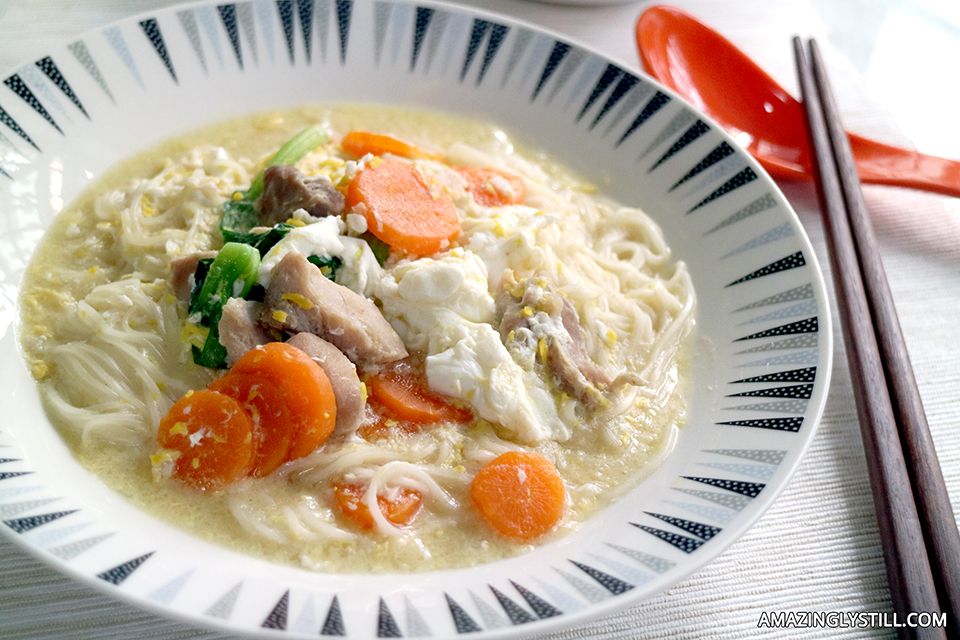 My first memory of a really delicious mee suah was a bowl my grandmother made for me when I was in confinement, after giving birth to Blake. The noodles were soft, the soup base thicker than most clear soups and light to taste. From that first bowl onwards, I've made many more bowls for myself and the family, creating my own version in the process. There are days where we have this for breakfast too!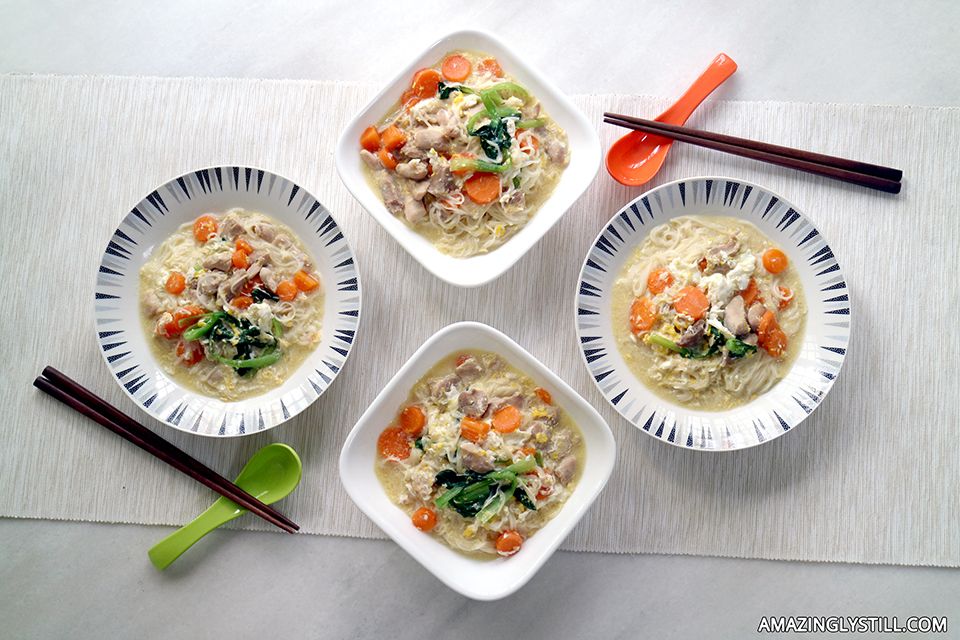 Chicken Mee Suah
Serves: 4

Ingredients for the Chicken Broth:
1 Chicken thigh, chopped into bite size
2 carrots
1 litre of water
2 Knorr Chicken Stock Cubes (no MSG)

Ingredients for the Mee Suah:
3 portions of Fairprice Mee Suah
A few bunches of Xiao Bai Cai
3 eggs

Cooking Method:
1. Put ingredients for the chicken broth into one pot. Boil till meat is cooked.
2. Add ingredients for the mee suah one by one into the pot, in the order given.
3. Crack eggs directly into pot and stir slowly till cooked.
4. Serve!
Dinner: Foil-Baked Fish + Honey Garlic Chicken + Steamed Egg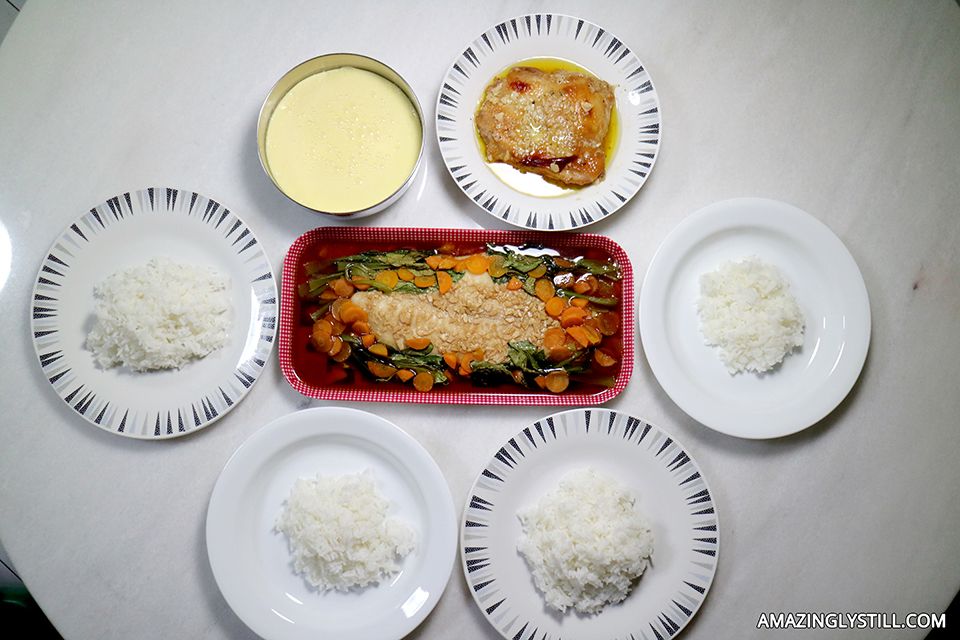 When I first started cooking for the family, a good majority of the recipes came from online sources, like these three dishes.
I have since done things a little differently by either modifying the recipe or the method of preparation to suit my cooking style or family's taste buds. Looking at these three dishes reminds me of the beginning – how I tried to find the simplest recipes that produced the most delicious of food with little effort.
Foil-Baked Fish

Ingredients:
1 frozen fish fillet, thawed
2 tsp minced garlic
2-3 dashes of ground ginger
3 tbsp light soy sauce
Dash of salt and pepper
1 carrot, diced
Xiaobaicai

Cooking Method:
1. Pat the fish fillet dry and place it in a foil that's big enough to cover the entire fish.
2. Place the washed xiao bai cai and carrots all around the fish.
3. Mix the rest of the ingredients together and pour it evenly over the fish.
4. Seal up the foil.
5. Bake at 180°C for 30 minutes. (No pre-heating required)
6. Remove from the oven and it's ready to be served!

Recipe adapted from Rice and Bread.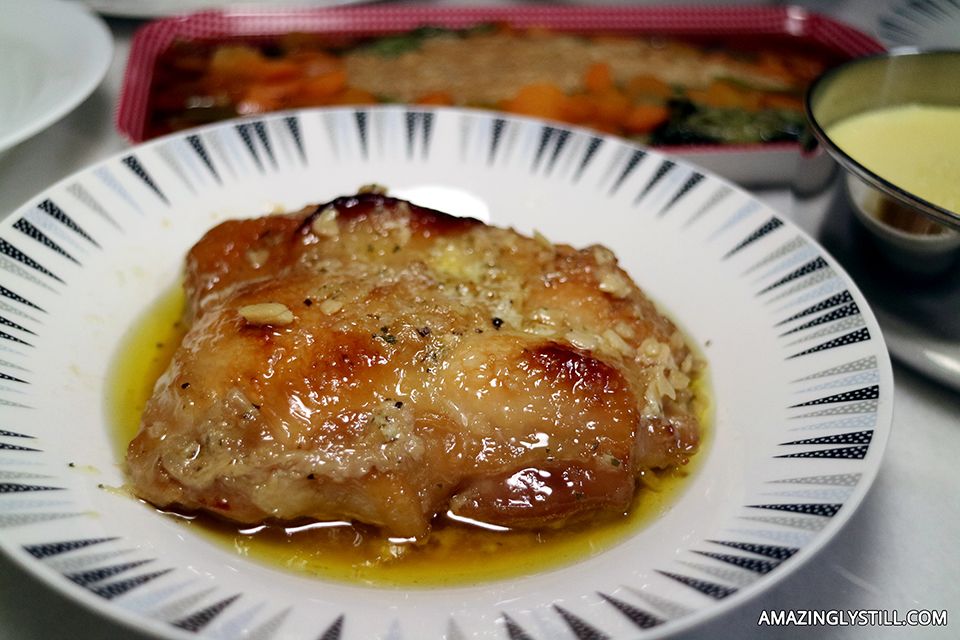 Honey Garlic Chicken

Ingredients:
1 chicken thigh
1 tbsp honey
1 tbsp butter, softened
1 tbsp light soy sauce
2 tsp minced garlic

Cooking Method:
1. Mix and marinate everything together for at least 30 minutes. Overnight in the refrigerator will be best.
2. Bake at 180°C for 30 mins. No pre-heating required.

Recipe adapted from Gimme Delicious.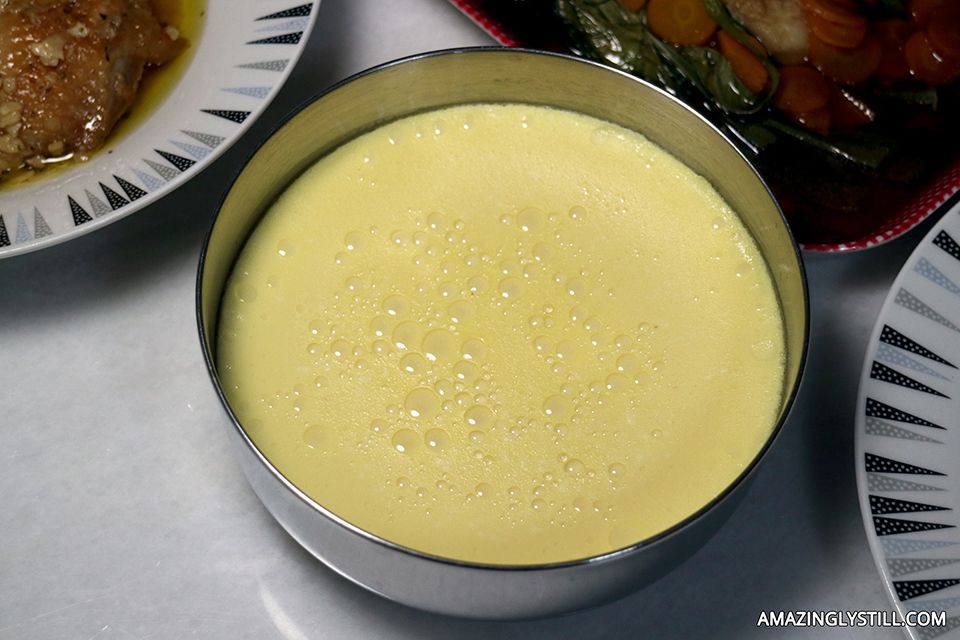 Steamed Egg

Ingredients:
3 eggs
Dash of salt per egg
1 cup chicken stock
1 tsp oil

Cooking Method:
1. Boil a pot of water oh high heat for steaming the egg.
2. Beat the eggs together with the salt.
3. Mix in chicken stock.
4. Strain into bowl for steaming.
5. Gently stir in oil.
6. Steam on medium heat for 7 minutes.
7. Remove from heat and serve.

Recipe adapted from FashionByAlly.
See what the nutrionist has to say about the meals from today:
Day 4 of 5 review
Disclaimer: We received a 5-day challenge from Fairprice Singapore, where we have to cook healthy and nutritious meals (breakfast, lunch and dinner) for the family within a given budget. This is part four of five posts brought to you by NTUC Social Enterprises and The Smart Local.