Campaign
Challenge completed! Yay!
Day 5 of 5
Breakfast: Puff Pastries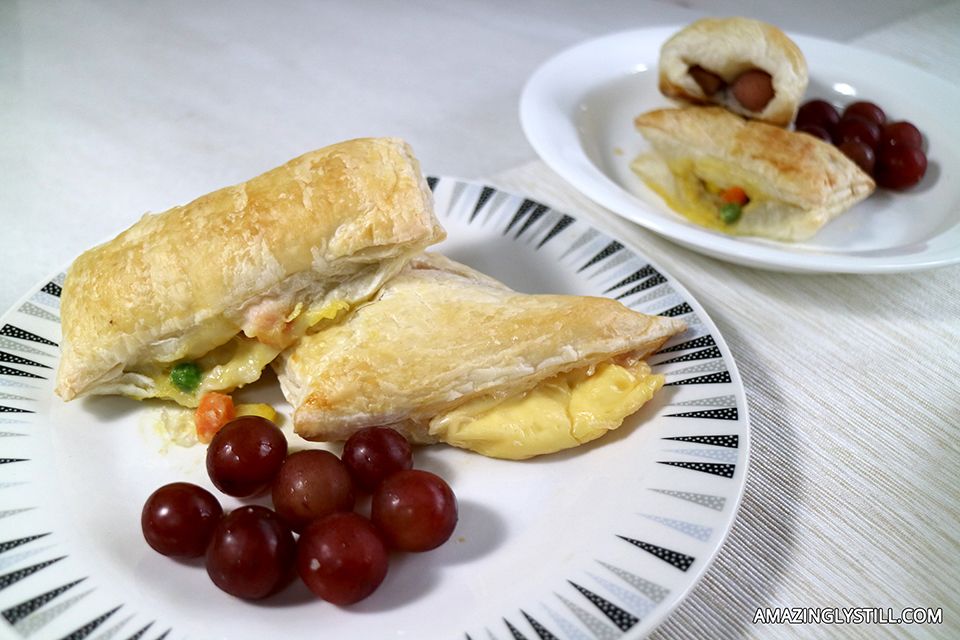 Puff pastries are some of my favourite types of confectionery, but I've never really made them regularly. I've tried making them from scratch once before I had kids, but it was too tiring for a second shot. Buying the ready-to-eat ones had always been easier, until I discovered frozen pastry sheets through a recipe I found online!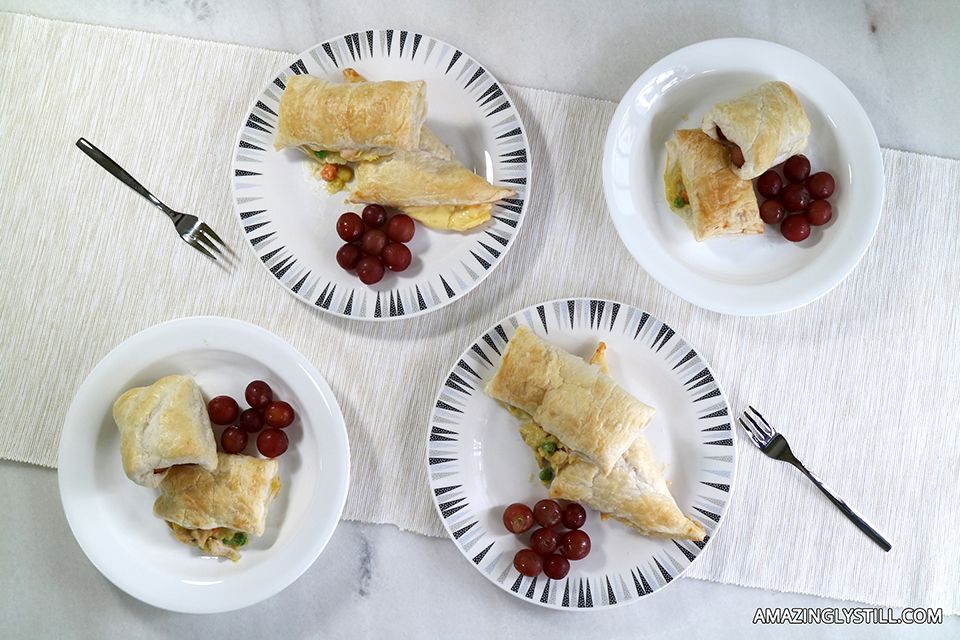 Puff Pastries

Ingredients:
2 puff pastry sheets
2 chicken franks
1 Campbell Cream of Chicken
1 cup frozen mixed vegetables
1 chicken thigh
2 Picnic Ham
2 Cheddar Cheese
1 cup grapes

Chicken Puffs:
1. Boil chicken till cooked. Remove from heat and dice.
2. Combine with Campbell soup.
3. Divide puff pastries into quarters, fill them up with a tablespoon of chicken mix each.
4. Fold and seal the sides. Bake for 180°C for 30 minutes. No pre-heating required.

Other Puff Pastry Ideas:
Chicken franks or ham and cheese. Place them in the middle of the pastry sheet and seal the sides.

Recipe adapted from The Domestic Goddess Wannabe.
Lunch: Yakiniku Ciabatta Sandwich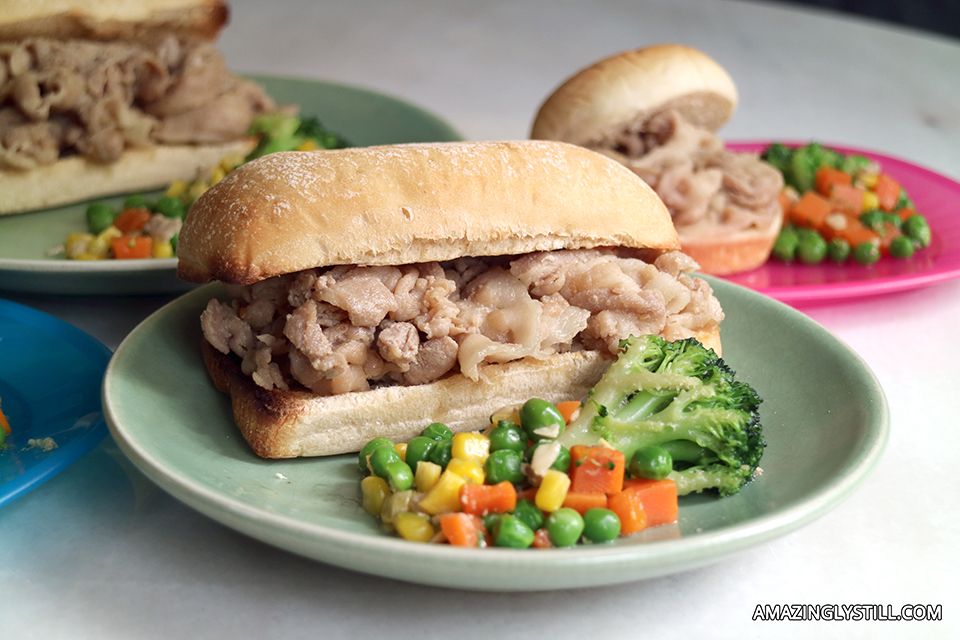 This was actually a dish we normally have with rice, but when I had extra ciabatta bread and leftovers, I combined the two for a simple lunch. That day, a new ciabatta sandwich was born into the household! Now, I only eat yakiniku with toasted ciabatta buns as they taste the best together.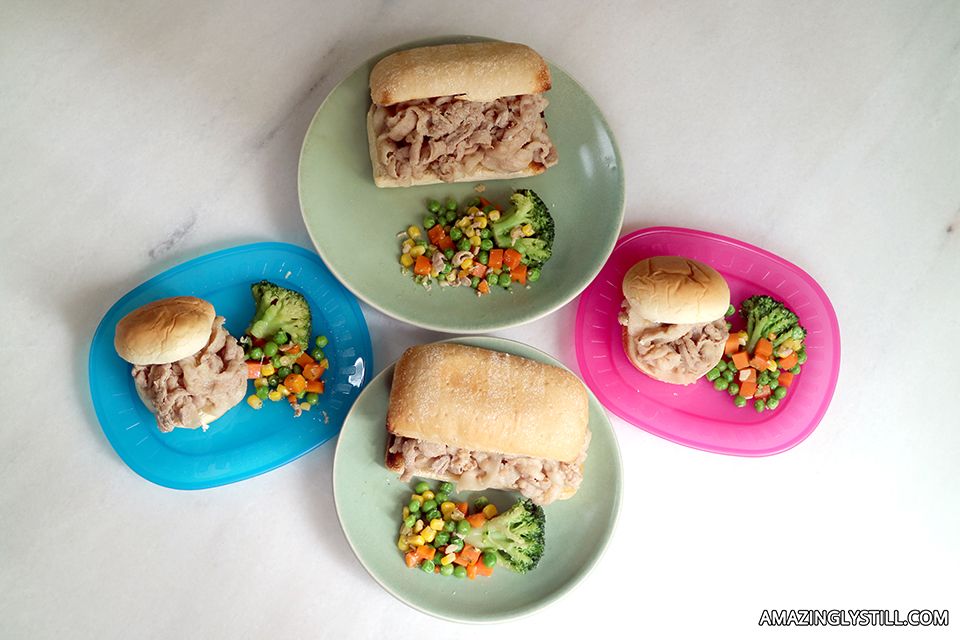 Yakiniku Ciabatta Sandwich

Ingredients for Pork/Beef Yakiniku:
1 tray of frozen sukiyaki belly (pork or beef)
2 tbsp light soy sauce
2 tbsp honey
1 tbsp oyster sauce
1 tbsp ground sesame white seeds
1 tbsp sesame oil
1 tsp minced garlic

Additional Ingredients:
4 Ciabatta Bread
Broccoli and mixed vegetables (according to desired amount)

Cooking Method:
1. Mix the ingredients together and marinate for at least an hour. Overnight in the refrigerator will be best.
2. Slice the Ciabatta bread into half and toast (with oven toaster) each pair until it's golden brown.
3. Heat wok and add cooking oil
4. Add the marinated meat and stir-fry till it's done.
5. Place the meat on the bread as neatly as possible, without the gravy
6. Using the remaining gravy left in the wok, cook the broccoli and mixed vegetables.
7. Remove cooked vegetables and serve at the side.

Recipe adapted from Ochikeron.
Dinner: Stir-fry Pork with Xiaobaicai and Prawns
+ Dark Soy Sauce Chicken + Omelette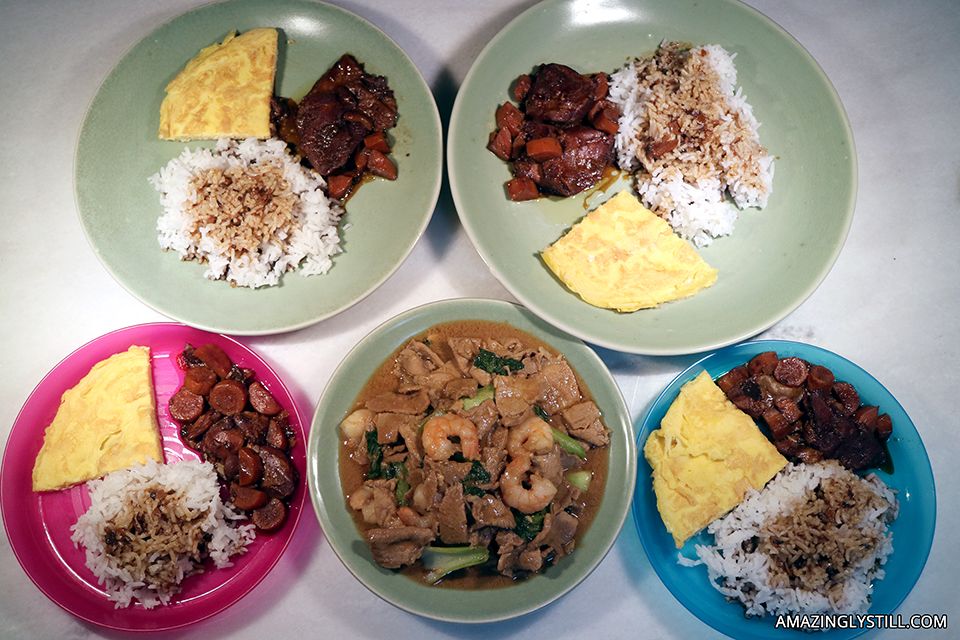 On some nights when we require some comfort food, I turn to a good ol' slow cooker recipe for soy sauce chicken.
One particular evening, Sean came home from work to a big pot of soy sauce chicken. He said something along the lines of, "This is just what I needed. I have ulcers in my mouth and this makes it easier for me to eat."
Recipe for this dish is the same as Stir Fry Chicken with Xiaobaicai and Prawns from Day 2.
Dark Soy Sauce Chicken

Ingredients:
1 chicken thigh
3 tbsp dark soy sauce
1 tbsp light soy sauce
1 tbsp sesame oil
1 tbsp corn starch
1 tbsp sugar
2 carrots
Dash of pepper
1-2 cups water

Cooking Method:
1. Put everything into the slow cooker
2. Pour enough water to cover everything in the pot
3. Cook at high for at least 4 hours.

Recipe adapted from Accidental Mom Blogger
See what the nutrionist has to say about the meals from today:
Day 5 of 5 review
* * *
When I first accepted The Wholesome Food Challenge, I was afraid that I would burst the budget of $150. I used to buy just about anything that I see, thinking I'll be able to use them. Some of these impulse buys have gone to waste, often spoiling before they're used!
Now, I have come to understand the importance of planning meals ahead to reduce food and cost wastage.
Below are the original prices of items I have purchased:
These amounted to $148.85!
And these are the original prices. You can expect to save even more as there are always items on sale at Fairprice!
I somehow feel like I have levelled up in the kitchen department after this challenge. Yay! I hope you will too!
* * *

Bookmark this link for all the recipes from the past 5 days in one page!
Disclaimer: We received a 5-day challenge from Fairprice Singapore, where we have to cook healthy and nutritious meals (breakfast, lunch and dinner) for the family within a given budget. This is the final of five posts brought to you by NTUC Social Enterprises and The Smart Local.