Media Invite
Just when I thought we haven't had a 'family first' for a while, Lewin Terrace came along! We broke out of our food comfort zone and experienced casual fine-dining yesterday.
The atmosphere at Lewin Terrace is so homely that when we stepped in, Blake said to the director of Lewin Terrace, Mr Kosuke Shima, who greeted us, "Is this your house? It's so nice!" And I won't deny it. The place is cozy and surrounded by nature. It was a different kind of peacefulness that's not well-known in this urban jungle of ours.
Bread was soon served as we looked through the Summer menu.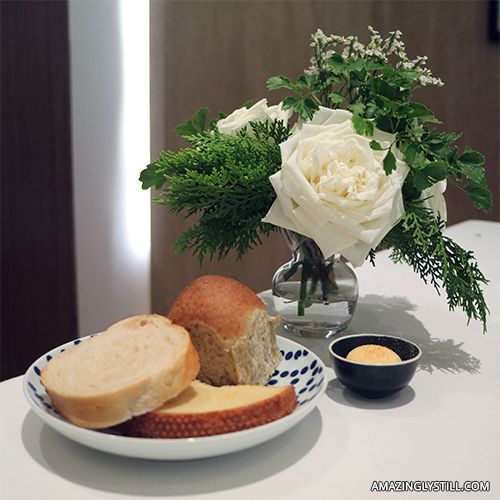 Bread which the children happily finished
Lewin Terrace launched the weekend kids lunch menu recently in hopes to introduce children to the unique Japanese-French experience at the colonial heritage restaurant, while parents indulge in the fusion cuisine available.
The children get to enjoy a 3-course meal that starts with a soup, choice of fish/chicken/pasta for mains and finishing off with ice cream. The parents will also get to savor a 3-course meal from a different menu.
Appetizer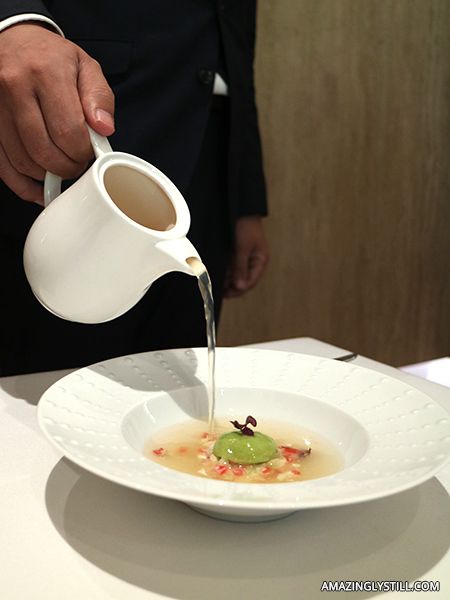 Kids' and Adults' Appetizer: Clear Gazpacho, Vegetable tartare, Prawn, Green Ball
Blake wasn't a big fan of the soup as he said it was sour. Nakayla, on the other hand, thought it was not bad and had several mouthfuls.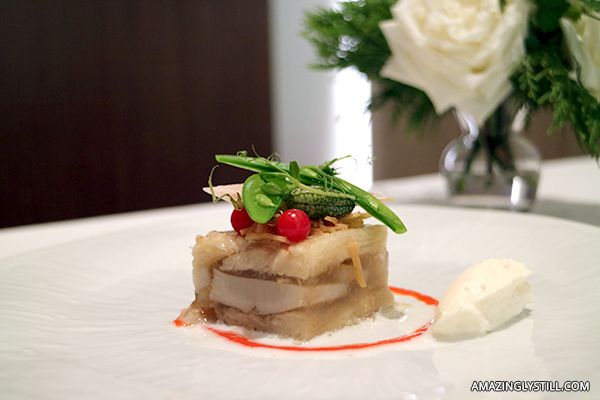 Adults' Appetizer: Scallop, Egg plant, Pastis, Dashi, Kanzuri
The scallop appetizer was light to taste and a delight to kick-start our first ever Japanese-French fusion meal.
Mains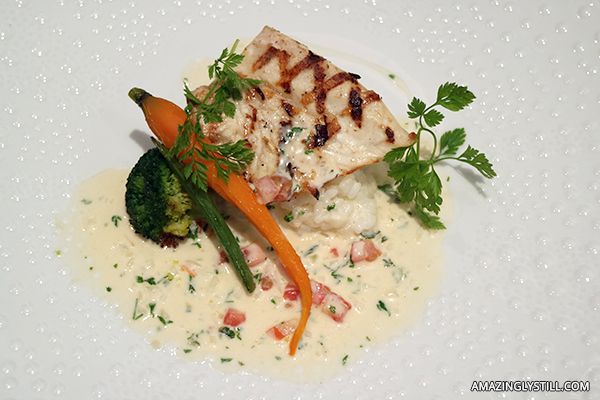 Kids' Main: Fish
Blake absolutely loved the fish, which surprised me a little. He is usually a chicken kind of guy! Even after we had dinner and I asked him what's something nice he ate today, he told me it was the fish we had for lunch. He said it was delicious! And yes, he finished all of it!

Kids' Main: Chicken
The chicken was just as good, if not better, than the fish. I had a taste of it and it was so good I wished it was my dish instead! The skin was crispy while the meat was juicy. It packed a pretty good punch to the taste buds that will make one go, "Wow!" I honestly didn't expect the kids' meal to be so flavourful.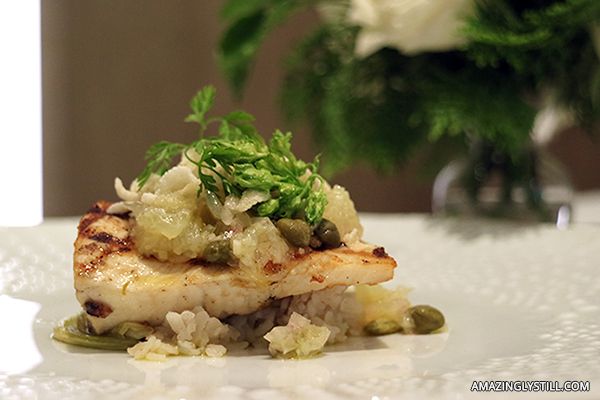 Adults' Main: Yellow tail fish, Grapefruits, Jasmin, 2-style of Rice
The fish was a little too sour for Sean's liking. He very much preferred the fish to be done in the style from the kids' menu.
I felt that the fish was not bad. It wasn't as fantastic as the fish from the children's menu, but it was fresh. And that's really important!

Adults' Main: Duck Breast, Butternuts, Sushi-su, Smoked Potato
This dish has both Sean and my approval stamp on it. It's so delicious that I wish there were more pieces of it!
The duck meat was tender and chewy. Compared to the fish above, this was a lot more pleasing to my taste buds in terms of flavor burst.
Dessert

Kids' Dessert: Ice Cream of the Day
Clearly a winner in the children's eyes. They cheered upon the arrival of ice cream and took to the bowl the moment I said they could (had to take photos).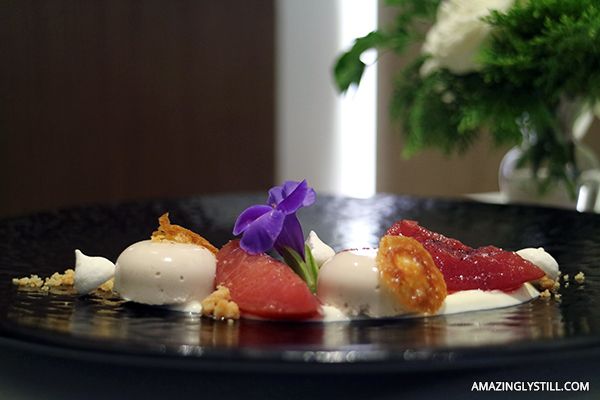 Adults' Dessert: Lavender Mousse with Plums
Not quite what I had expected from a sweet-smelling and pretty flower. The taste was pretty shocking. Acquired taste buds needed for this.

Adults' Dessert: Strawberry "Pasta"
When this first arrived, I thought it was covered with cotton candy. I was wrong. It's foam! And underneath the foam is a mildly rich cream-base dessert with strawberries that have been made to look like noodles.
The combination of flavors put together sort of balanced each other out, making this quite a wonderful way to end the 3-course meal at Lewin Terrace.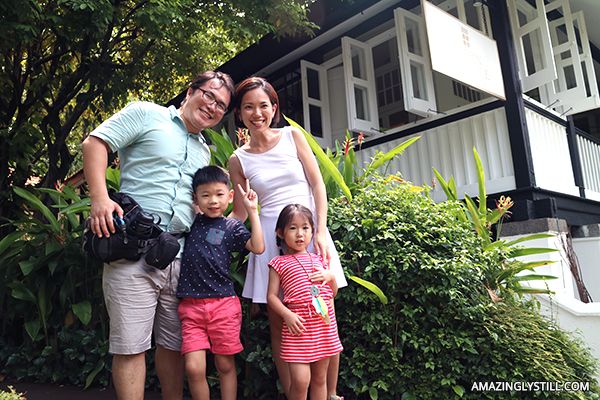 Wonderful lunch surrounded by nature.
Thank you, Lewin Terrace!

* * *
Lewin Terrace is a Japanese-French fusion restaurant featuring French & Japanese techniques and a produce-driven approach. The culinary establishment is housed in a gorgeous black & white bungalow that is the former residence of the Chief who headed the Central Fire Station on Hill Street. Perched in the lush greenery of Fort Canning Park and imbued with Japanese entertaining and hospitality savoir-faire, Lewin Terrace is a unique and must-visit destination for all occasions including anniversaries, corporate events, birthdays and iconic weddings.
Lewin Terrace's kids lunch menu is available from 11.30am to 2.30pm (last reservation at 1pm), every Saturday and Sunday from June to August.
* * *

Lewin Terrace

21 Lewin Terrace
Singapore 179290

Opening Hours, Monday to Sunday
Lunch: 12pm to 3pm (Last order at 2pm)
Dinner: 6.30pm to 11pm (Last order at 9.30pm)

For reservations, please contact Lewin Terrace at 6333 9905.
For more information, do visit their website.
Disclaimer: Whilst we were invited to Lewin Terrace for this media tasting, this review was written on a voluntary basis. No further compensation was received.