Food Review
I'm a fussy eater. Anyone who has ever dined with me knows that.
I don't take spicy food, I don't eat vegetables or anything raw and I'm generally not that adventurous when it comes to strange looking foods I've never seen or heard of before. A lot of times, I have to tell myself, "You're a grown woman and mother of two! JUST EAT IT!" and hope for the best. I've been lucky to have friends who still ask me out for meals. Haha!
So what's one of the best kinds of places to meet fussy eaters like me for a meal? The easiest go-to is anywhere with buffet, where the widest variety of food is available. There has to be something for everyone, and I don't have to be upfront about my fussy eating habits. There is no need to place special orders because I can decide what I want exactly at buffets!
Take just the meat, leave the vegetables behind!
Oooh~ I shall eat only cakes and other desserts for lunch!
Oh my! Look at all that carbs… My love!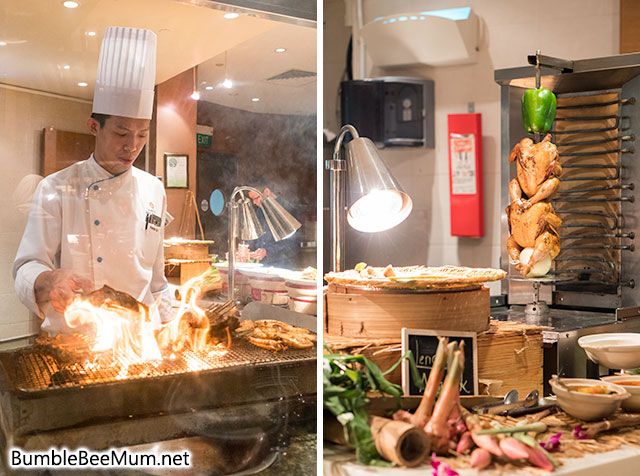 And a wide variety of food was exactly what I found at AquaMarine's Best of Spice & South East Asian Delights buffet.
They had seafood…

My favourite Tiger Prawns!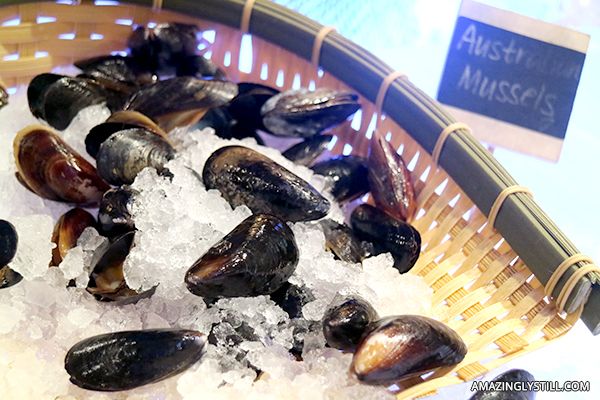 Not something I would eat, but I see lots of people grabbing these…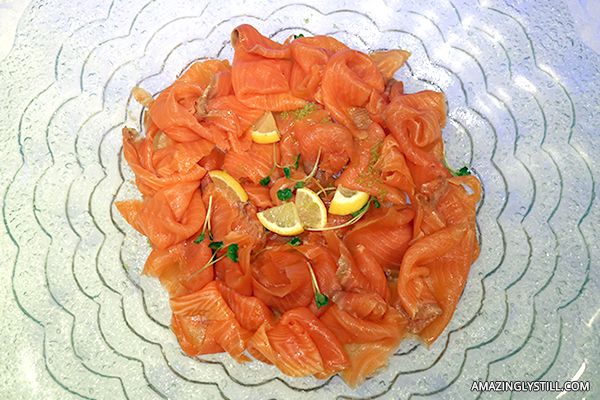 And these!
They also have DIY Korean cuisines…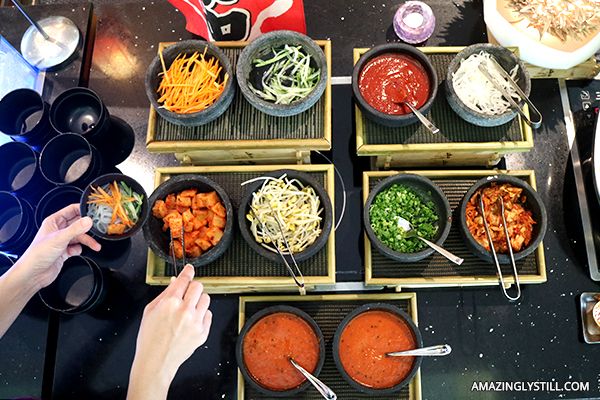 And other delightful items that seem to put the whole of Asia's favourite foods all in one place!

Pizza!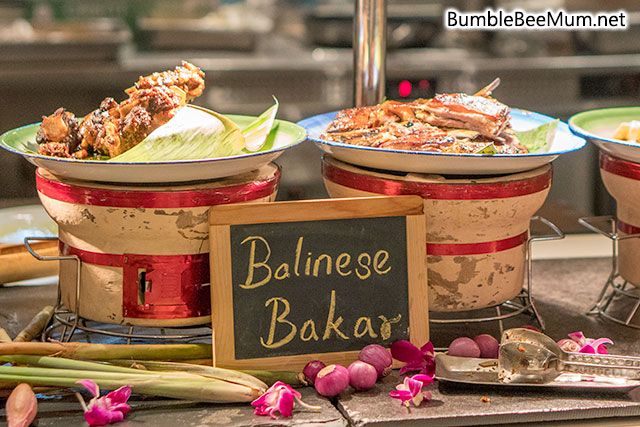 Grilled on the spot for you!
While their pizza isn't exactly one of their best items at the buffet, I was pleasantly happy to see it. They really do cater to everyone! And their grilled chicken… Oh my! It's so tender and juicy!
But my favourite among all the cooked food has got to be…

Braised Short Ribs!
It's so tender and flavourful. I cannot forget how delicious it is! I'm a happy camper with this to munch on throughout lunch!
With my main stomach filled, it was time to feed the other stomach with desserts!
This is usually the very first section I check out whenever I am at a buffet. Haha! If the desserts don't look good enough, I usually have no appetite to eat my mains.
Following the theme of October, where the best of Asia's food is presented to us, desserts range from meringue cookies to jelly cups and cakes! There's even a yogurt ice cream dispenser, for yogurt lovers out there.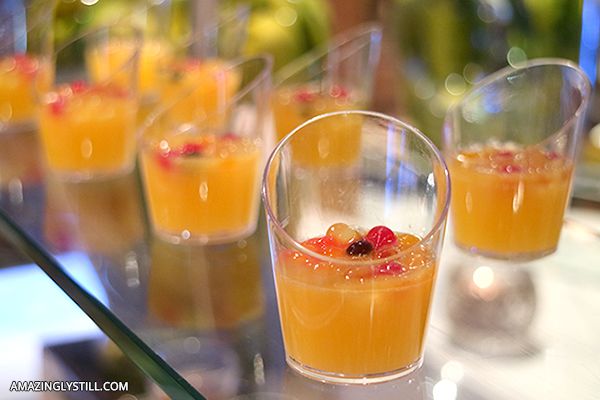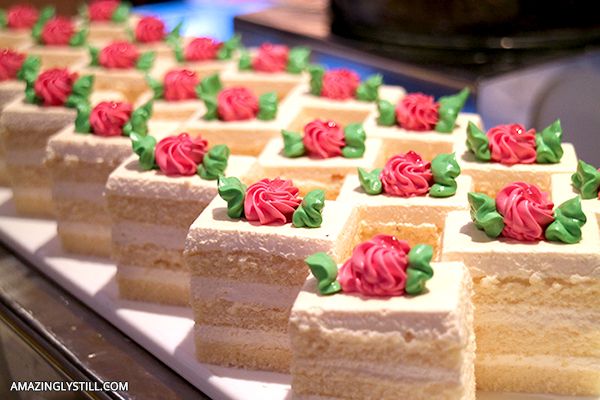 Old school buttercream cakes!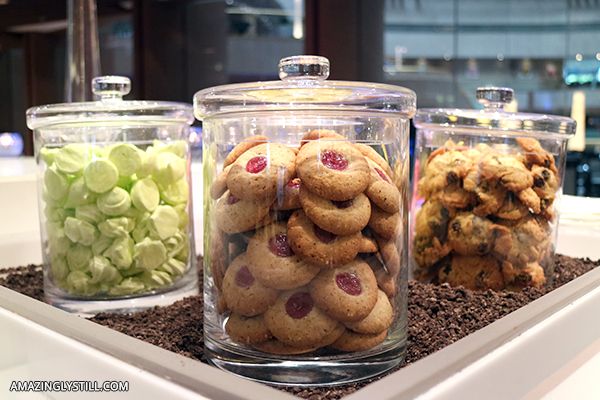 Meringue Cookies and other assorted cookies
And the hot favourite at AquaMarine's buffet?

Durian Mousse Cake!
I helped myself to a modest serving size at first, and had a much larger slice before ending my lunch on a very good note. Haha! It's so delicious and gets wiped out pretty fast. So you'll really have to keep your eyes peeled for it, if you want to have a bite!
I went home a happy, happy girl that day!
* * *
The month of October is dedicated to the themes Best of Spice & South East Asian Delights buffet (until 27 October 2016, as seen above) and Nightmare in Halloween (28 and 29 October 2016 only).
Nightmare in Halloween will feature Norwegian Salmon Baked in Charcoal Brioche, Braised Whole Lamb Shoulder with Organic Tomato and Garlic, Lychee Tart, Chicken Shawarma with Avocado, Tomato and Taco and a Manhattan Seafood Pot dish that will all be presented in the Halloween theme.
Following that, in November, it will be the Mediterranean Food Festival 2016, available from 1 to 30 November 2016. Includes key dishes such as Barramundi Baked in Rock Salt and Ash with Charred Lemon Juice and Olive Oil, 16 hours of Slow Cooked Wagyu Beef Shortribs with Feta Cheese, Semi Dried Tomato and Oregano, Free Range Chicken and Mushroom Risotto served in whole Parmesan wheel (really popular!), Zuppa Di Presce (Sicilian Seafood Stew) and Salmon Escabache with Capers and Pimento.
Note: Dishes on menu above are on rotational basis in the buffet.
Read all about Lin Ying's, aka Bumble Bee Mum, review of AquaMarine here!
* * *

AquaMarine at Marina Mandarin Hotel
6 Raffles Boulevard, Marina Square, Singapore 039594
☎ +65 6845 1111
💌 aquamarine.marina@meritushotels.com
🌏 www.marinamandarin.com.sg/dining

Breakfast
6.30am – 10.30am

Lunch
Monday to Friday: 12.00pm – 2.30pm
Saturday, Sunday and Public Holiday: 12.00pm – 3.00pm
💰 $60++ per adult, $30++ per child (5-12 yrs)

Dinner
Sunday – Thursday: 6.30pm – 10.00pm
💰 $70++ per adult, $35++ per child (5-12 yrs)

Friday, Saturday & Eve of Public Holiday: 6.30pm – 10.00pm
💰 $80++ per adult, $40++ per child (5-12 yrs)
AquaMarine Weekend Lunch Promotion
One Child Dines Free with Every Paying Adult and offer is valid for Weekend and Public Holiday's Lunch Only. Applicable to child aged below 12 and advanced reservations are recommended and subjected to availability. This benefit is applicable with credit card promotions, vouchers, membership/VIP card, and privileges and offers unless otherwise stated. General Terms and Conditions apply.
Disclaimer: While I was invited to the media tasting of AquaMarine's Best of Spice & South East Asian Delights buffet, this review was written on a voluntary basis. No further compensation were received.