Besides visiting Lory Loft and having Lunch with Parrots, we also watched the two shows available at Bird Park!
Thanks to my dad for giving us a ride down, we managed to make it to the 10am show at Hawk Arena – Kings of the Skies.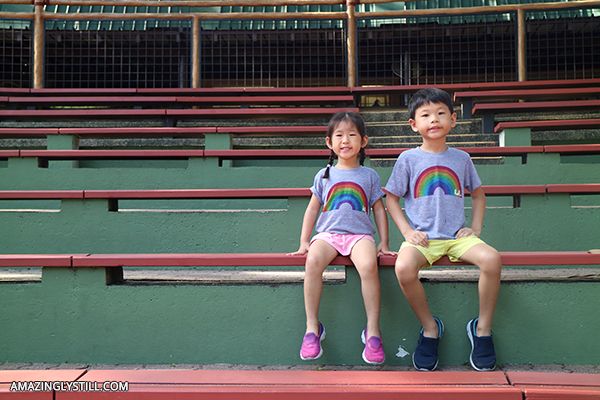 WE WERE THE FIRST! WOOHOO!
As the Hawk Arena is an open space that relies on trees for shade, Blake and Nakayla picked a spot pretty high up to avoid sitting in the sun. And because everyone else who came to watch the show did that, no one blocked our view! 😄
The children learnt quite a bit about the birds, and were fascinated by how these aerial hunters swoop down to catch their prey.
When you first don't succeed…

try…

and try again!
And when the Bald Eagle made an appearance, Blake and Nakayla couldn't contain themselves. "It's Mighty Eagle! Mighty Eagle!" It's so amusing to see how they associate the shows they watch with the real life versions 😂
Besides eagles, hawks and vultures made an appearance too. The children learnt about their different ways of hunting or scavenge for food.
For the show's finale, we had a glimpse of how the birds will fly and "fight" with one another to grab some food. The circling they did around the arena before they made their attack (i.e. grab the food) was so cool!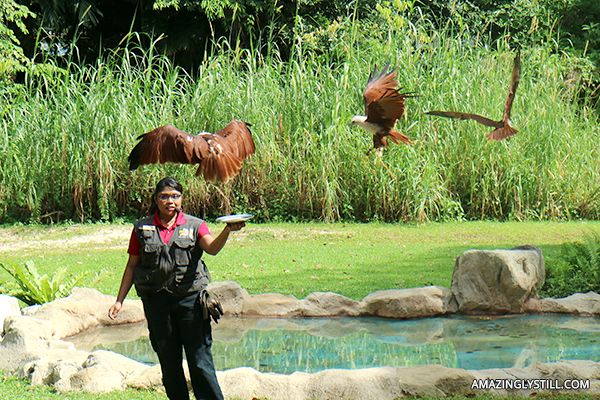 After the show ended, we made our way to the Pools Amphitheatre and toured World of Darkness again (the Owls) as we waited for the 11am High Flyers Show.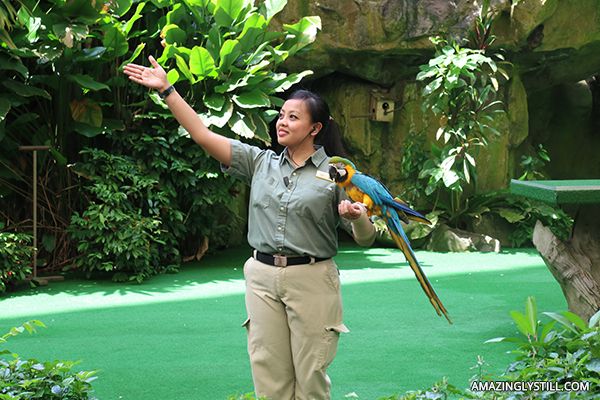 We managed to get front row seats and this was when things got super fun!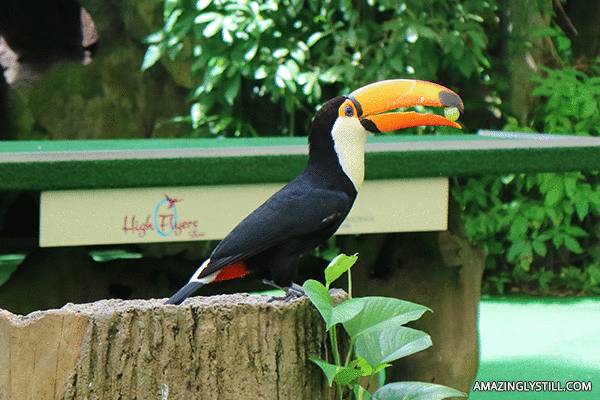 Blake saw a couple of audience being picked to participate in the show, and was eager to be chosen too. The mommy in me wanted to fulfill my little boy's wish, and so when I spotted an opening for one of the segments, I got the children to up and move from our front row seats to the seats further back. We barely made it in time for Blake to be chosen as the last participant!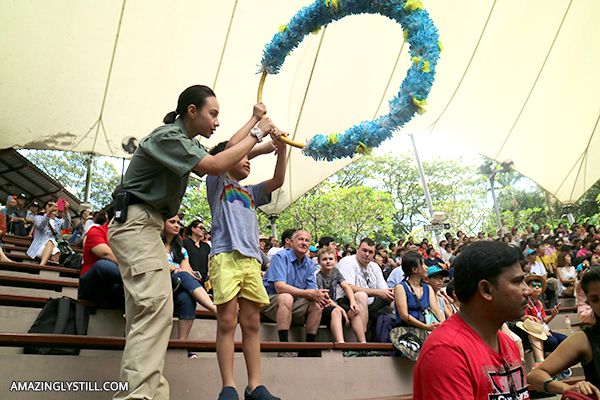 WOOHOO!
Alas, amidst the excitement and trying to get a proper shot of Blake, I missed the moment…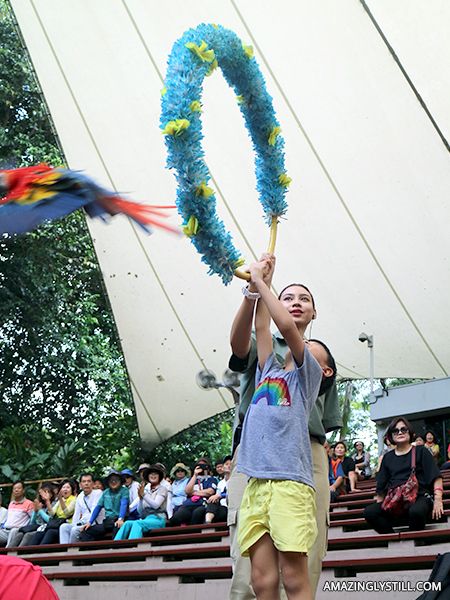 😭😭😭
Thankfully for me, a German family who had been sitting near us managed to capture this shot on their mobile phone!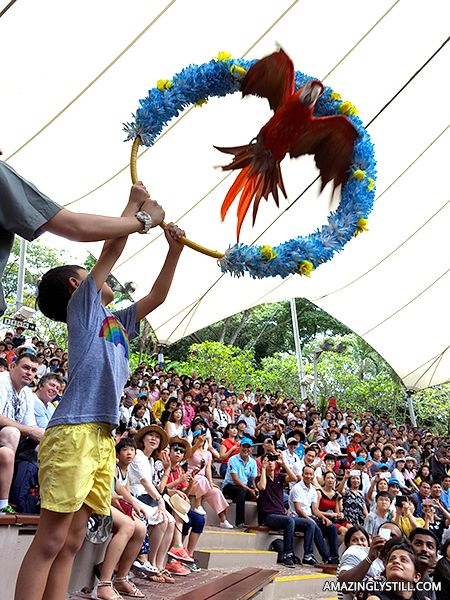 😍😍😍
Apparently they have a video too but they weren't able to send it to me right away as it was in a digital camera. I hope they remember about it, and didn't lose my email address… It'll be so cool to have the video!
Thinking back, I could've asked all the others sitting on the other side if they managed to capture anything! Look at all the mobile phones held up capturing the moment!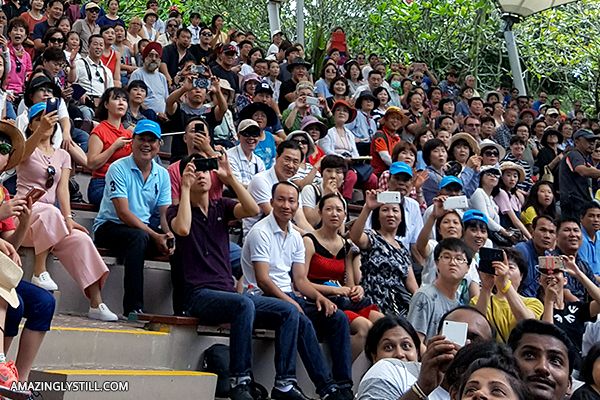 😩😩😩
Oh well. It's over. It's best that I work on my own photography skills. Ganbatte!
After the show ended, the standard photo-taking with the flamingos happened.

Now, Nakayla wasn't too pleased that Blake got to participate in the show and she didn't. She sulked quite a bit. I was feeling a little upset for her. Seeing how sad she was, and the fact that she didn't throw a tantrum, I promised her we'll return for the afternoon show and try our best for another chance.
And so, when the 3pm show came about…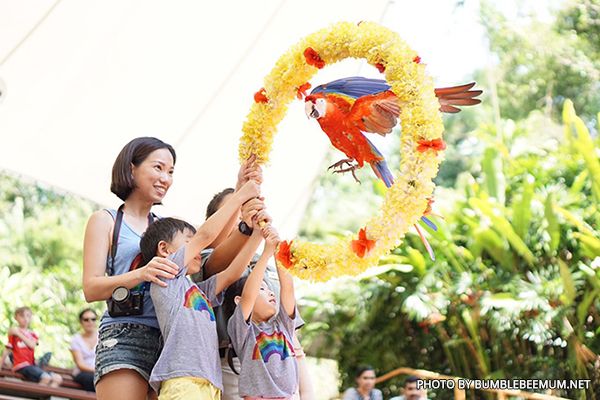 We all managed to participate (the staff insisted that the children were too young to do it on their own) and Lin Ying was there to capture this moment for us!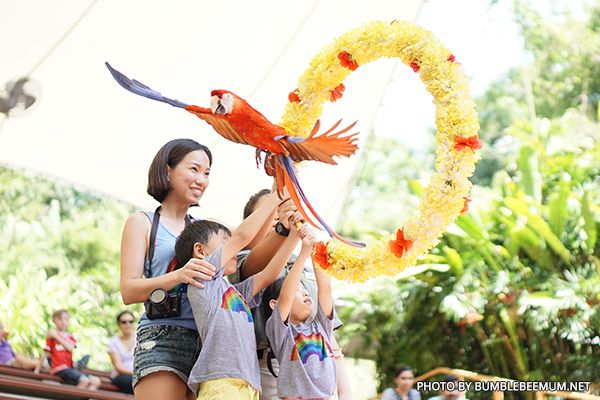 😍😍😍
It was the best way to end our day at Jurong Bird Park!
This particular trip to Jurong Bird Park turned out to be specifically for shows. We'll definitely have to head back again to explore the rest of it. We've yet to visit the African Waterfall Aviary, Breeding & Research Centre, Bird Discovery Centre and all the feeding!
And there's still the Zoo to explore fully! Yikes!
* * *

Jurong Bird Park
2 Jurong Hill, Singapore 628925

🕣 8.30am – 6pm daily
(Last ticket sale at 5.30pm)

High Flyers Show
Pools Amphitheatre
🕚 11am & 3pm

Kings of the Skies
Hawk Arena
🕙 10am & 4pm

☎ +65 6269 3411
🌏 www.birdpark.com.sg