Ever since we got our Friends of Wildlife membership, we've yet to pay the zoo a proper visit. So off we went on a nice and cloudy day! Woohoo!
The first thing on our list was to catch the 10.30am Splash Safari Show. And what a splash it was!
With carefully marked seats as the 'Wet Zone', I told the children of what's to come and both immediately told me that they absolutely wanted to remain dry. The show started with a huge splash as the sea lion began tossing water towards the audience. The children chuckled as they see people in the first two rows either resigning their fate of getting all wet, or scrambling to pack their things up and quickly move a few rows back. Hehe.
There is a chance to participate in the show, tossing of frisbee to the sea lion, but most of these opportunities were given to those who were seated in the first two rows. So if you want to be part of the show, you'll have to be willing to get wet!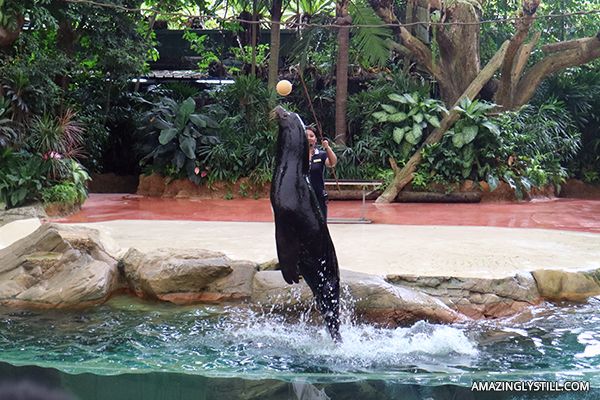 After the show was over, we headed over to Elephants of Asia for the 11.30am Elephants at Work and Play Show. As we were pretty early, we managed to grab the best seats in the house – front and center!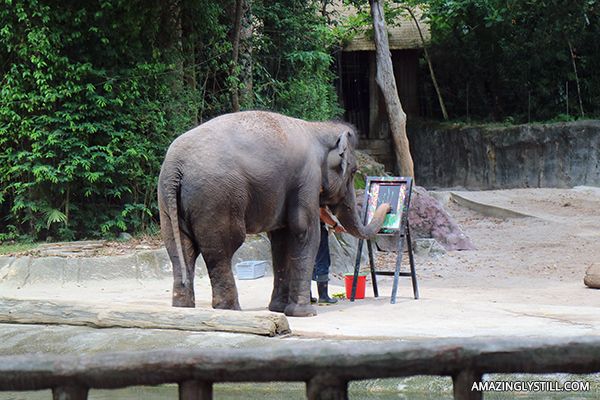 During the 20 minutes or so wait, we watched one of the elephants paint. We were very impressed! I'm not sure if this was a pre-show treat or we got lucky though. But just in case it is a pre-show treat, do make your way down earlier to have a look.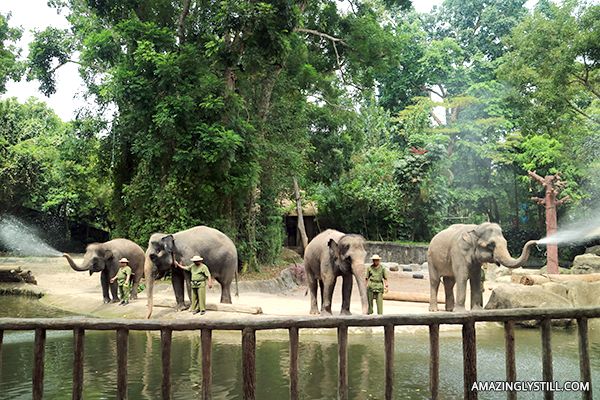 And the show began!

Cheeky elephant putting on his mahout's hat…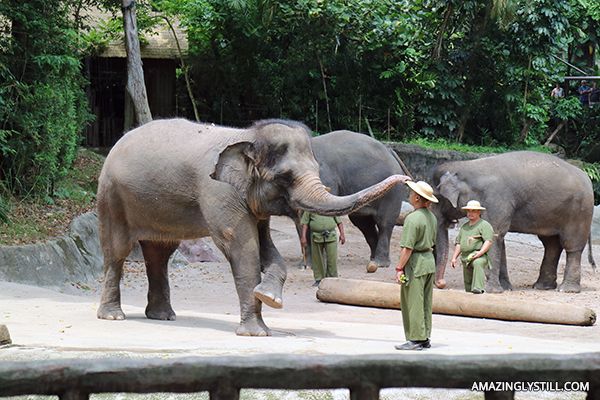 Realized it didn't fit, so the hat was returned. Hehe!
After the show was over, it was time to feed the elephants!
Earlier, I mentioned we had the best seats in the house. It wasn't just the best to view the entire show, but it was also the best when it was time to feed the elephants! The moment it was announced where to queue to feed the elephants, we stood up and were the first in line. Haha!
While waiting, we were told that each family or group of friends are limited to purchasing one basket of fruits to share as there were only 20 baskets of fruits available at each feeding session. Not only is this in place to prevent the elephants from being overfed, but this also allows the maximum number of people to be part of the elephant feeding!
Note: Each basket costs $5 and the exact amount is needed as no change will be given. You'll have to put the money into a donation box directly. You can give more if you want to for the basket of fruits. Some gave $10 for one basket as they didn't have change.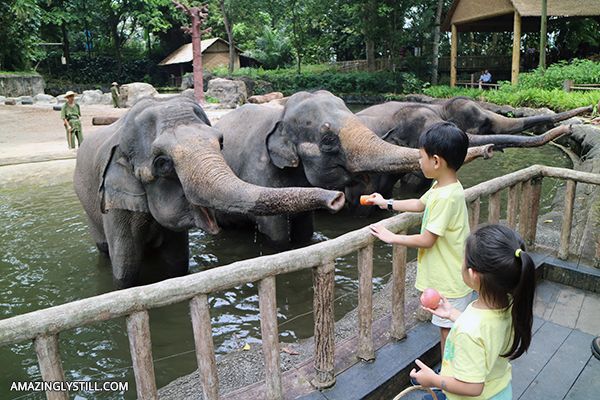 The children were so happy to feed the elephants!
Nakayla was a little worried initially as she didn't think she'd be able to reach the elephants without falling over. But rest assured, she didn't as the elephant's trunk is definitely long enough to reach over.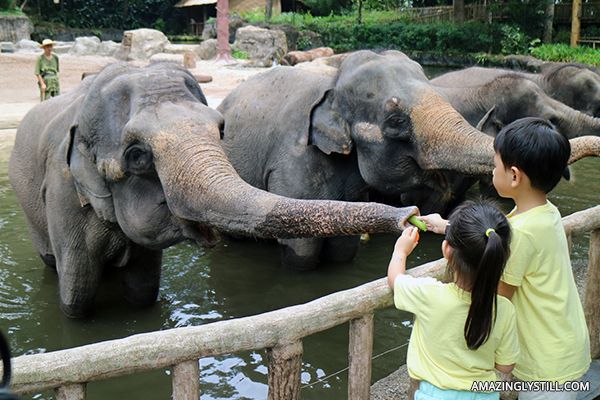 I noticed how smart the elephant we fed was. It didn't try to grab the fruits off the children, and when it sensed that the feeder wasn't stable (i.e. Nakayla), it will just move to take fruits from another person before returning to give it another try again!
Once we were done with the elephant feeding, we went to feed ourselves. Haha! And what happened after lunch… Well, it's to be continued!
* * *

Splash Safari Show at Shaw Foundation Amphitheatre
🕥 10.30am and 5pm daily

Elephants at Work and Play Show at Elephants of Asia
🕦 11.30am and 3.30pm daily
💰 $5 per basket of feed per family/group
Exact amount is required. No change will be given.
But you can give more if you want to!

Shaw Foundation Amphitheatre and Elephants of Asia are located next to each other
🚂 Tram Stop 3
⚠ Shows and feedings are weather permitting
If you're going straight from the entrance, my advice is to walk the distance instead. The distance to Tram Stop 1 and Tram Stop 3 is about the same to get to from the entrance.
Also, read about the Elephants at Work and Play Show in greater detail from Lin Ying of Bumblebeemum.net here!
Singapore Zoo
80 Mandai Lake Road Singapore 729826

🕣 8.30am – 6pm daily
(Last ticket sale at 5.30pm)
☎ +65 6269 3411
🌏 www.zoo.com.sg