The last post was all about the experience the children had with the animal token feedings available in the zoo. After feeding the White Rhnoceros and Giraffes, the children wanted to play, so we headed over to Rainforest Kidzworld!
The children were spoilt for choices at Rainforest Kidzworld. There's the huge temptation of the wet playground – especially so on a hot day, there's also pony and carousel rides for the children's entertainment!
As I've already spent quite a bit on the baskets of fruits for the token feedings, and I didn't pack for play at the water playground, I told the children that they will have to choose between riding fake animals and a real pony. Haha!
And guess what they chose?

Carousel Rides!
Here's the funny thing… Nakayla has always loved such rides and have gone on a few in the past year, yet the moment this ride started, she got super scared!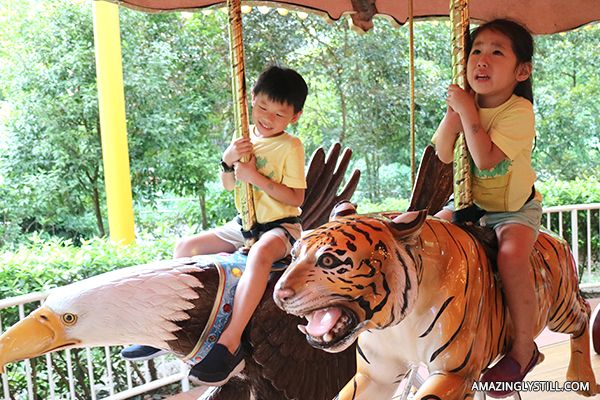 Clinging on for her dear life… So drama…
I found it super strange, honestly. I guess she wasn't used to such a big ride as most of those she has gone on are the smaller ones found in shopping centres. And the last big one she went on, I was sitting with her. Hmm…
But I've already bought two rides each for them. So how?
Upon the advice from the zoo staff, we moved from the Tiger she was sitting on to the Giraffe. And during this change, Blake wanted to change an animal too. He had some difficulties making up his mind as he said, "There's just too many animals, Mommy!" Haha. Eventually, he made up his mind, probably knowing that he'll never be able to ride a dolphin in reality.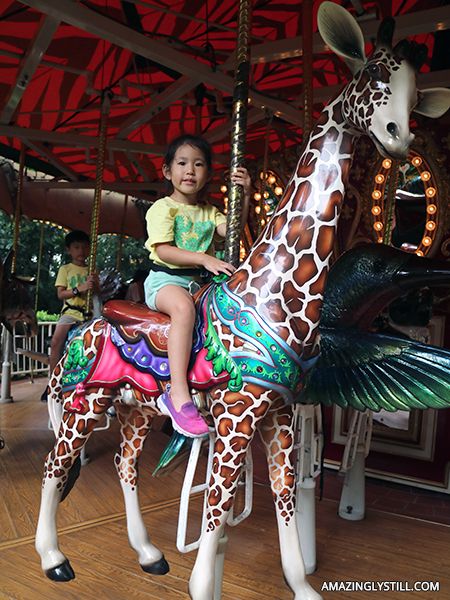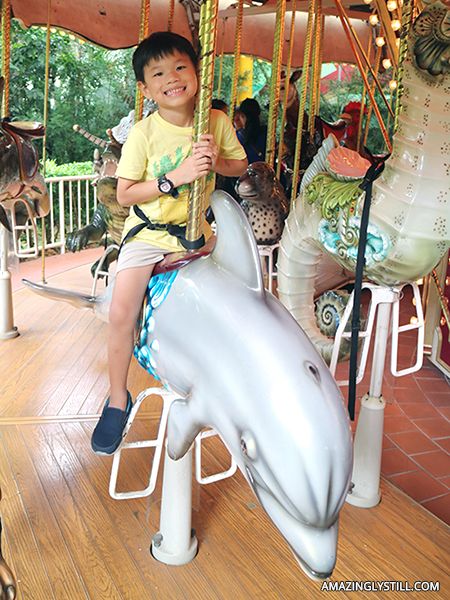 The Giraffe, Lion and Camel (if I remember them correctly) are the only three animals on the carousel that won't move up and down. She was much better on this ride, less panicky, but still needed me by her side.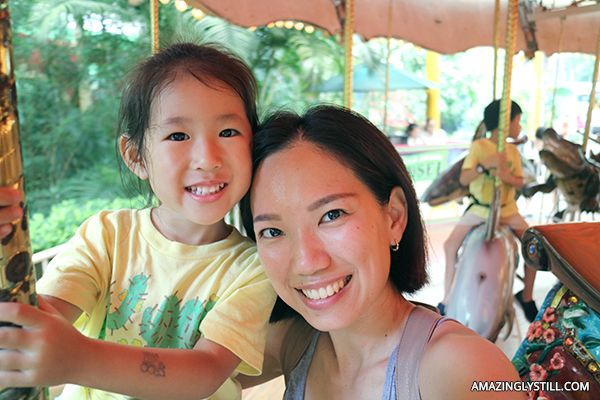 Blake, on the other hand, had a blast and was so amused and tickled throughout the two rides!
By the end of the two rides and our day at the zoo, the children declared out loud that they love me and showered me with kisses all night long. To which the husband wondered out loud, "They suddenly love you a lot, eh?" or something to that effect. I can't remember his exact words. I was in absolute bliss with the children's declaration of love. Hehe.
We are totally coming back again to watch the other shows and ride the real ponies! Woohoo!
* * *

Wild Animal Carousel
🕙 10am to 5.45pm

💰 $4 per person per ride
Accompanying adult do not require a ticket
Tickets can be purchased at Rainforest Kidzworld ticketing counter
Member rates and package deals are also available at the ticketing counter

🚂 Tram Stop 2
⚠ Wild Animal Carousel are weather permitting
Singapore Zoo
80 Mandai Lake Road Singapore 729826

🕣 8.30am – 6pm daily
(Last ticket sale at 5.30pm)
☎ +65 6269 3411
🌏 www.zoo.com.sg