Product Review
Raindrops on roses and whiskers on kittens
Bright copper kettles and warm woollen mittens
Brown paper packages tied up with strings
These are a few of my favorite things
One of my favourite things to do is getting a good massage. I love, love, LOVE massages. And I tell everyone who would listen (and I must've repeated this on my blog many times over by now… Haha!) that Sean gives awesome massages! It used to be an almost daily affair, but with the arrival of Blake and Nakayla, those pampering sessions began to decrease and dwindle into almost non-existence.
And that's when I started to feel my body caving in to all kinds of aches and pains.
Some of you might be wondering… Why not just purchase massage packages from reputable spa and massage parlours?
I don't like the idea of purchasing nth number of massages for a lump sum. I have the tendency to forget and given my no-routine, spontaneous and unpredictable nature of parenthood, it makes it difficult for me to commit to something with a rigorous schedule.
How about those one-off massage? Nope. Not for me either. I've gone to a few different places, and the scenario is always the same. They either bug you throughout the session to buy their packages, or they'll bug you after. All these bugging really bring on the tension in my shoulders and neck, even before I leave the place after a massage!
So when all these massage parlours didn't work out, thoughts of "We should get a massage chair!" followed. And honestly, I was really tempted to bring home the OSIM uMagic.
The only problem… SPACE CONSTRAINTS.
It's not just how small flats are nowadays, but the way some flats are designed. It makes it impossible to carve out an additional space just for a massage chair. Sigh. It's really upsetting.
So can you imagine how happy I am to know about OSIM's latest product, uJolly, a highly portable and versatile full back massager!?
When Blake saw it for the first time, he immediately told me to take it out to let him try. Haha!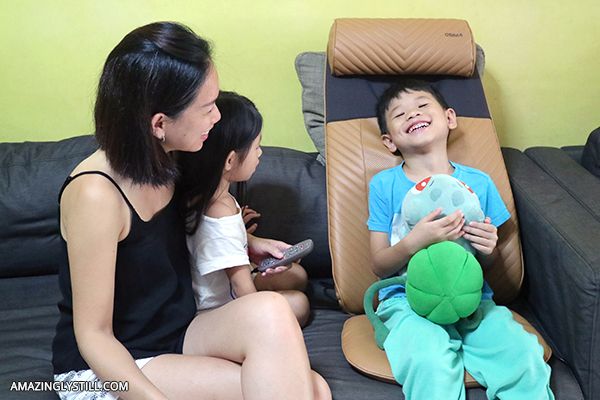 This boy of mine truly knows what it means to enjoy his life. After going through five minutes of just the shoulder press, Blake declared, "This massager is magic, Mommy! It has invisible hands!" Haha! If you're wondering how that is possible, it's the V-Grip technology. It's unexplainable. It's something you'll have to feel to know what I mean. Hehe.
Before any of you start going, "He's too young to use a massage chair!" Relax.
The uJolly (thankfully!) provides targeted area massages. Blake has only had his shoulders massaged by uJolly. He never did any of the specialized massage programs. This is perfectly fine. And with adjustable shoulder positions, I can shift the rollers accordingly to fit his height! Woohoo!
Needless to say, the uJolly has found its permanent home on the sofa. This makes it convenient for all of us to use it.
Sean gives it a go when the children goes off to lala land and I can tell he's glad to finally be receiving massages instead of giving them. Haha! All those times he said it's okay, it's fine, he don't need them… I believe he said all that so I won't feel bad for our one-sided massage arrangement. Hehe.
Once in a while though, I'll take the uJolly and move it to places that are more comfortable for me.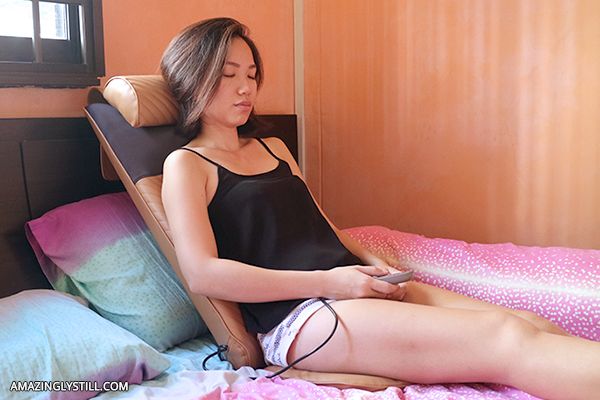 The bed is seriously the best place to have the uJolly. Once I'm done with one round of program, I'll just roll over to the other side and fall asleep take a quick nap.
I've also shifted it onto my work chair, so I can enjoy a good massage while writing and creating things for our booth.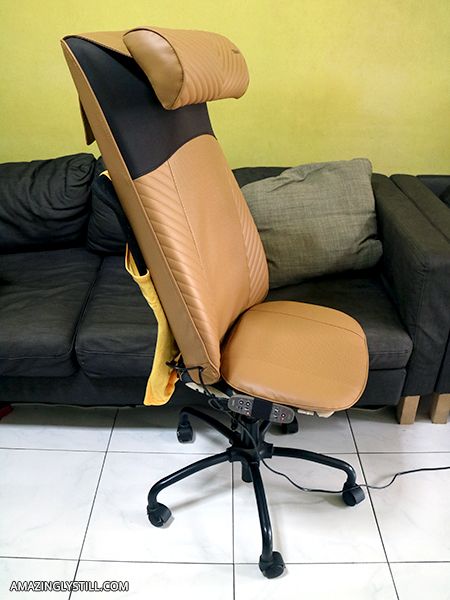 No photos of the chair at my work area cos that area is too messy. I don't want my mom to scold me! Hehe!

Love this handy sleeve that holds the remote in place!
I still can't believe that I can have back massages any time I want now, 24/7/365. The additional bonus is that I can enjoy them in the comfort of my own home! Life is good again without backaches 😀
* * *
OSIM uJolly transforms any chair into a pleasurable seat. It fits conveniently onto most chairs, loungers and beds in your living space. Enjoy a rejuvenating massage at home or in the office whenever you need it, and feel re-energized to tackle any challenges ahead!
uJolly is currently retailing at S$429 (U.P S$499) at all OSIM outlets, road shows and online at www.OSIM.com.
It is available in 2 colours, Merry Red and Happy Yellow. Note: Mine's Happy Yellow!
Do make a trip down to any OSIM outlets to give the uJolly a go. As Sean always say to anything while window shopping, "It's free to try. If you like it, buy." Okay, not his exact words, but it rhymes! Hehe.
And just for my readers, simply quote my name "Mabel" when you purchase the uJolly and you'll receive a complimentary OSIM Eye Mask!
For more information on uJolly, you can visit OSIM's website or Facebook Page.
* * *
During this season of giving, OSIM is having a promotion on their products. Share twice the love as you mix and match the gifts at a special rate! My personal favourites – uMist Dream Humidifier and uPure 2 Water Purifier.
Check out OSIM's Christmas 2016 e-Catalogue here.
Disclaimer: We received one uJolly from OSIM for the purpose of this review. No further compensation were received.