Entertainment Review
On a particular Saturday morning, the children woke up excitingly early. Usually, I'll let the husband handle them, but that morning, I jumped out of bed the moment Blake and Nakayla came into our room to wish us 'Good Morning'. The reason for this excitement, as you can guess from the title of this post, is…

My Little Giant at Big Box!
We spent the entire day there. I'm not kidding. We reached at about 10.45am, and we left at about 5.45pm. Haha! Way to make full use of our day to have fun!
And because we were there the whole day, I'm gonna tell you what we did for a day of fun!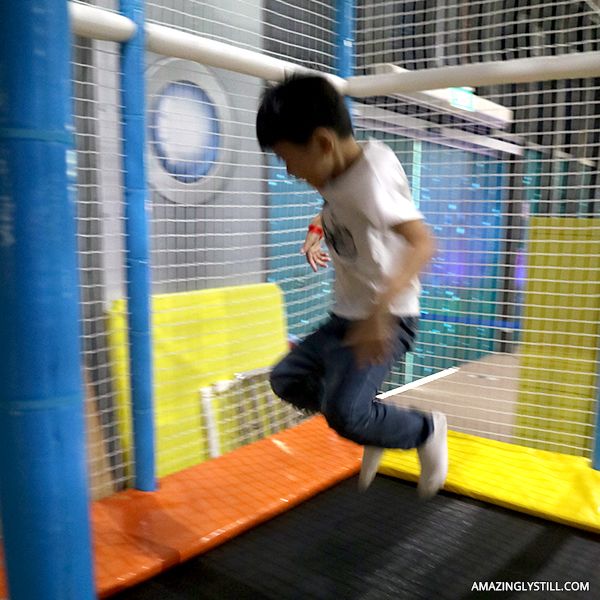 When we first arrived at about 10.45am, the playpark was relatively empty. This was perfect for us as we don't fancy crowd much. Haha! And it's always better to feel like you have the whole place to yourself, isn't it?
The children had a blast sliding down all the slides they have within the playpark.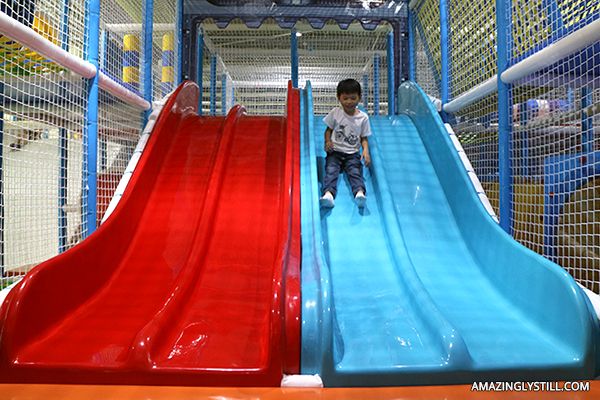 From gentle, easy on the stomach slides…


To adrenaline pumping steep ones!
Adults aren't allowed on the steep slide, by the way. Due to our weight, we will literally slide to the end of the ball pit, which is really dangerous should any child walk into the ball pit unattended. But I really wanted to give the slide a go, so I pleaded with the staff for quite some time to allow me just one ride down (It was empty and just us in there). The staff was adamant as she said it was her duty to ensure the safety of everyone going down the slide.

That kinda reminds me of this scene from 'How I Met Your Mother'. Hehe.
image source
In my final desperate attempt at pleading, I told her I'll be responsible for any mishap that might occur if I slide down. Yes, I was super desperate. Haha! That put her mind at ease and WEEEE! I got to slide ONCE!
Dear Boss of My Little Giant, please don't scold your staff okay? I really wanted to slide once to feel like a kid again!
Oh! And tips for your children on how to make it down the slide as fast as they can – maintain a streamline body. Keep the legs and arms together. I noticed that any child who flail their arms or open their legs tend to make a little spin before reaching the bottom, which might freak some children out. Minimize skin contact with the slide too i.e. wear long pants!
Once I have completed my main objective of conquering the steep slide, it was the ultimate free play for the children. They ran in various directions, which had Sean and me following behind them at a distant. The children need space to be children!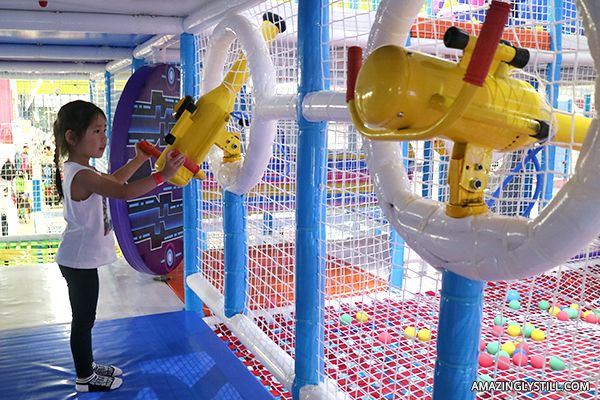 It's a breather to be at an indoor playground that's a lot more adult-friendly. Whilst some bending is still required at certain parts, us adults can generally move about a lot more freely and easily. Definitely manageable for a whole day of play!
After playing for a couple of hours, it was time to refuel. Food can be easily found within Big Box itself or just across the road (Jem and Westgate!) and with a wrist tag that allows multiple re-entries within the same day, the children didn't mind taking a break at all!
When we returned for round two, the crowd had started to stream into the playpark. The children then opted to spend time at the Kids Game Entertainment Centre, located next to it.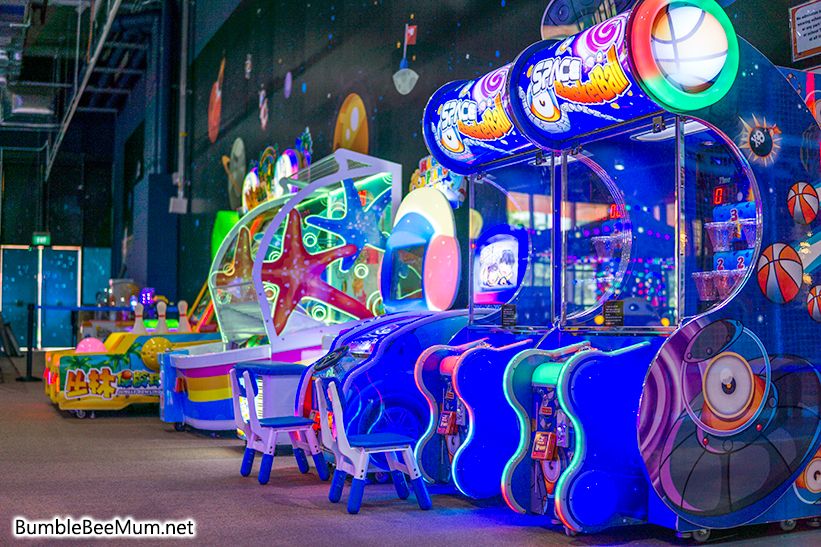 We were greeted by many colourful gaming machines that made us feel like we're in an arcade. But we're not. Every single machine in this area helps train our children's motor skills, hand-eye coordination and understanding gaming concepts on their own with little or no help. It's also built for the little ones. I felt like a giant here. Haha!
One of my all time favourite kind of game! For people like me who can't play the piano like this girl, this was one way for me to feel like I'm musically inclined! I'm guessing this will make every child feel like they're Mozart or Beethoven in the making. Haha!
And if you think this game is easy, it's not. It feels a little like the snapping crocodile game – anyone remembers that?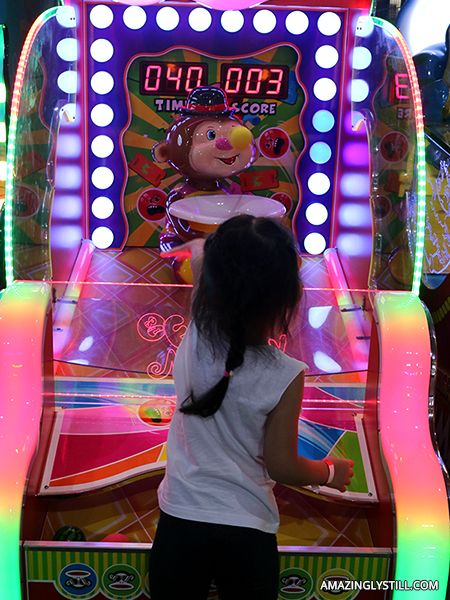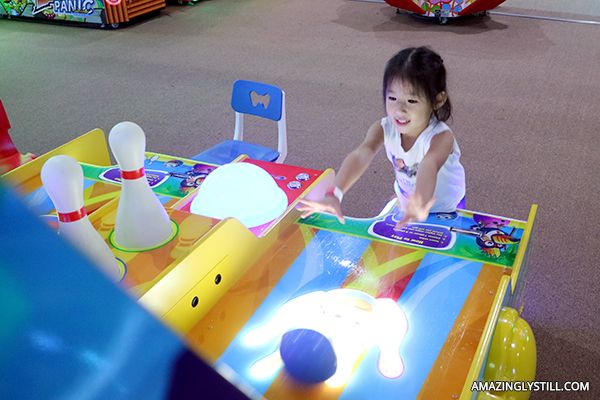 There are so many different kinds of games in these area and some even gave out instant prizes! This delighted the children a lot, and they returned to play for more. Haha!

Besides instant prizes, the children also accumulated enough points to redeem even more prizes at the counter – 2 Pokéballs and a fairy light wand thing. Haha! It's madness I tell you!
The best part for me though, was seeing the number of games that can be played by two at a go.
It's seriously a great way for the siblings to bond! And I could tell that even though there's some competition happening, they were also rooting for each other to do the best to their ability. It's such a touching sight and proud parent moment!
With so many games around, it was rather difficult for both children to agree on one game that they truly love. However, one game stood out from all the rest…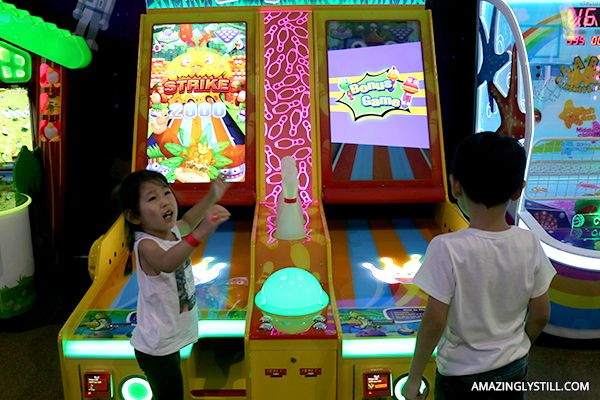 This bowling game is absolutely divine. Even I am in love with it!
It's super fun and easy to win points. Haha!
Once the children have had their fill of games, we moved on to rides and other fun stuff! Yes! There is more!

There's a carousel ride within the area,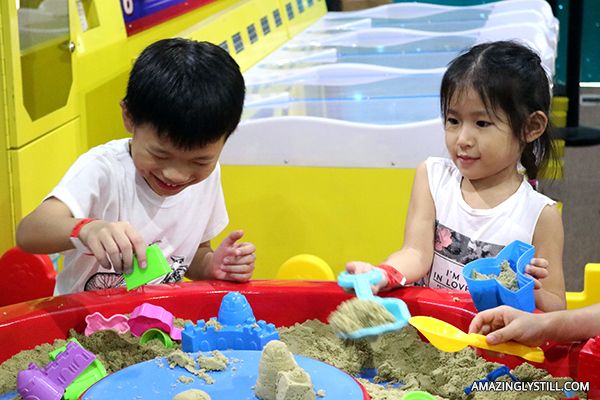 and kinetic sand play!
This was when we took another break to refuel and chomp down on finger food we bought at the supermarket. Haha! And with all our energy pumped back up, we continued playing! The children headed back into the playpark for a little bit and played a couple more games at Kids Game Entertainment Centre.
We ended the day by stepping outside where the train rides and digger sites are at!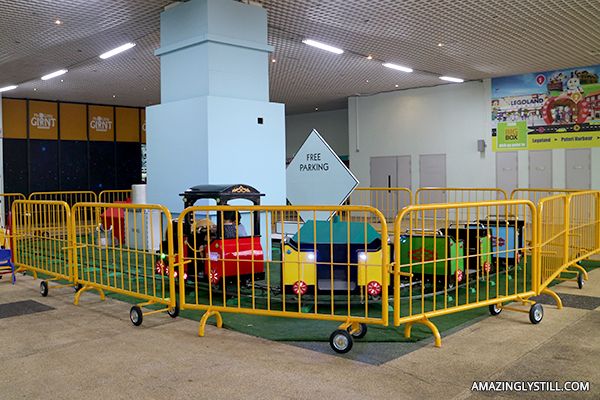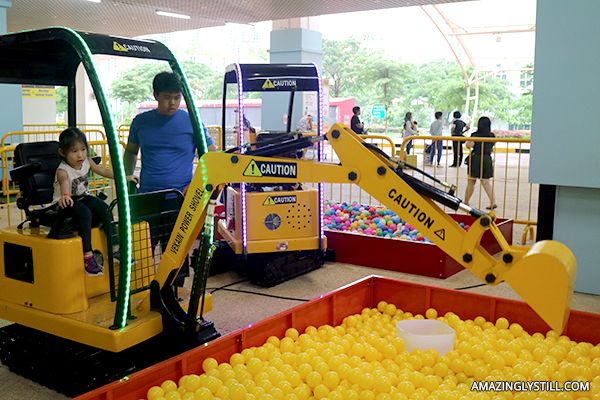 By the time we left, the children had filled up their play tank to the fullest. And when they are happy, we're happy! Woohoo!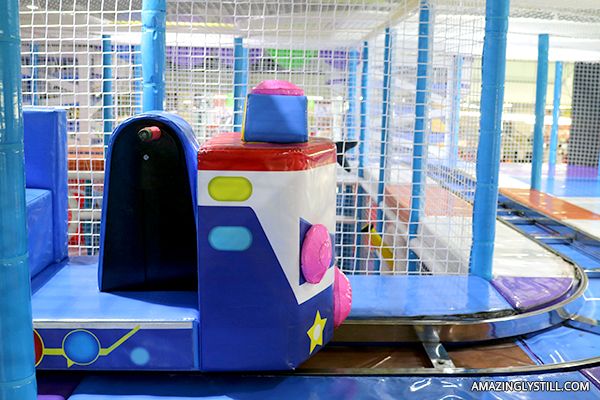 The only one issue I had from our day at My Little Giant was this train, found at the upper most level of the playpark. What was meant to be super fun for the children, driving the manual train on their own and going in circles, became a sad train that keeps getting stuck. I went to find out why, and as it turns out, users have been abusing the train.
Being a manual train, it doesn't go as fast as how some people fancy, and in a bid to go faster, they push the train and damaged it in the process. And now, thanks to the abusers, nobody can enjoy the train.
If you want to go fast, go for the train ride just outside of My Little Giant! Don't ruin things for everyone! Okay, rant over.
And to end this post on a much better note, here's a video of our day spent at My Little Giant!
* * *
Some FYIs for all who are planning to head down to My Little Giant at Big Box.
– The Playpark and Kids Game Entertainment Centre are different sections. The former requires admission fee, while the latter does not.
– To play the games or take the rides at Kids Game Entertainment Centre and the outdoor area, a play card is needed.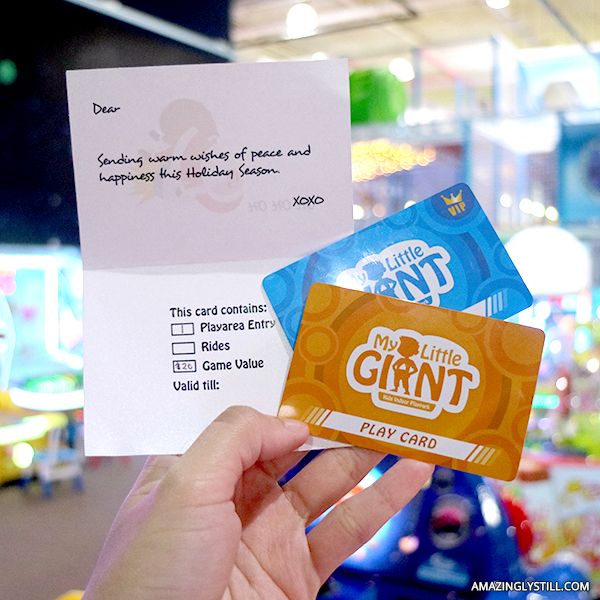 You can purchase the play card and give them as gifts too!
– The Kinetic Sand area requires separate payment and can be paid for in cash.
-There are individual pricing, package deals and annual passes available too.
To read more about My Little Giant, check out Bumble Bee Mum's review.
* * *

And now, the best part… GIVEAWAY!
I have 3 sets of 2 Playpark Entries + 2 Rides to giveaway to 3 lucky readers! All you'll have to do to win yourself a set is to fill up as much of the options provided in the widget below as possible! Good luck!
* * *

My Little Giant

Big Box Level 1
1 Venture Avenue
Singapore 608521

🕚 Monday to Friday: 11am to 10pm
🕙 Saturday and Sunday: 10am to 10pm

💌 ask@mylittlegiant.sg

For more information, visit their Facebook page.
Disclaimer: While we were invited to My Little Giant for a day of fun, this post was written on a voluntary basis. No further compensation was received.