Media Invite
Christmas has arrived at Brotzeit German Bier Bar & Restaurant and the Christmas menu look amazing!
We went straight for the Christmas Platter ($118, pictured above) which was good for 4-6 adults. If you plan on ordering this, do note that it'll take about 20-25 minutes for the dish to be ready.
So while we ordered the Christmas Platter first, the first dish served was actually something we ordered off the children's menu when Blake and Nakayla said they were soooooooooooo hungry! Haha! So drama these two!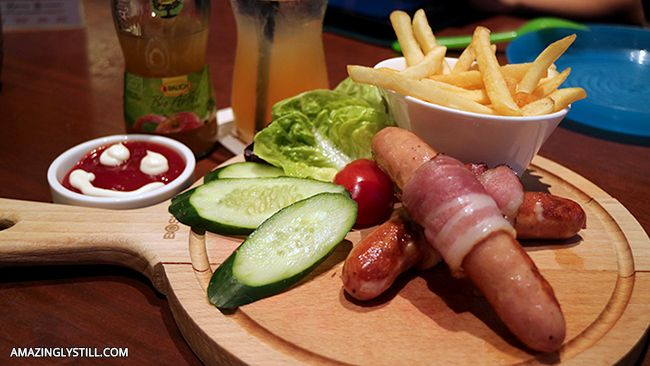 Kinder Sausage, $9
Pork Cheese Sausages wrapped in bacon.
Choice of side: Fries
They ate their hearts out and Blake mentioned how delicious the Pork Cheese Sausages were. They polished off the plate rather quickly!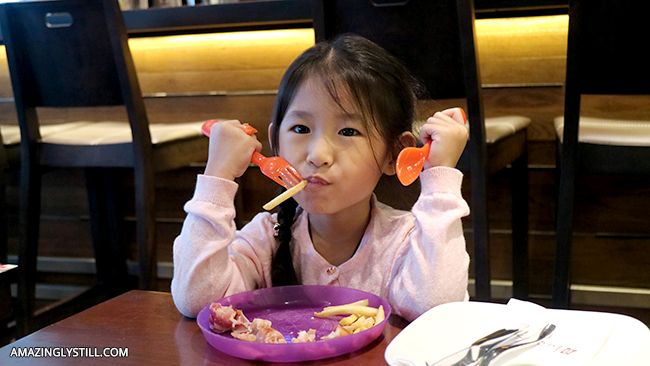 Our Christmas Platter arrived shortly after, and on the platter, we have the following items…

Mashed Potatoes
The Mashed Potatoes are simply DIVINE! Gosh! It's been a while since I've had really good mashed potatoes, so please pardon my excitement over mashed potatoes. Haha! It was of the right consistency and density. It's flavorful but not overwhelmingly so. Perfect!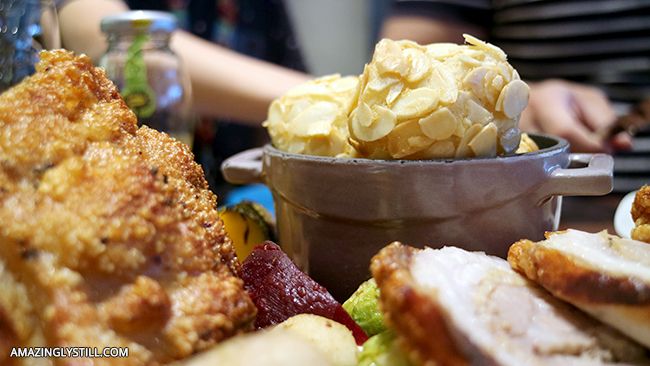 Potato Dumpling with Almonds
This was a surprise to my taste buds! It's springy and barely tastes like potato. You can easily tell your children that it's fishball with crunchy bits and they'll believe you and finish it all. I know, because my children bought the story and munched away happily! Haha!

Braised Veal Shank
The Braised Veal Shank was peppery, tender and succulent. It was a little fruity to taste and the herbs were infused evenly throughout.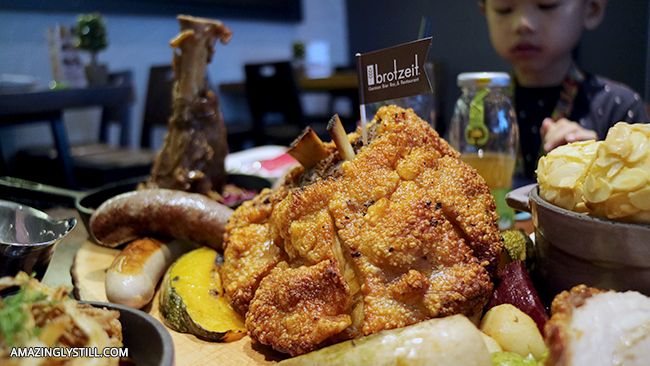 Brotzeit's signature Crispy Oven Roasted Pork Knuckle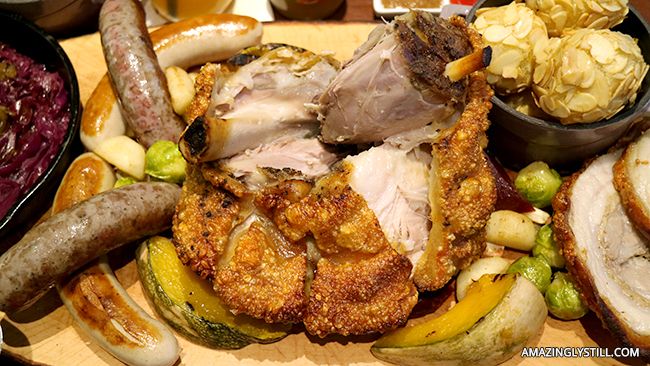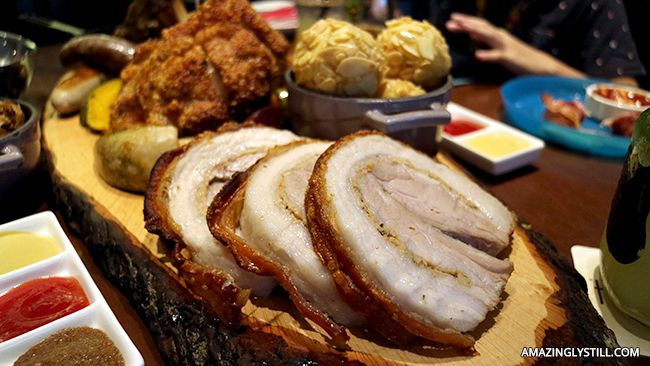 Oven Roasted Pork Roulade
The pork knuckle is tender and goes fantastically well with the accompanying gravy. The pork roulade, on the other hand, was a little tougher. The crispy skin on both the pork knuckle and pork roulade though… It's the crackle of perfection!

Veal (light) and Venison (dark) Sausages
Between the two sausages, I preferred veal while Sean prefers venison. The veal is light, easy on the palate and springy while the venison is more robust in flavor, firmer and a little peppery.
In between all that eating, Sean enjoyed not one, not two, but three mugs of draft beer!
He started off with the Limited-Edition Brotzeit Kellerbier (available till end December – MUST TRY!), followed by Franziskaner Hefe-Weissbier Dunkel (dark wheat beer) and ended the meal with Original Münchner Lager.
I don't take alcoholic drinks, so I was recommended the Virgin Mojito. I've never had it before so I wasn't sure what to expect. It's not bad, but a little sour for my liking. I think I'd prefer myself a Shirley Temple – my usual mocktail that's all so sweet!
It took us a while to ease our bellies before embarking on desserts.

Waffles with Walnut Ice Cream, $16
The waffles are crispy on the outside, thick and dense on the inside. The walnut ice cream which tastes almost like salted caramel ice cream compliments the waffles beautifully. It's an amazing combination to end off a protein-rich meal!
There are also little cookies served on the side. I'm not sure what the cookie flavours are, but Sean and I guess that the nicest one was a cinnamon cookie (with white icing), followed by the cranberry cookie and the last one, we have absolutely no idea what flavor it is. Haha!
If any of you are heading down to Brotzeit German Bier Bar & Restaurant and ordering the Christmas Platter, be sure to learn this Brotzeit way of opening up the pork knuckle! It's not exactly a party trick, but it's so cool!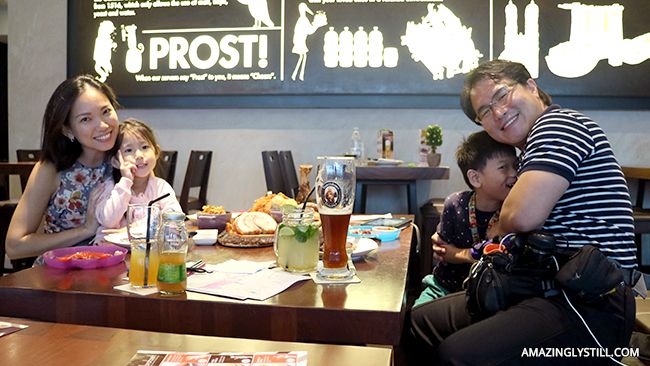 Thank you for the delicious treat, Brotzeit!
* * *
Guests of Brotzeit German Bier Bar & Restaurant are in for a treat this Christmas season as award-winning Executive Chef Wolfgang Ranner takes the helm of culinary creation, sharing some of his most treasured Germanic recipes!
For more information on the special Christmas menu, click here.
For outlet locations and opening hours, click here.
Disclaimer: We were invited to a food tasting session. No further compensation were received.