Dinosaurs have arrived at the Singapore Zoo!
I was a little slow in finding out about this, despite receiving regular newsletter from them. Haha! So when the opportunity came knocking, I took the children out of school again. Don't judge. It's the last year I can do this with both children before Blake heads off to primary school!
Onwards to Zoorassic Park!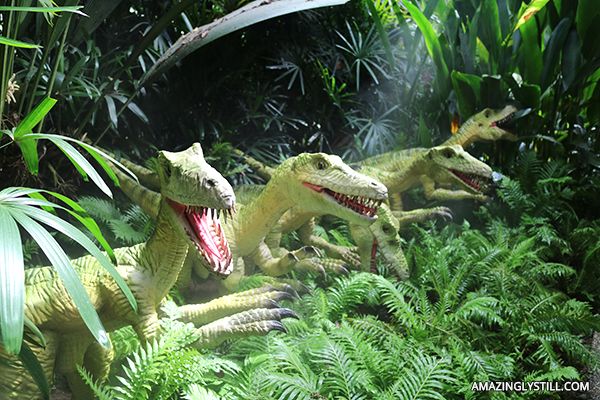 These little critters are found at the sides. We didn't have to enter Zoorassic Park to see it. A couple of children, including Nakayla, were pretty freaked out by them.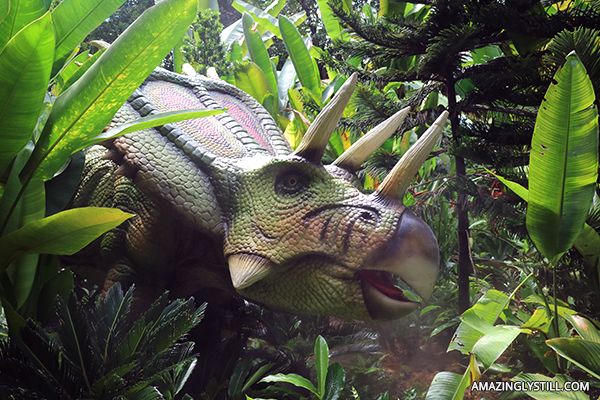 From the time we stepped into Zoorassic Park, we saw dinosaurs upon dinosaurs at every turn. It felt like an endless trial, and to be honest, I didn't want it to end at all!
Blake was most intrigued by the write-up for each dinosaur, and he would never fail to look for it with each new dinosaur we came across. He would stand there, read it out loud and ask for help when he didn't recognize the word. Ah, the joys of having a child who can read! Hehe.
The dinosaurs within the park are largely able to move their heads and open their mouths. It's all timed, so after one round of sound and movements, it'll take a 2-3 minutes break before it starts again. The only dinosaur I remember having different movements was the lone Pterodactyl, who had wings to flap!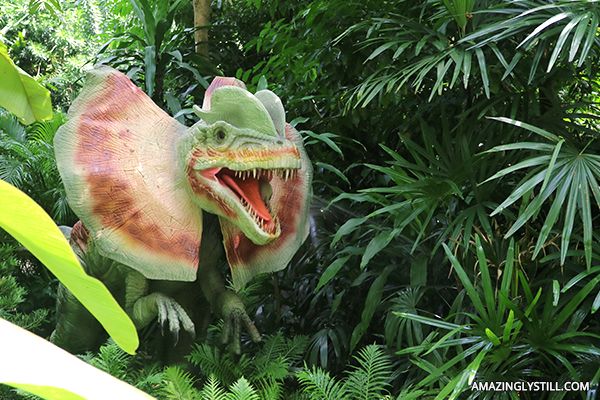 All the dinosaurs were pretty near to us, except this one (above picture). We had been wondering why it was pushed so far into the bushes when all of a sudden, water came spraying out of its mouth! We had a good laugh over it!
The walking path within Zoorassic Park is one way, and really narrow. It's really not easy to get a good photo of the dinosaurs with many people passing through. I only thank our lucky stars for all the considerate people who were in there with us. Pretty much everyone took it upon themselves to either stop in their tracks so that others can take a quick photo or two, and those who didn't want to take photos and were just walking through, hurried themselves along so that the rest could grab the shot they wanted.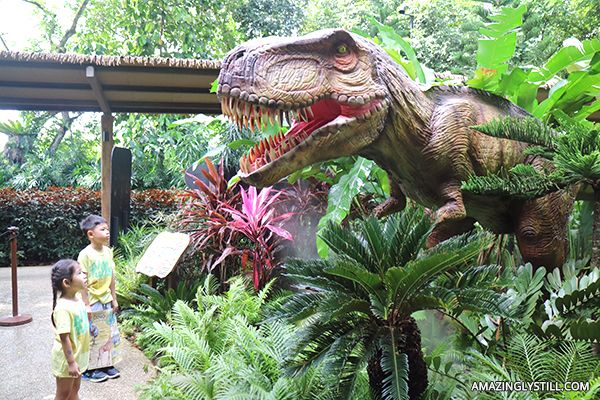 Marking the end of Zoorassic Park is the most iconic dinosaur of all time – Tyrannosaurus Rex. Don't look that scary, right?

Does it look scarier now? Haha!
After our journey through Zoorassic Park, we hopped onto the tram and went in circles until the children decided where they wanted to go next. I guess this is what happens when you've practically visited every single part of the zoo due to the many trips made in the past few months. Haha!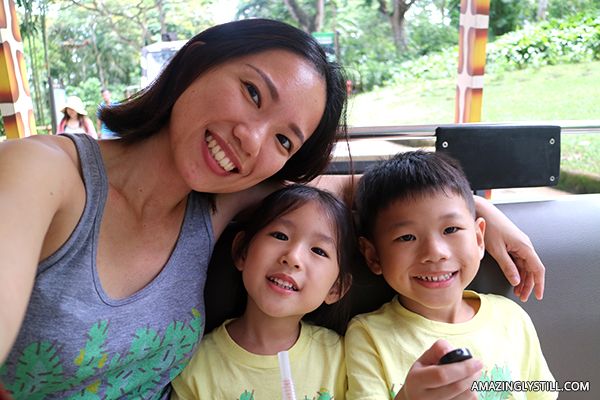 Their first order of business after Zoorassic Park turned out to be Rainforest Kidzworld. What a shocker! Yeah, right. Haha!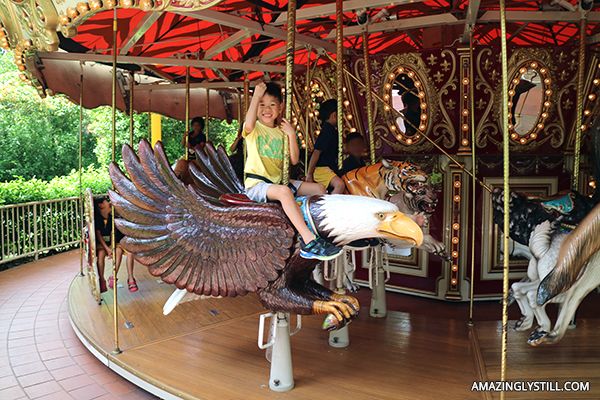 Nakayla leveled up!
When Nakayla first took the carousel, she was pretty scared. But this time round, she told me bravely that she wanted to go on it by herself! Blake wasn't sitting anywhere near her either. They were on complete opposites because of the animals they wanted to ride on. And she had so much fun! I'm so proud of my baby girl!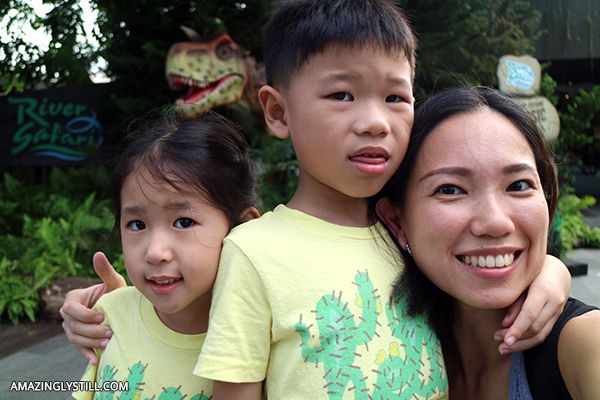 After the rides and some ice cream, we took a slow walk back to the main entrance and hopped over to River Safari. We wanted to see Kai Kai and Jia Jia again!

But first, Master Shifu
Kai Kai wasn't in his sanctuary, as a zookeeper was cleaning the place up. So Nakayla decided to take a photo with the panda statue instead. Haha! And I didn't notice this before… They added the baby panda to the statue! It wasn't there before!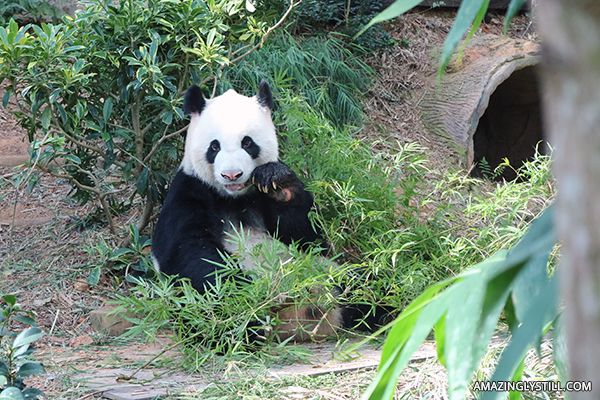 Jia Jia is usually the one we hardly saw. Out of the many times we've visited since River Safari opened, we've only seen Jia Jia once or twice. So imagine our delight when we saw her in her sanctuary! And the best part! I managed to get this shot of her!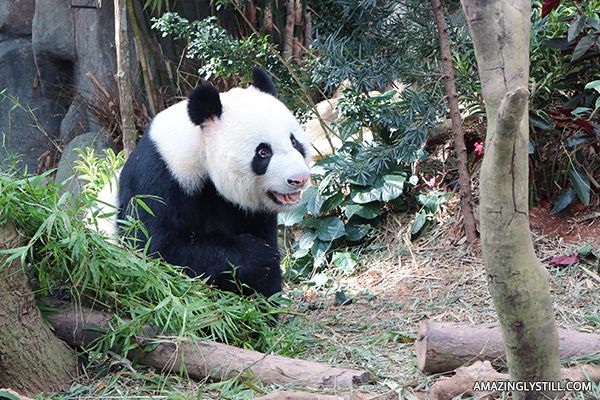 SHE IS SMILING!
The visit to the pandas marked the end of our day's trip as we had to rush off to meet my parents and brother. Haha! So abrupt, but hey, with annual passes, we can return again!

* * *
Singapore Zoo | River Safari
80 Mandai Lake Road Singapore 729826
🕣 8.30am – 6pm daily | 🕙 10am – 7pm daily
(Last ticket sale at 5.30pm) | (Last ticket sale at 6.30pm)
☎ +65 6269 3411
🌏 www.zoo.com.sg | www.riversafari.com.sg
Zoorassic Park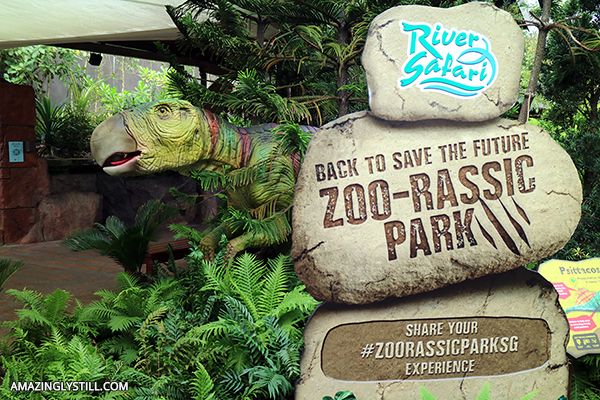 Available from now till 18 December 2016
The entrance to the world of Zoorassic Park is just next to the Otters. On the map, it's where the Tiger Trek is located at. Strollers are not allowed in here. So if you're bringing a stroller, please park them neatly on the sides before you enter!
Special activities, meet and greet sessions are also available in the Singapore Zoo on weekends. Some dinosaurs can be found around River Safari too. And right now, there's a promotion on the admission tickets for locals. For more information, visit their website.