Product Review
Deck the hall with boughs of holly,
Fa, la, la, la, la, la, la, la, la!
'Tis the season to be jolly,
Fa, la, la, la, la, la, la, la, la!
Well, I didn't exactly deck my hall with boughs of holly, but I did add a little Christmas cheer to my living room with a beautiful Christmas hamper from Floral Valley!
I was absolutely clueless as to what's in the hamper, so imagine my delight when I saw that it's filled with my kind of chocolates and snacks! Sean even held the box of Amicelli up and went, "Wow, they even packed your favourite!" Haha! That's not my only favourite. I love me some Ferraro Rocher too 😍 They make all the potential zits popping out totally worth it!
The little decorations on the hamper and fresh flowers chosen just makes this whole hamper scream,
"MERRY CHRISTMAS! HO HO HO!" 🎅
Instead of the usual Christmas flower, Poinsettia, Floral Valley did a flower arrangement made up of mostly deep red carnations and cotton flowers. The acorns, golden balls and bells adorned added to the festive vibes.
The children were intrigued by the cotton flowers, and to be honest, this is the first time I've seen cotton flowers up close too. It's so fluffy and pretty!
I have no idea what cotton flowers symbolize, but I do know that the deep red carnations that brought out the jolly goodness of this floral arrangement represents deep love and affection. And carnations are usually the best flowers to give to mothers. It's also tied in second place as my favourite flower along with roses, after Gerbera.
Note: This revelation is for the benefit of anyone who want to win me over with flowers instead of food. Haha!
While I expected the chocolates and snacks that usually come in hampers, and the fresh flowers cos it's from Floral Valley, I hadn't expected this…

The flowers came in their own vase!
I had thought it was fresh flowers arranged onto floral foam and placed into the gift basket! My oh my!
This pleasant surprise makes it so much easier for me to handle the flowers after taking the hamper apart. All I had to do was pick the entire thing up and put it on my dining table and viola! I have a table center piece!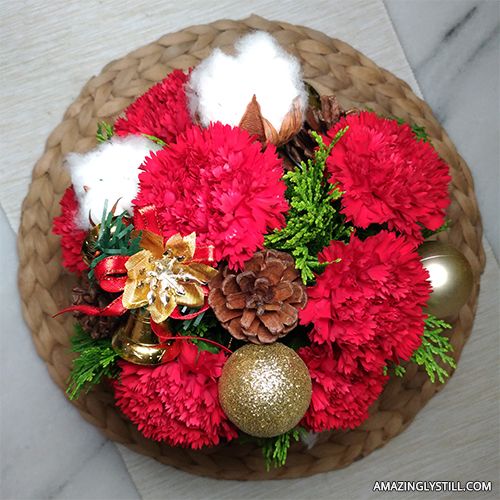 And as I am writing this, the flowers have been sitting on my dining table for a week and it's still looking good!
For someone who stops the husband from buying fresh flowers for her for anniversaries and birthdays, I have to say, the feeling of receiving flowers (from anyone if any at all) is pretty magical! 💖
* * *
Floral Valley is an online florist and gift shop that aims to provide customers with Singapore's best all-in-one florist services.
During this festive season, they are running a promotion on their Mini Festive Hamper.
Delivery is free within Singapore and same day delivery is doable if you place your orders before 5pm. For more information, do visit their website.
Disclaimer: We received a Christmas hamper from Floral Valley for the purpose of this review. No further compensation were received.