Food Review
Christmas has come and gone. 2017 is just round the corner. And beyond that corner… Chinese New Year! My favourite time of the year! Yes, Chinese New Year over Christmas for me. Haha!
Besides the whole family gathering and feasting, the part I like most (second to the red packets… duh!) is how we don't have to have proper meals and can still keep our tummies happy throughout the day – with snacks! And I got a head start with the snacking when Pineapple Tarts Singapore sent over two containers of their pineapple tarts.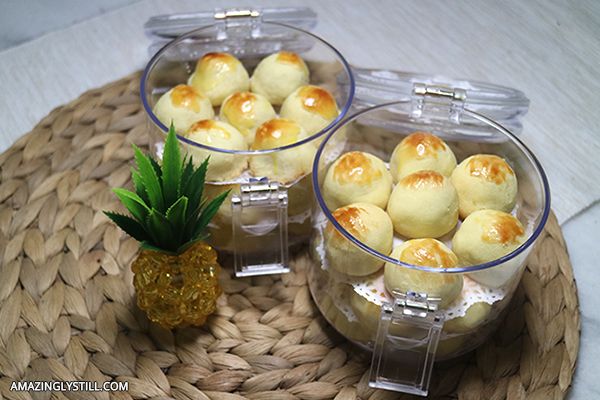 Pineapple ornament is mine. It's not part of the deal. Haha!
Arguably one of the most popular snacks during Chinese New Year, Pineapple Tarts is usually found in every household I visit. It's not exactly my favourite go-to Chinese New Year snack, even though year after year I see the people around me popping pineapple tarts like there's no tomorrow. I honestly wished I was part of the majority, chomping down pineapple tarts!
Now, I'm not sure if it's an age thing (taste buds change as we age… sigh) but when I took the first bite off Pineapple Tarts Singapore's Melt in Your Mouth – Pineapple Tarts. I screamed with joy! Literally. Ask Sean. Haha!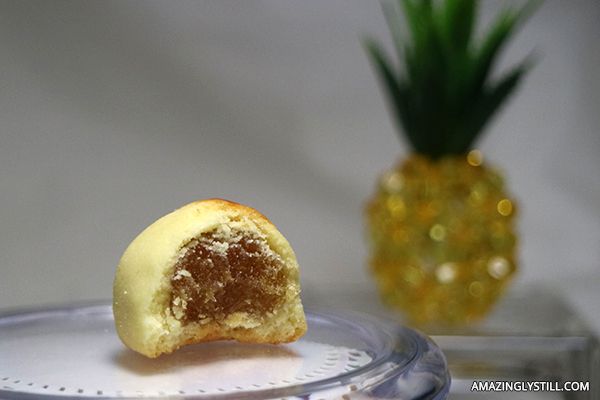 I told Sean I could really go for another one and another one! I honestly don't know what makes theirs so special, but Sean, having grown up helping his mother make pineapple tarts on an annual basis, told me that it's because it was more jam-like and less fibrous than most.
Ahh… So now I have my answer. It's not that I don't like pineapple tarts, it's that I haven't found one that suits my taste buds!
In addition to the traditional pineapple tarts, Pineapple Tarts Singapore have also created a cheese version – Cheezylicious – Cheese Pineapple Tarts.
Initially, I thought cheese will be placed on top of the pastry, where it's normally brushed with egg yolk for that golden brown top, to make it cheezylicious, but nope. The cheese is infused into the party dough! Though, on hindsight, putting cheese on the top may not be a bad idea to help distinguish the traditional and cheese pineapple tarts.
The cheese version is a lot more flavorful than the traditional version. Unless you're the ultimate cheese fan, I think popping 2-3 of it at a go is probably more than one can usually handle.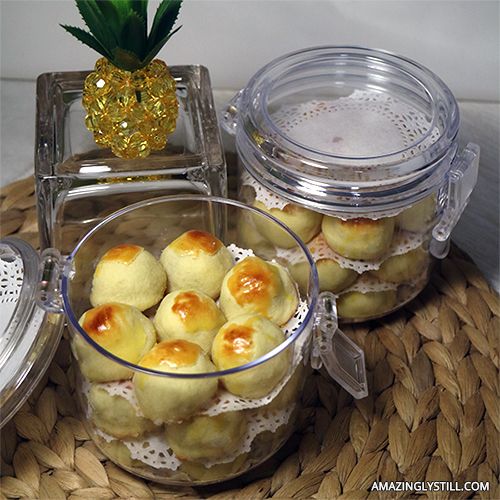 And the aunty in me just have to highlight this… Look at the containers that come with the pineapple tarts. It's not the typical red capped containers. It's air-tight and transparent! LOVE! Totally reusable – be it for storing corn flour, sugar, salt, snacks etc.
Best of all, which I honestly think is super considerate of Pineapple Tarts Singapore, there's no unsightly stickers on the containers. No need to fuss with peeling the stickers off and rubbing whatever remnants there are with zippo fluid. Woohoo!
Okay, shutting down the aunty mode now and starting up the munching on my pineapple tarts mode. Haha!
* * *
Pineapple Tarts Singapore's journey began back in 1979, in Penang. It started off as a humble bakery selling homemade pineapple tarts, which soon became a hot favourite among the folks there. Their ultimate aim is to serve their customers with the best service possible – when you're happy, they're happy! – and to offer their customers quality products.
And with great demand from Singaporeans, Pineapple Tarts Singapore was born, in the form of e-commerce.

Do check them out and start placing your orders for Chinese New Year!
Disclaimer: We received two containers of pineapple tarts for the purpose of this review. No further compensation were received.