Media Invite
The children experienced snow for the first time at Snow City and what a perfect escape it was for us too! The temperatures in Singapore have just been dreadful the past couple of days.
The children were so excited about playing with snow that they almost dashed straight into the Snow Chamber before suiting up in winter wear!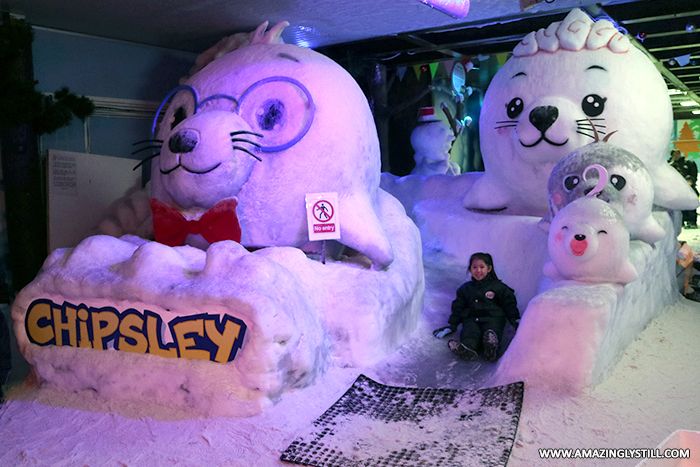 On this special trip to Snow City, we welcomed the Chipsleys, a popular cartoon family of four arctic seals. The Chipsleys were created by Mr Benny Tay (a Singaporean!) with hopes to raise awareness about climate change and environmental issue.
The Chipsleys slide was the very first thing that caught the children's attention and they were going nuts on it. They also attempted to make snowballs and snowman, but decided in the end that just throwing the snow around to replicate snowing was even more fun. Haha!
I tried to get the children to go on the Arctic Snow Slide with me but they declined, saying they're happy with the sleds. Told them I really wanted to play on the big slide (I was imitating their whining tactic. Haha!) and Blake grabbed my face and said, "Okay, Mommy. Go play. Please be very careful when you slide down."
With the big brother's blessing, I went off to slide on my own. When I got to the top, I caught sight of both children waiting at the side for me, instead of playing at the sleds like they said they would. When I was done, they gave me Hi-5s and said I did a good job being brave.
Now… Wait a minute… Did the parent-child role somehow reversed the moment we stepped into the Snow Chamber?!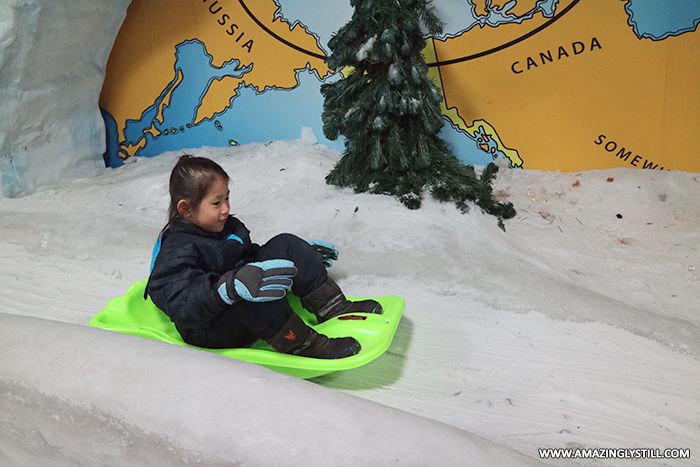 I tried my luck with the children again and asked if they would like to go, and if they wanted, we could all slide down together. The moment I mentioned that, Blake and Nakayla agreed and up we went to the top. And the rest is history!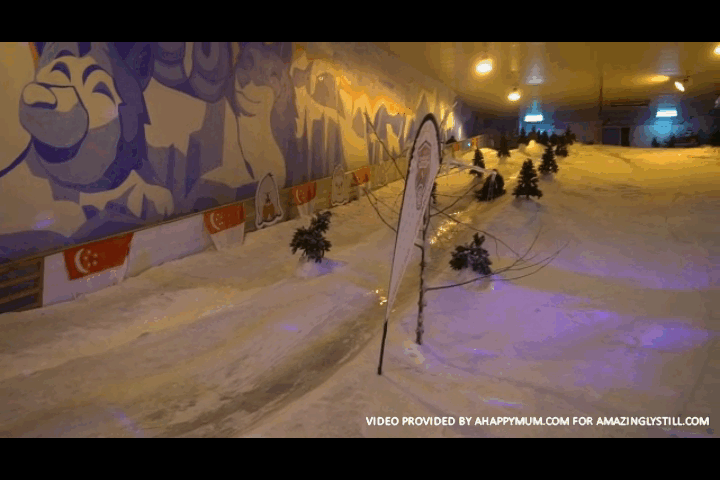 We'll definitely head back again, cos seriously, snow in Singapore at a fraction of time and money spent to travel overseas… YES PLEASE!
And now, this crazy mommy is thinking if we should have a Snow City birthday party for Nakayla's birthday. She has already told me that she wants another 'Frozen' theme birthday party this year, so can you imagine how apt this be!? Hmm…
* * *

Snow City Singapore
21 Jurong Town Hall Rd
Singapore 609433

🕙 10am – 6pm daily (last admission at 5pm)
10am – 7pm on School and Public Holiday (last admission at 6pm)
☎ +65 6560 2306
💰 Admission charge (inclusive of complimentary winter jacket and boots) apply.
Other winter wear like gloves and waterproof pants are only available through rent.
For more information, do visit their website.

Please take note:
Photo-taking is not allowed in the Snow Chamber, we received special permission for it. It didn't last long for me though, cos I wanted to go on the big slide and didn't want to risk ruining my camera, so I popped back out to keep my camera before running back in to play.
Disclaimer: We were invited to Snow City for the purpose of this review.