Media Review
A couple of years ago, we visited Coastes for the first time and it left a really good first impression. We returned again this year and it sure didn't disappoint!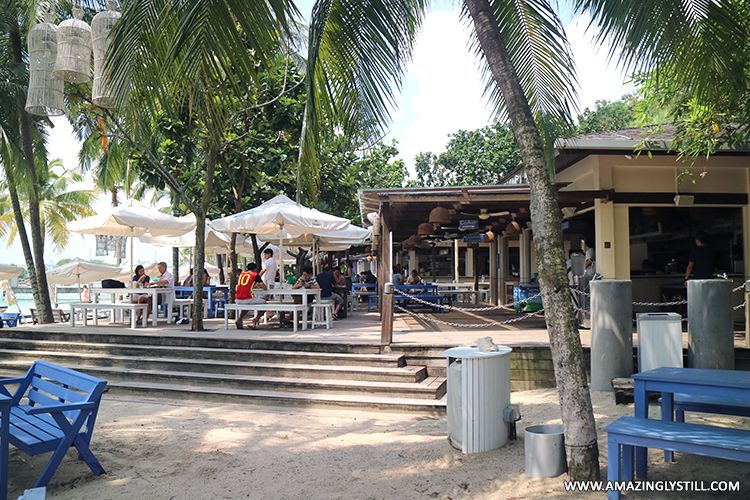 The vibe at Coastes is pretty much the same as most of the cafe restaurants along the beach, and while it may be sunny out, the amount of trees and table umbrellas surrounding the eating areas made it pretty cooling!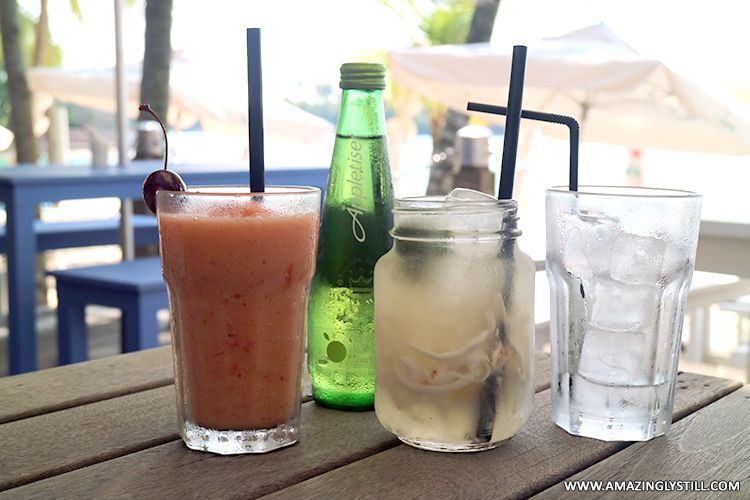 L to R: Peachy Beachy, Appletiser, Coconut Kamquat
The drinks we had were refreshing. I ordered the Appletiser, but soon found myself drinking Nakayla's Peachy Beachy as though it was mine. Haha! It's a sweet concoction of peach fruit, peach syrup, strawberry, mango juice, butterscotch and coconut. I have no idea how they mixed all these up to create such a tasty drink, but I believe that if they were to freeze it and serve it as ice cream, it'll be quite the hit too!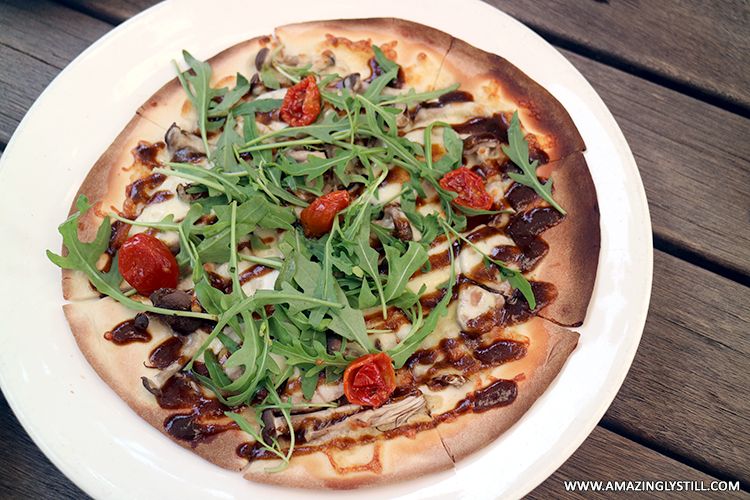 Duck and Arugula Pizza
As some of you might know, I'm not a fan of vegetables – I avoid them as much as I possibly can! So I was really happy to see that the arugula was topped onto the pizza as opposed to being baked into it. Haha! Makes for easy removal!
The simplicity of what remained – the roasted duck meat, mushrooms (not sure of the actual name), cheese and Asian sauce – was a nice mix of texture and flavor seated on top of a crispy pizza crust. Yums!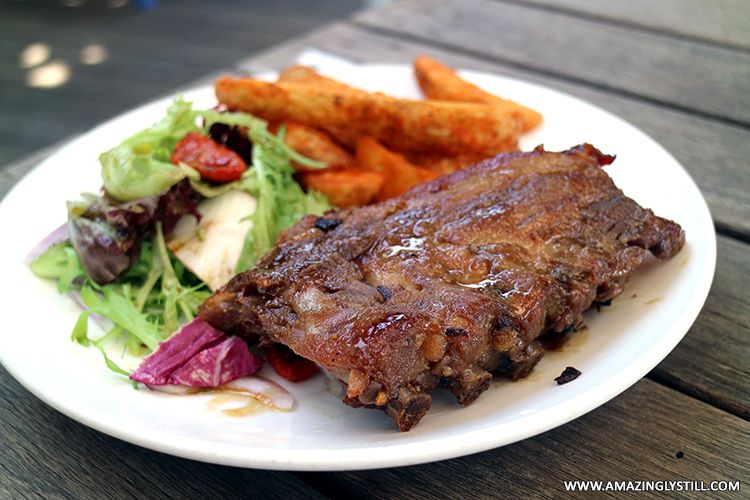 Bourbon-Glazed Pork Ribs, Half Slab
The bourbon-glazed pork ribs was subtle in flavor, with the homemade maple syrup standing out the most in terms of flavor for me. I love it! The sweetened pork ribs were so tender that the meat fell right off the bones when we put our fork through it.
A huge bonus for me – Potato wedges! These wedges were lightly crisp on the sides and soft and mushy in the middle. My absolute favourite kind of carbs!

Coastes Chicken Wings, Half Portion
One of the items that left quite a deep impression on Sean on our first visit was the Coastes chicken wings. It was one of the very first dishes he ordered the moment we sat at our table, even before we read through the menu. And it still tastes so good! A definite must order as long as you're at Coastes!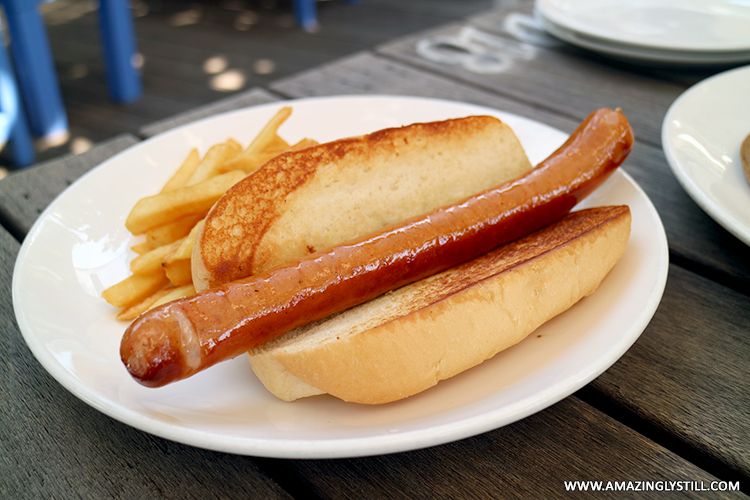 Cheesy Dog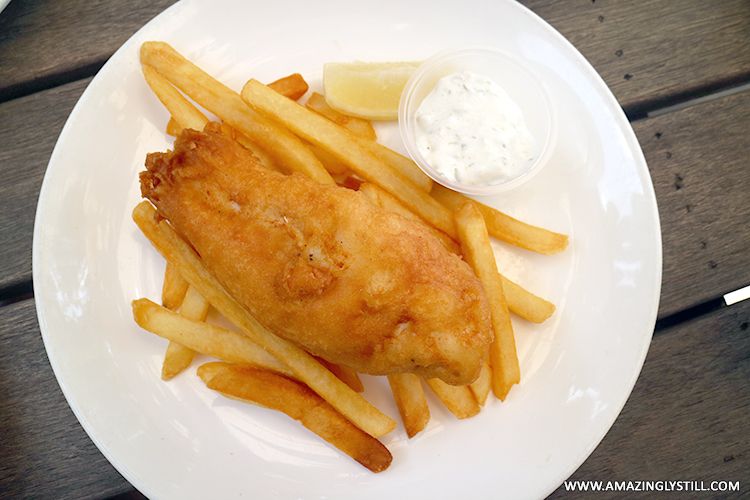 Fish & Chips
For the children, we ordered pretty safe choices. Although on hindsight, we should've gone with the Bacon Mushroom Fritata for Blake. He has been telling me how much he loves to eat bacon (Woohoo!) and I know he loves his omelettes the most. That would've been a better dish for him.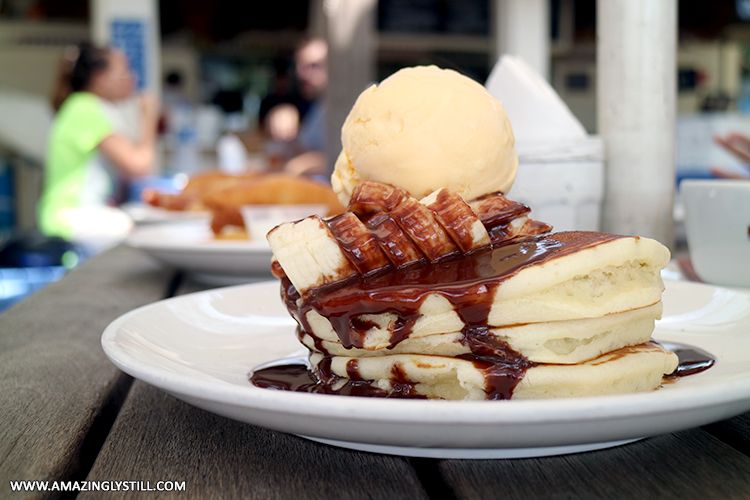 Pancakes with Ice Cream
To round up our meal at Coastes, Nakayla chose the massive Pancakes with Ice Cream. I tried the pancake (didn't have any ice cream or bananas left for me…), and it was so soft and fluffy! I love it!
By the end of lunch, we were stuffed. So stuffed that we forgot to take the family photo we wanted to take. Sigh.
But I do have a picture of Nakayla with her pancakes! Haha!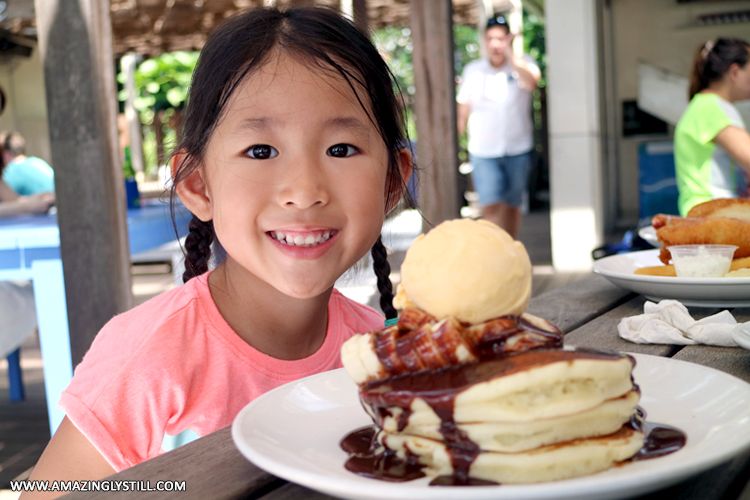 Thanks for having us over for lunch, Coastes! With so much yums in our tums, we couldn't be happier!
* * *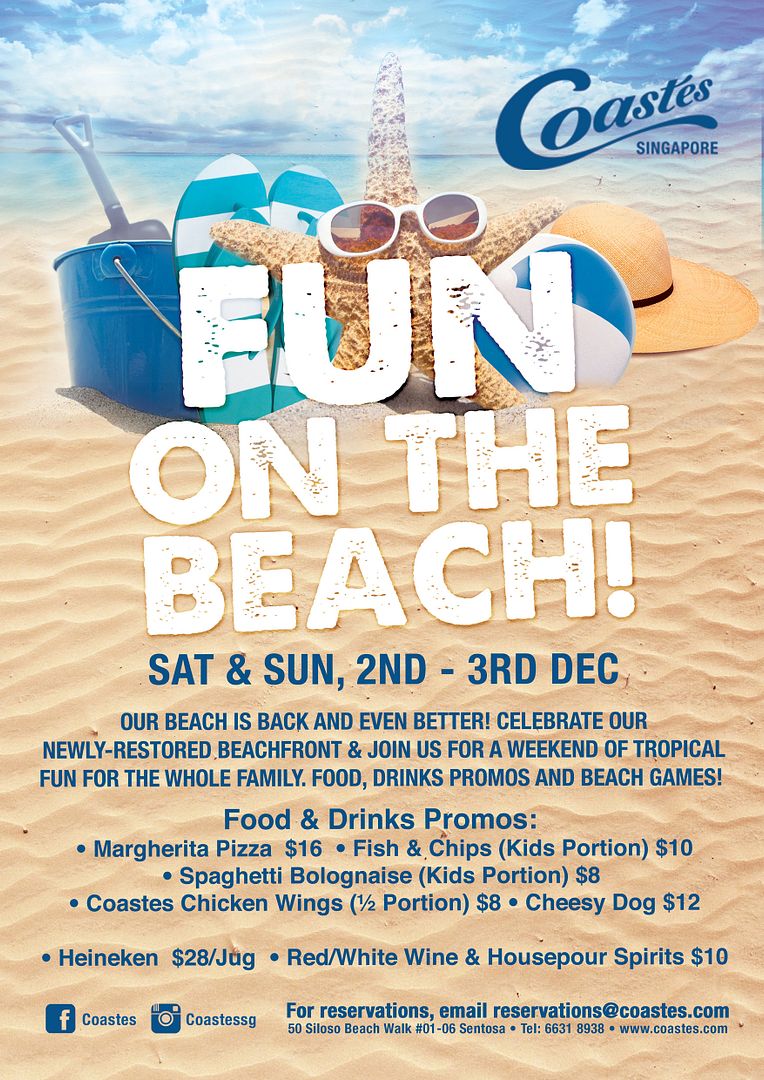 Soak up the sun and join in the 'Fun On The Beach' at Coastes!
To celebrate the newly-restored golden stretch of Siloso Beach, an exciting line-up of activities and exclusive promotions has been prepared for the weekend of 2 and 3 December 2017! Look forward to a weekend of fun with the family with games such as beach bowling, giant jenga, twister and many more! There will also be balloon sculpting and airbrush tattoo stations.
While the children are ensured hours of entertainment, parents can relax and enjoy unbeatable deals on Coastes' mouthwatering beach bites and ice-cold jugs of beer, housepour wines and spirits!
Fun On The Beach at Coastes
50 Siloso Beach Walk, Singapore 099000

2 to 3 December 2017
Saturday to Sunday
11am to 6pm
Admissions is free
Email reservations@coastes.com to book tables

Address: 50 Siloso Beach Walk, Singapore 099000

Available Activities
– Balloon Sculptor from 2pm to 4pm
– Slime Corner
– Airbrush Tattoos @ $5
– Glitter Tattoos @ $5
– Henne Art @ $5
– Face Painting @ $5
Disclaimer: We were invited to Coastes for the purpose of this article.