If you follow me on instagram, you'd have noticed that our family recently visited Mega Adventure Park for some family fun.

I cannot stress how grateful I am for this trip as we were invited back to create new memories after the team at Mega Adventure Park learnt about my lost photos earlier this year.
To kick start the day at Sentosa, we were offered to do anything we want. What a treat!
The MegaWall was closed on the day of our visit, so Blake was pretty bummed by it (but when he saw the actual scale of the wall, he was shocked. Haha! "Too high, mommy!") and he wasn't sure if he was ready for the obstacle course, MegaClimb.
Nakayla has yet reach any of the minimum height or weight requirements, so she couldn't do anything except tandem down on Megazip with us.
Sean and I, on the other hand, were super game for MegaJump. The last time we did this was a few years back, when Blake was still a baby.
We took turns and this was the result. Haha.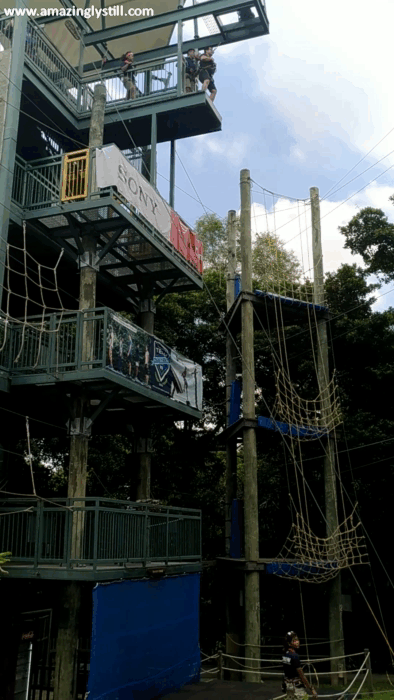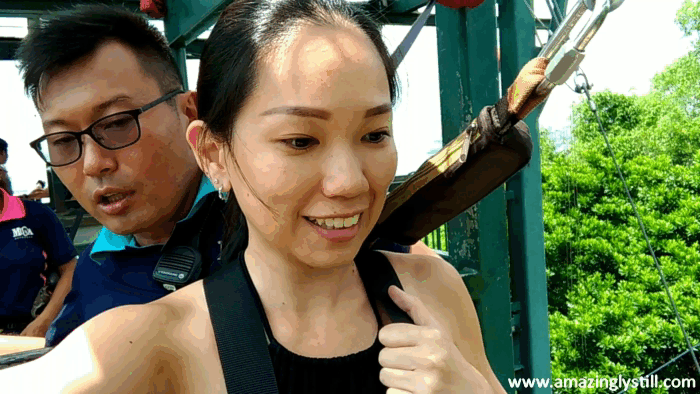 It was scarier than the last time I stood on the platform. But man! The adrenaline rush from the moment I jumped off was awesome! Woohoo! It felt super good!
The two little ones who were waiting below for us, cheered and clapped for us when we landed and I bet they must be thinking we're either pretty brave or straight out crazy to be jumping off such a height. Haha!
After we were done with MegaJump, we replenished our thirst with the complimentary bottles of water for all Mega Adventure Park guests. It's something new and a definite value-added service!
Then we made our climb to the top.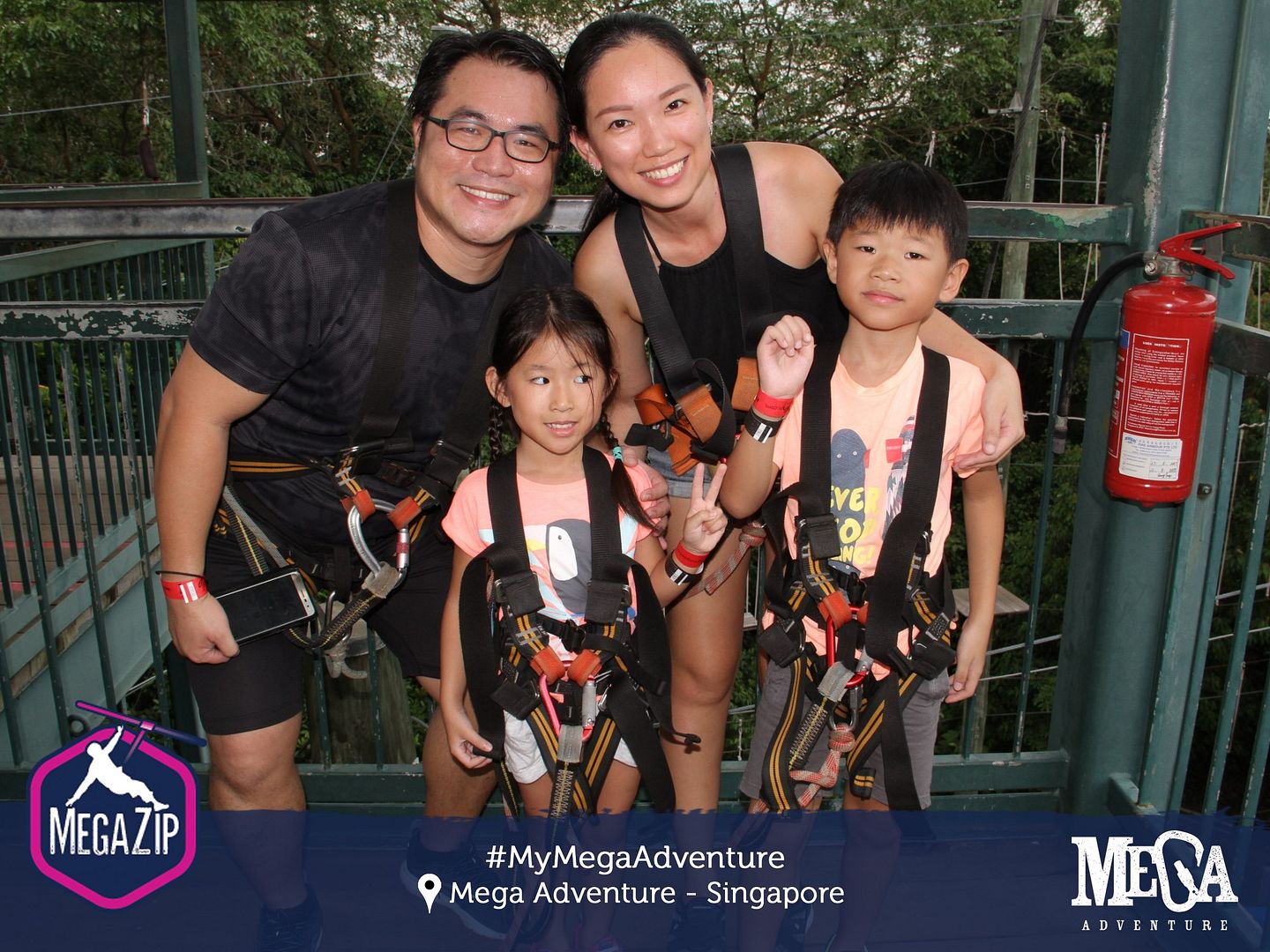 Both Blake and Nakayla began to feel nervous. So nervous that smiles were completely wiped from their faces.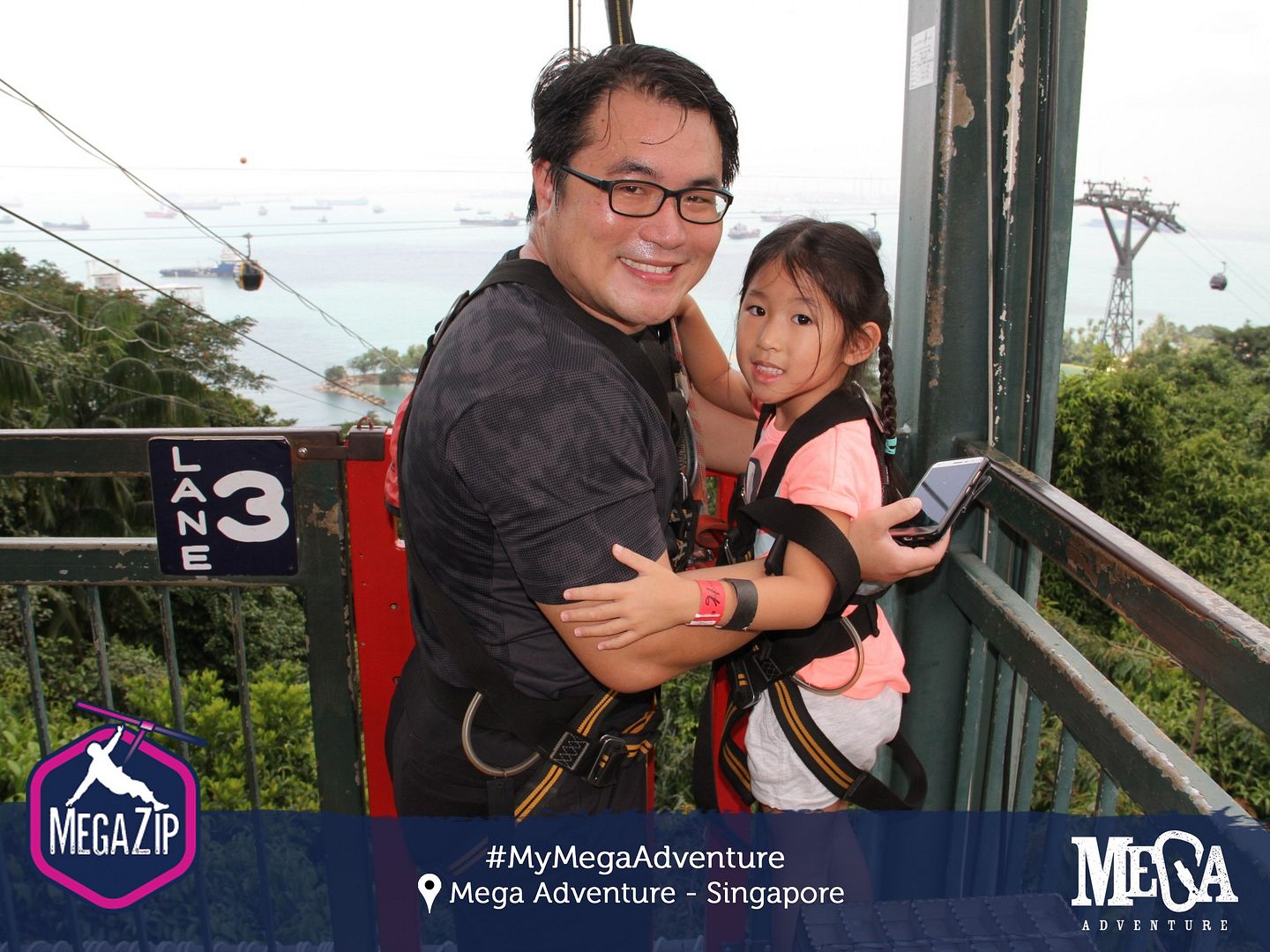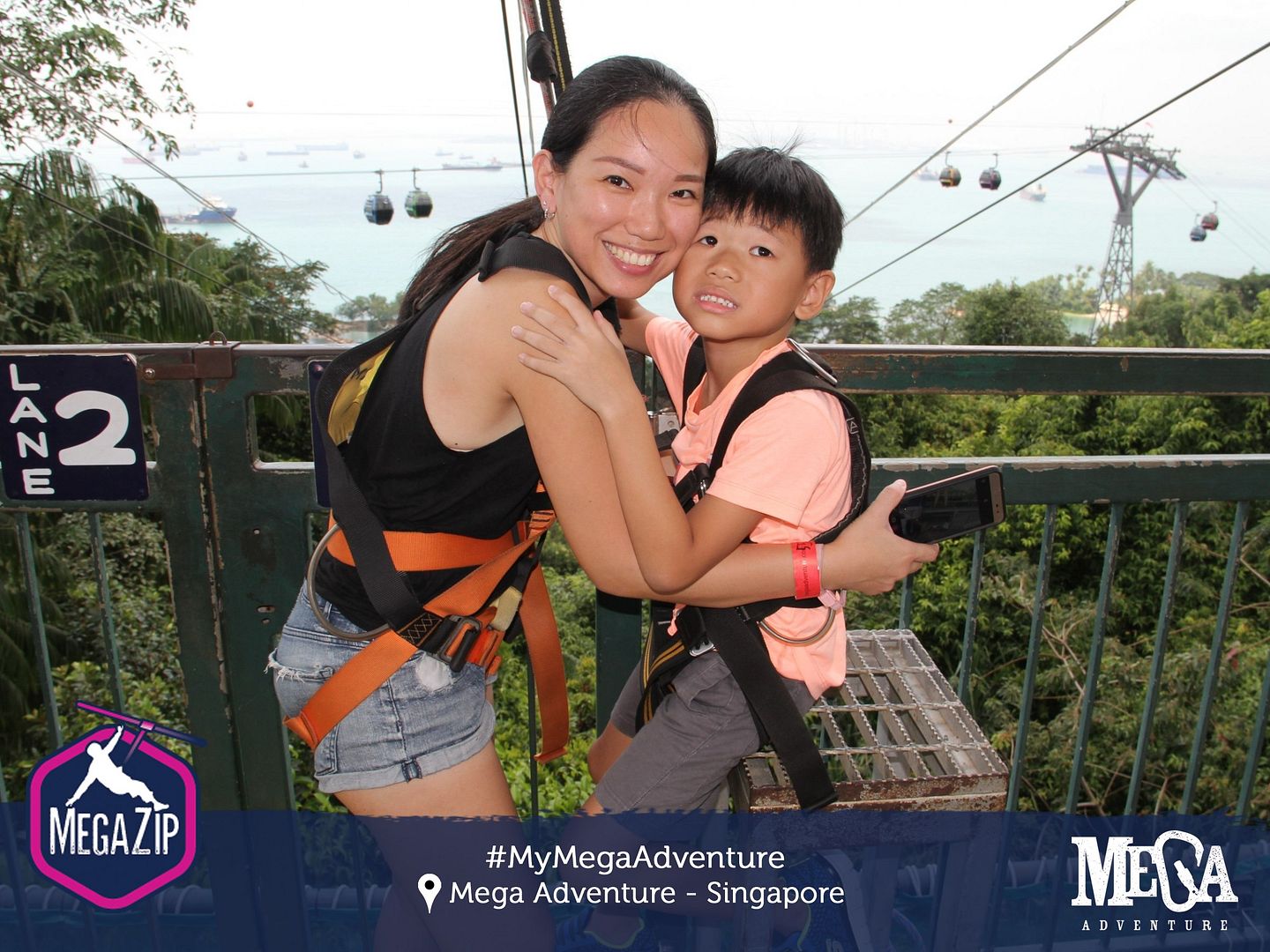 But the moment we were released and zoomed away, both kids screamed with joy and laughed out loud!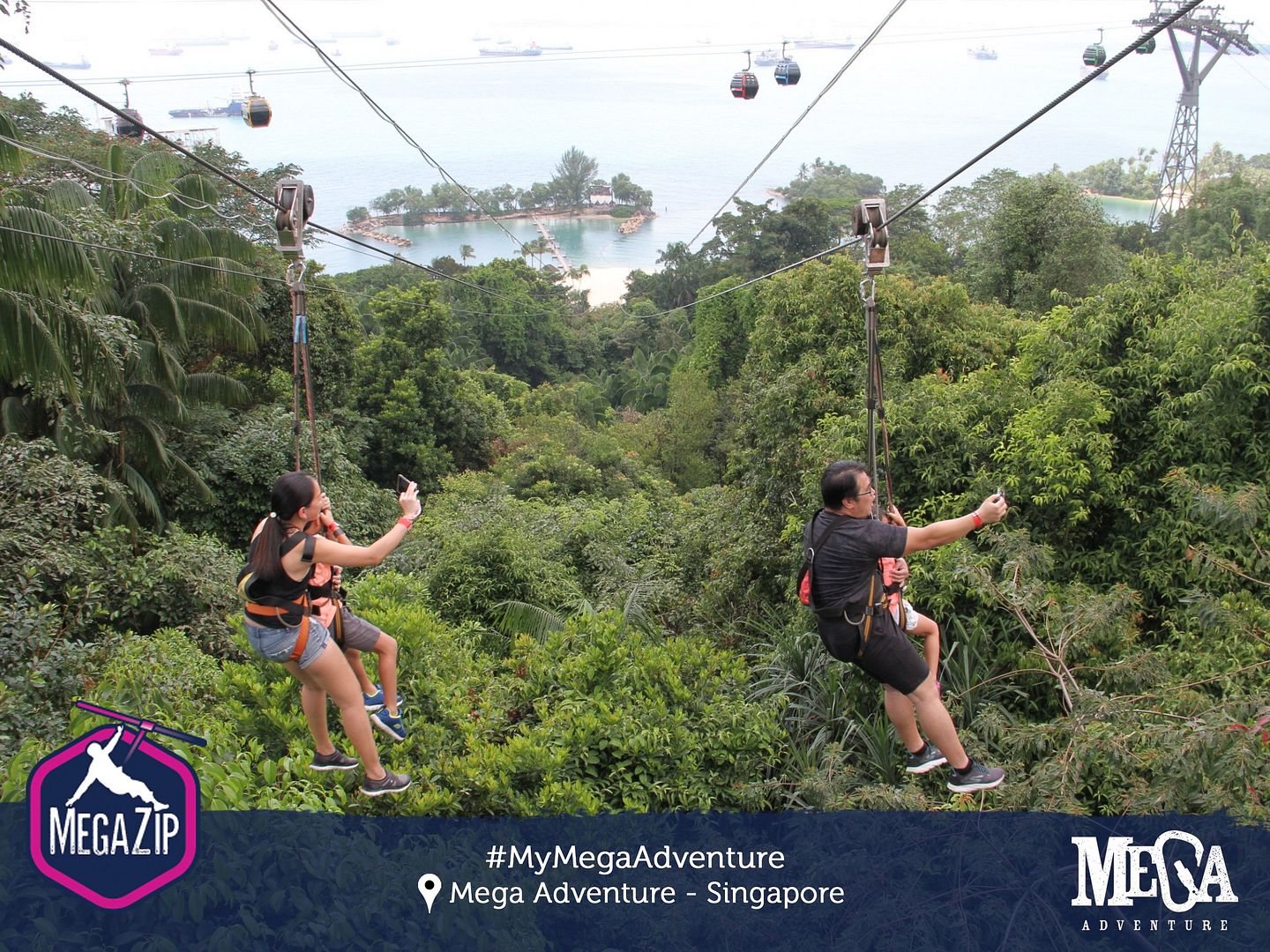 Sean's camera had some issues along the way, so he didn't manage to save anything he had captured on the way down. Thankfully, my arms were long enough (selfie sticks are no longer allowed) and they went a lot faster than us, I managed to get them in the background!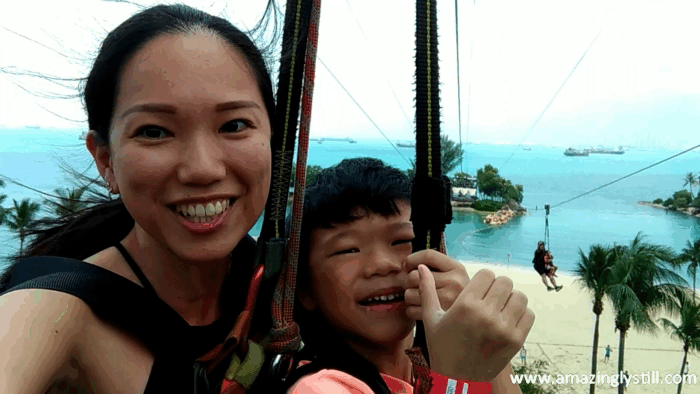 Trips to Mega Adventure Park has always been exhilarating fun for us (me especially. Haha!) and I can imagine making this a family thing for when the kids are old enough to go on MegaClimb, MegaJump and MegaWall, tandem down with each other MegaZip whilst Sean and I play right along beside them!
Onwards to more adrenaline pumping family fun! Woohoo!
* * *

Mega December Promotion:
$65 High Flyer
(u.p. $85)
This December, Mega Adventure is having a High Flyer promotion, which includes MegaZip, MegaClimb and MegaJump.
Simply select the HIGH FLYER package on their site, add to cart and enter the coupon code MEGADEC. Remember to click apply and checkout as per normal. This offer ends 31 December 2017.
Other packages will also automatically receive a 10% discount if you purchase your tickets online! Tickets are valid for 60 days from the date of purchase.
For more information, visit their website here.
* * *

Mega Adventure Singapore
10A Siloso Beach Walk
Singapore 099008

Opens daily from 11am – 7pm
☎ +65 6722 3785
Disclaimer: We received invites to return to Mega Adventure Park with no obligations to write this article.