Media Invite
We've been saying that we want a cosy birthday celebration for the children (to let them know there are more ways than one to celebrate their birthdays), but somehow or other, we end up with something pretty big… To us, at least. This year, however, I stuck to our plan, refusing to make any advance booking or reservations anywhere. I was literally playing by ear when Inspirit House reached out to us and voilà! Everything fell into place!
Image source
Inspirit House is a fusion restaurant that is family-oriented and kids-friendly, which is evident from the little play corner set up and readily available baby high chairs.
Image source
After the arrival of my family, it was time to feast!
S T A R T E R S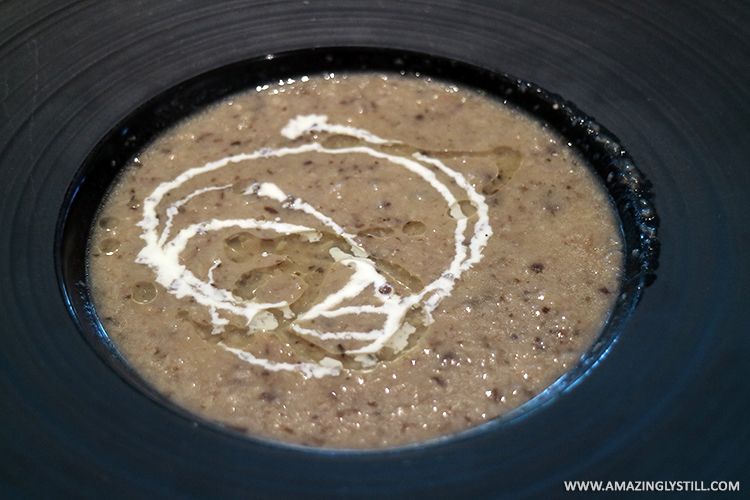 Soup of the Day: Cream of Mushroom Soup with Truffle Oil ($5.90)
Nakayla absolutely loved this. I had ordered one to share, but she basically hogged the bowl. This in-house special is not your typical cream of mushroom, it's chunkier and filled with loads of mushroom goodness.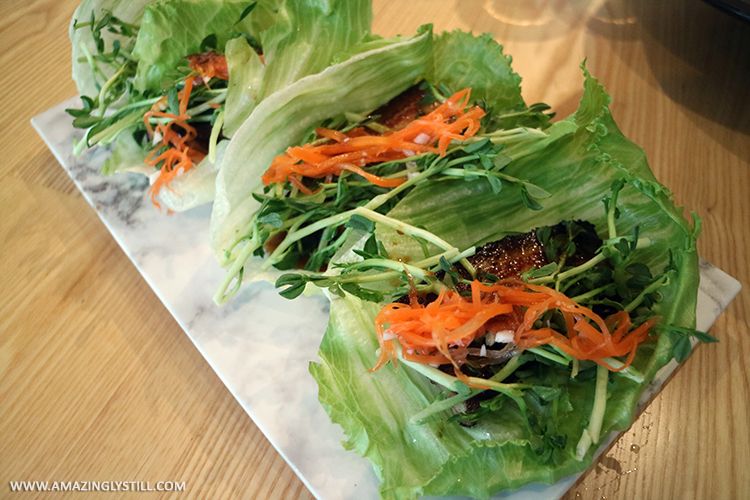 Pork Belly Platter ($15.90)
A twist on the usual Kong Bak Bao a.k.a. Pork Belly Bun, substituting the carbs for a healthier choice of lettuce wraps. It was lighter on the stomach and the fresh vegetables also meant that this starter had a good crunch to go with the tender pork belly!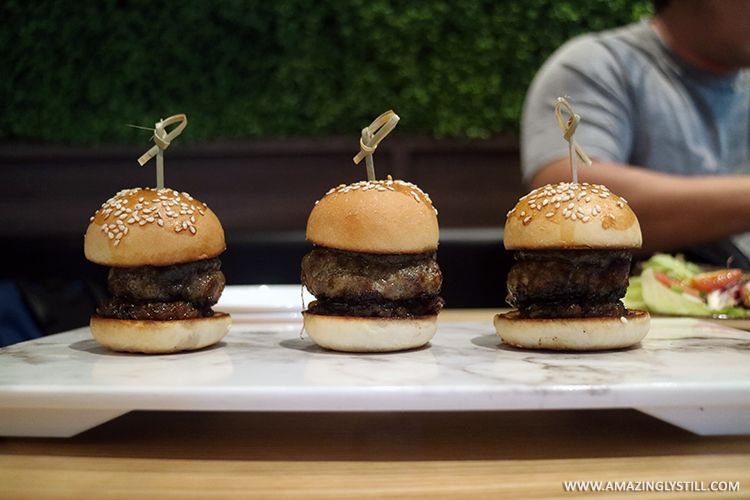 Mini Pork Burger ($13.90)
One of the few ways to get Nakayla to eat meat happily is to serve them as burgers, so obviously I had to order this for her! The burger patties were lightly-charred and well-marinated, giving off a smokey taste that's somewhat similar to satay.
This is also available in the Kids' Menu where a surprise gift awaits them!
A L L D A Y

Rosemary Fried Chicken ($15.90)
Is it just me or does everyone else also wish that they can have what's designated to be breakfast meals for lunch or dinner too? The Rosemary Fried Chicken is lightly crisp and subtly flavored, while the waffles and maple syrup goes perfectly together.
M A I N S

Lamb Cutlets ($30.90, waiting time 30-45 minutes)
Upon first browsing of the menu, the Lamb Cutlets caught Sean's eye. Initially, we were a little concerned over the waiting time, but seeing how it might be a while before the rest arrives, we placed an immediate order for it. The timing couldn't be more perfect because this main course arrived first, with all the orders placed later following right after!
According to Sean, the lamb cutlet was crispy on the outside and succulent on the inside, cooked to a perfect medium-rare. I took some of the mash potato off his plate and can I just say that, for someone who has eaten all kinds of mash potato, this has got to be the smoothest yet?

Rosemary Chicken ($17.90)
Marinated similarly to the Rosemary Fried Chicken, this version took to the grills instead. This probably gave the chicken an enhanced smokey flavor and was appetizing to taste!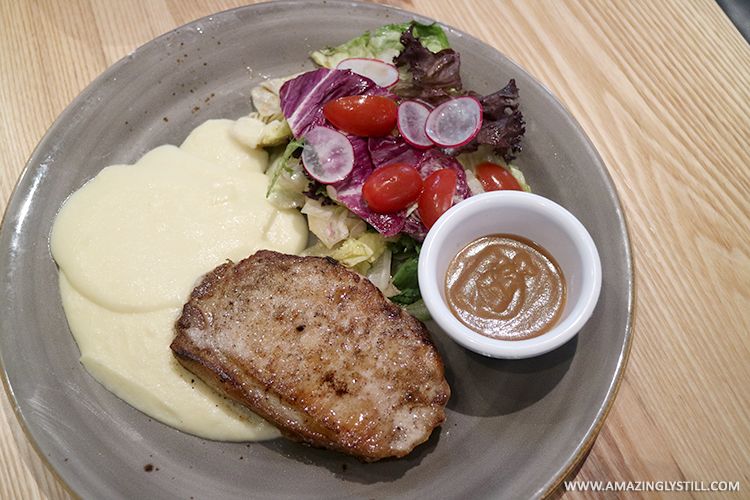 Pork Loin Steak ($22.90)
The Pork Loin Steak comes with a choice of apple or garlic chilli sauce. We had gone with the apple sauce as my father isn't a big fan of spicy food (like me!), and when I asked my parents to describe the Pork Loin Steak they had, they said it was tender and juicy. And whilst the apple sauce enhances the flavor, it was good on its own too!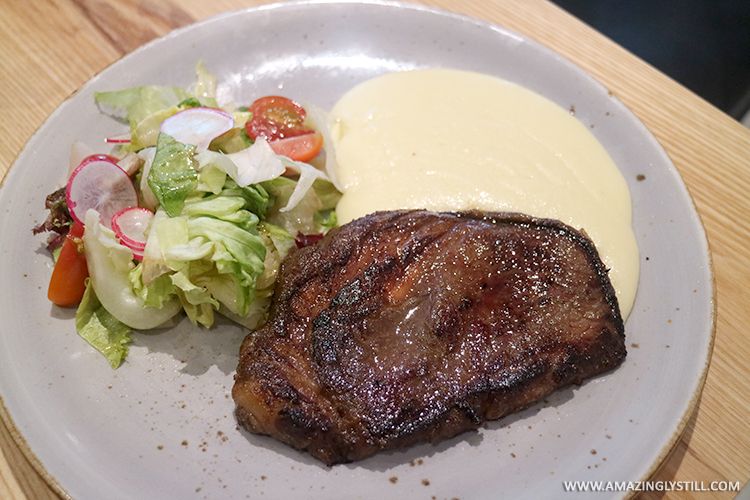 Soy Whisky Ribeye ($26.90)
Although it's a little on the thin side, the steak was grilled to an ideal doneness of medium, leaving it still juicy on the inside.

Fish & Chips ($18.90)
The Fish & Chips at Inspirit House is not quite the usual fish and chips we're used to. From the use of herb batter and fresh sea bass to the special concoction of chaipoh a.k.a. preserved radish tartar sauce, this dish was a pleasant surprise that had me wanting more! I had ordered an adult portion for Blake (yes, he can eat that much now!), but I ended up eating about half of it. Haha!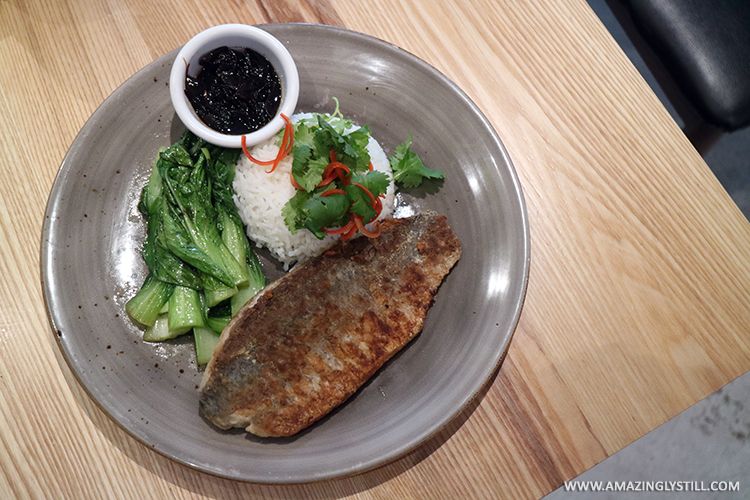 Kecap Manis Sea Bass ($18.90)
Sean had initially asked me to try this, knowing that I have a certain love for kecap manis. Sadly, it contains red chilli and I'm absolutely terrified of anything too spicy! The good thing was, my mom ordered it! According to her, the fish was fresh, but it was a little dry on its own. However, when mixed with the sauce, it tastes much better!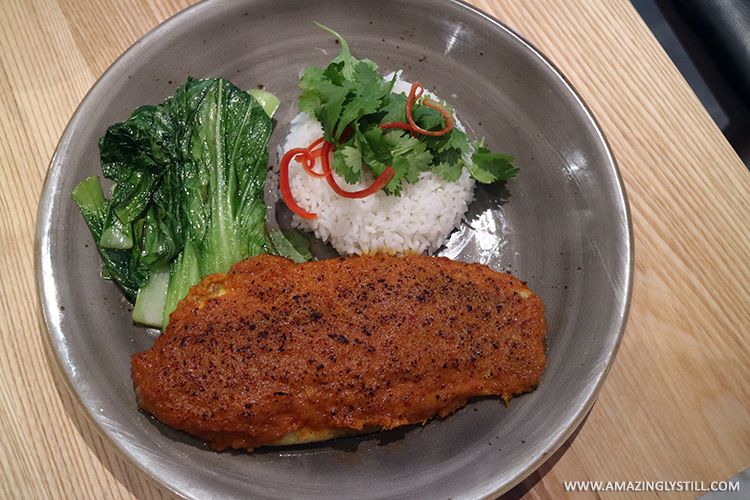 Nyonya Sea Bass ($18.90)
My mom calls this the one that almost got away. When my mom was placing her order for the Kecap Manis Sea Bass, the staff had asked her to consider Nyonya Sea Bass. Whilst it didn't change my mom's mind then, I thought just order it and have everyone try a little of it. I mean, usually when the staff of a cafe or restaurant recommends you something, chances are, it'll be good, right? And the Nyonya Sea Bass did live up to the recommendation!
My parents were both pretty impressed by this dish, so much so that when I asked for comments, they sent me this: This is good. Fish is juicy and tasty with a fantastic Nonya paste. A must try.
M O C K T A I L S

L to R: Litchi Blossom, Muddy Marshmallow, Evergreen, StressFree, Dreamland (1 for $7.90, 2 for $14)
The first mocktail to catch my eye based on the description was the Litchi Blossom – Lychee Fiesta tea, Butterfly Pea tea, Flower Blossom, Lime, Lemon, Lychee and Rose buds. This lightly flavored mocktail would've looked even prettier if it was placed in a brandy glass, giving every item a chance to shine!
Muddy Marshmallow is probably the go-to drink for the children with the most obvious reason being the toasted marshmallows. It also helps that it's just a slight variation of regular apple juice, making this drink super kids-friendly!
My mom had chosen Evergreen as she has always liked the fragrance of earl grey. This drink was light to taste with a subtle tartness.
When the team at Inspirit House introduced us the different mocktails available, the little joke they made on how the drink StressFree came about led to Sean's decision to have it. What made this drink rather refreshing was the use of anti-stress tea mixed with passion fruit, lime and rosemary!
Dreamland almost didn't happen, but when I found out that it had Sprite, I changed my mind immediately! Absolutely no regrets as the combination of butterfly pea tea with Sprite, soda, lemon and flower blossoms was pretty cleansing for the palate. And it turned out to be pretty too! A bonus!
D E S S E R T S

Waffles & Ice Cream: Chocolate ($8.90)

Waffles & Ice Cream: Strawberry ($8.90)

Chendol & Waffle ($8.90)
This is my favourite section of the menu. Haha! The waffles at Inspirit House is one of their most popular item on the menu and I can understand why. The freshly made waffles are crispy on the outside and fluffy on the inside, making it an instant hit with the family! On top of that, the ice cream we had are all in-house specialties, made with their own recipes. The gelato-like texture of the ice cream complimented the waffles really well, making it lip-smacking delicious!
Among the desserts served were two very special plates…

Birthday waffles for the 9/9 babies!
We decided to switch things up a little and had ice cream and waffles as an alternative to cake. I had informed the team at Inspirit House prior to our arrival that it was both my mom and Blake's actual birthday, and they had this specially prepared for us! How sweet of them!
Having done so many birthday parties for the children, this particular birthday celebration has got to be one of the top three. Partly because we kept to our wish of having a cosy birthday celebration with the family, and celebrating it at Inspirit House, where it was good food and good vibes all around, made it feel even better.

Thank you for an amazing evening of celebrations, Inspirit House!
P.S. This birthday celebration also meant that I fulfilled Blake's wish to celebrate his birthday with my mom on their actual day! Yay!
P.P.S. If you're a fellow Pokémon trainer in Pokémon Go, you'd be please to know that you'll be able to reach a Pokémon Gym while dining at Inspirit House. Double yay!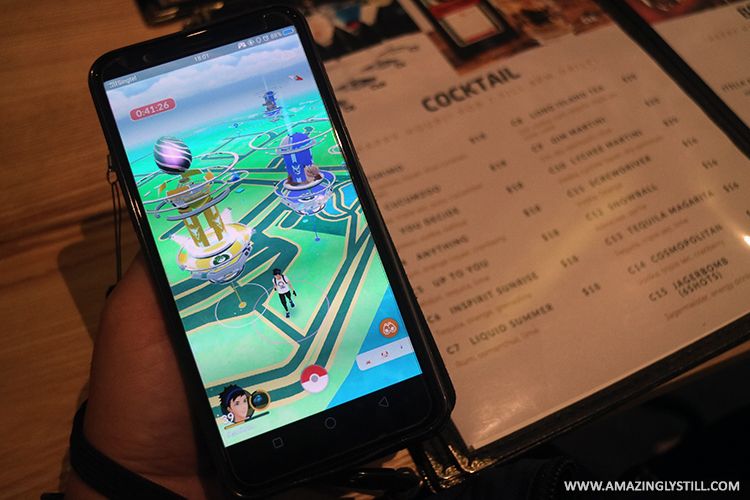 * * *
Inspirit House
The Punggol Settlement
3 Punggol Point Road #01-05
Singapore 828694
Opening hours:
Tuesday to Thursday – 3pm to 12 midnight
Friday – 3pm to 1am
Saturday – 9am to 1am
Sunday and Public Holidays – 9am to 12 midnight
Closed on Monday
For enquiries on event hosting, birthday celebrations or to make reservations,
you can either drop them an email at info@inspirithouse.com or call +65 6920 6388.
For more information, visit their website at www.inspirithouse.com.
Update (26 April 2019): The menu at Inspirit House has changed. Stay updated with their latest menu here.
Disclaimer: We were invited to Inspirit House for the purpose of this review.