After we realized how much the children love water play, we made the decision to visit Adventure Cove Waterpark!
Visiting Adventure Cove Waterpark is a big deal to me. I don't like going into water. It's not that I can't swim – I can – I just have this fear of water bodies that makes me avoid it whenever I can. The thought of potential drowning or dry drowning really scares me out of my wits!
About two nights before our visit, I expressed my fears to the husband and it seemed like a panic attack was setting in. He got worried and wanted to cancel the plans. But since the children enjoy water play, I decided to just go ahead so that my children won't miss out on the fun stuff cos of my own fear.
Alas, the day of visit arrived.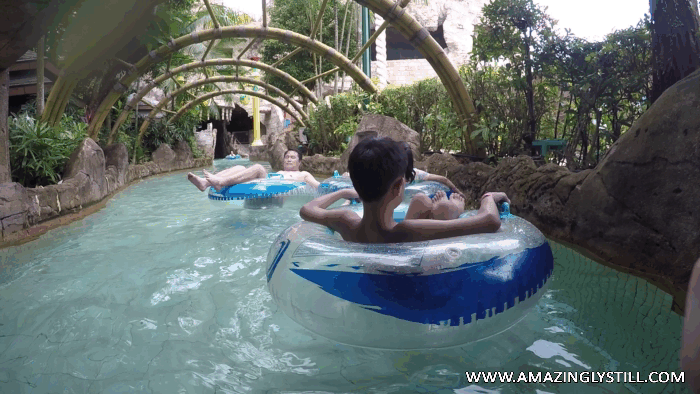 We started with something easy – Adventure River – and traveled to the first stop, just outside Bluwater Bay where the children had tons of fun jumping the waves!
After a round of tidal waves, we made our way to Rainbow Reef. It was suggested to us by the staff at the entrance to go for it first as this activity is only available for half the day (10am to 1.30pm).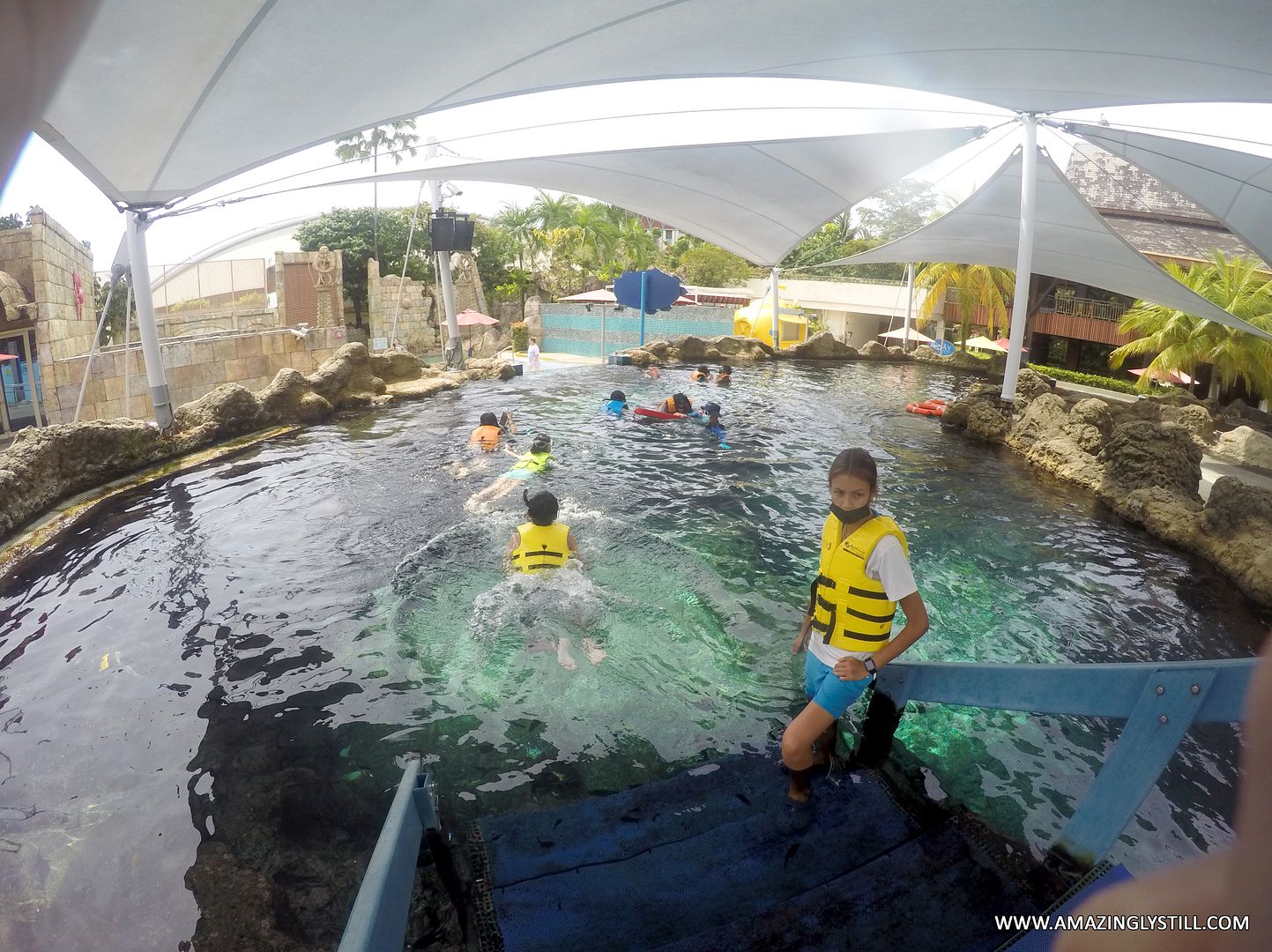 It was our first time snorkeling, and while Sean and the children went straight into the water when it came to our turn, I hesitated. I got scared and the staff very kindly sat me down on the steps to practice. By the time I was ready, they were already halfway through the round! I got scared again and almost backed out when the staff offered to let them go again with me after they returned.
Sean accompanied me on my first snorkeling experience, and thank goodness for him! I panicked the moment my entire body went into the water.
Everything felt weird with the life vest on (I couldn't balance myself!). I couldn't move the way I wanted to (we're not allowed to kick in the waters as well) and soon, I stiffened up. The cold, cold water did not help either.
I was on the verge of crying when Sean got a hold of me and guided me to a nearby lifebuoy to reorientate myself.
I had two choices – to continue and finish the round or turn back. I told him I really want to do this right but somehow I'm not able to move the way I want and that scares me a lot. What Sean said next really touched me. He told me to hold onto his life vest and he'll swim us the whole way round!
While clinging onto his life vest with one hand, I tried to balance myself and dipped my head into the water every once in a while to get used to it. The moment I felt confident enough, I let go!
Sean kept his eyes on me and could see that I was still struggling a little (I was trying to hold the camera steadily), so he took the camera from me. Unfortunately, the video recording somehow stopped before this transition so there is only one video recorded from the experience and that is the shaky, blurry mess from my own handling – as seen above. Oops!
Once Sean took the camera, and my hands were able to move freely, I was able to focus better and I made it to the end all by myself! Yay!
Side note: I have bought some snorkels for the children and myself. We're going to the pool to practice until I get this whole snorkeling thing right! I'm going to return and challenge myself again – with the camera in tow!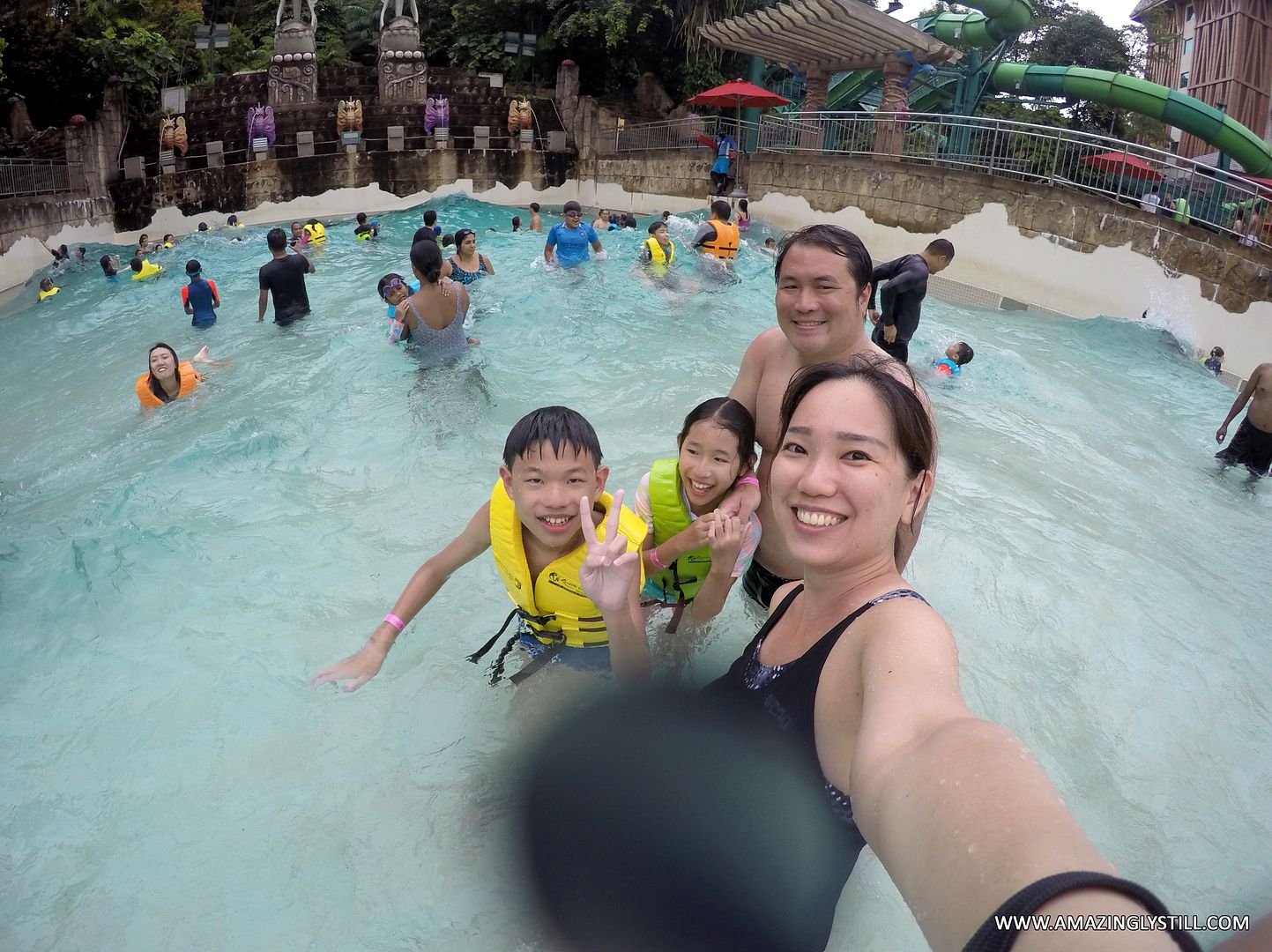 After the Rainbow Reef experience, we went back to Bluwater Bay for another round of tidal wave jumping before proceeding to our first water slide of the day.
We had wanted to take it slow, from the mildest to the scariest water rides. But since it was our first time, and I didn't do any proper research, we picked the first one we came across that was open (some rides open after 2pm) – Riptide Rocket.
And boy oh boy, did I regret not doing my research beforehand. Only after we returned home and did a quick search online, did we find out that Riptide Rocket is the scariest ride at Adventure Cove Waterpark! It's scarier than any rollercoasters I've been on (and I love rollercoasters!), especially at the drops cos it's just us and the float, nothing securing us at all! I was so terrified that the float would just fly out of the ride! It scared the children too. So much so that the Riptide Rocket was the one and only water ride we took.
I still can't believe it. Of all the rides we chose to go on first, we picked the scariest one of all…
After that was over, we headed to Big Bucket Treehouse for slides that were a lot milder. We probably should've started with these mild and gentle slides first.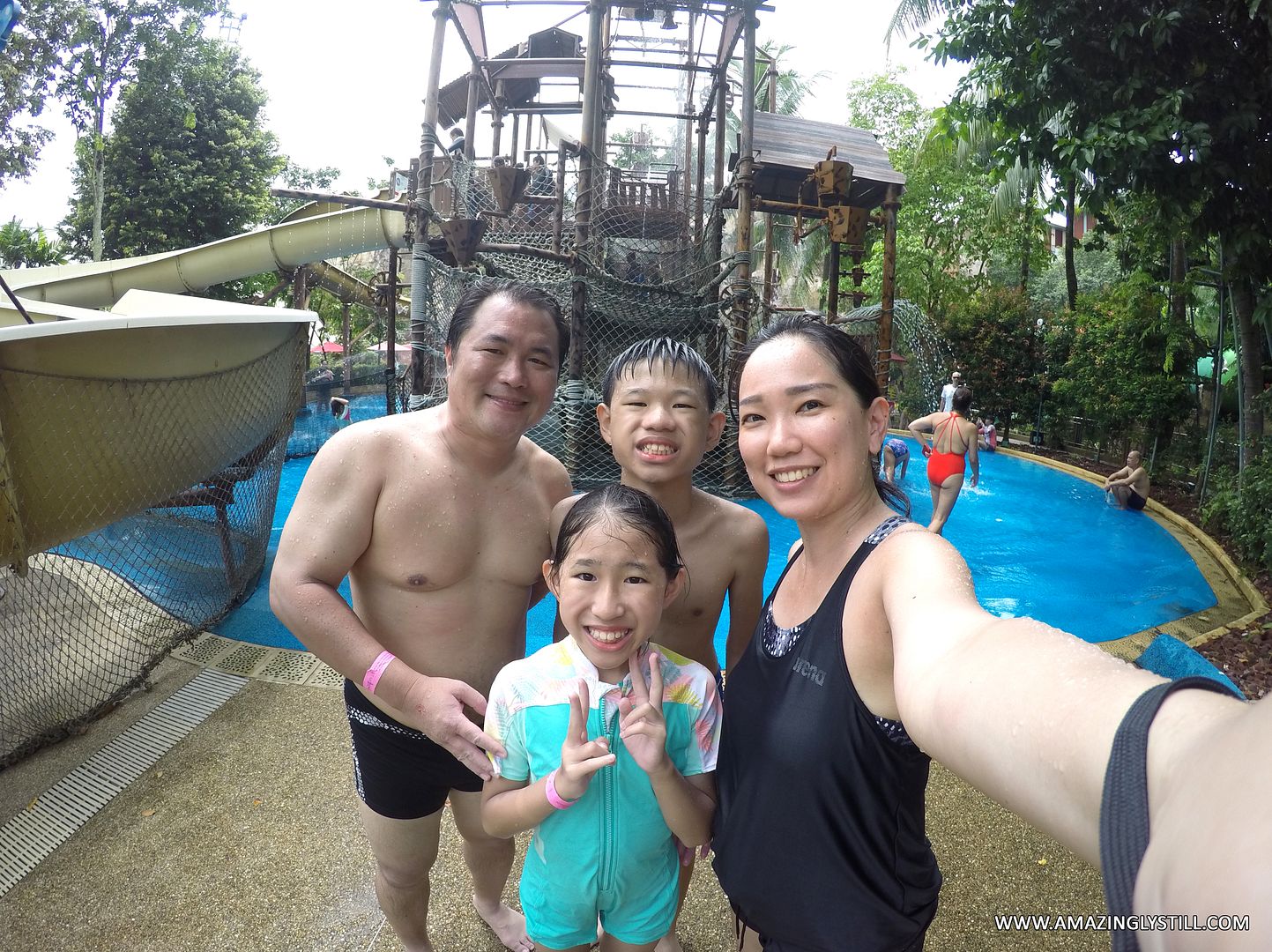 Once the children had their fill at Big Bucket Treehouse, we went for a full round around Adventure River and saw beautiful sea creatures!
The lightning alert sounded just when we were coming out of the Adventure River. And with the rain starting to come down on us, we took shelter in hopes of finding a table for lunch.
No such luck, of cos.
Everyone was taking shelter and it was lunch time as well. So we decided to grab hotdogs where we could stand and eat. Fortunately, Sean managed to find a table near the hotdog stand while I was queuing up for turkey leg at the other food stand!
When it was safe for us to continue playing, the children made their first dash to Bluwater Bay again and another round of Adventure River. We basically repeated this until it was almost closing time and called it a day.
While it was upsetting that I only plucked enough courage to go on one water ride, it was still a good experience. I believe my fear rubbed off on the children and it made them scared too.
To be brave is to face your fears and conquer it.
I've told the children this before, but I failed to live up to it. This was the biggest upset for me. Sigh.
It's ok to fail as long as you're willing try again and not give up.
Also something I've said to the children before and this time round, I will walk the talk! I shall gather my courage and push through my fears the next time we visit a waterpark, so that we can leave at the end of the day with no regrets!
---
Adventure Cove Waterpark
8 Sentosa Gateway,
Sentosa Island, Singapore 098269

Operating Hours
10am to 5pm
Friday to Monday
(Closed Tuesday to Thursday)

For more information, visit their website here.