Since late last year, Blake had been into this cartoon, The Octonauts. Yes, the same cartoon that was the theme of his 2nd birthday celebrations at home. And, when Sean started buying the play sets online and having them shipped in from UK (it's only available there), Blake got even more into the cartoon!
Blake loves dancing to the theme song, and recently, he attempted to sing along too, which essentially means him shouting out the single words used in the opening theme song (as seen in the video above). Haha!
During this entire period of toys streaming in from UK, and Blake enjoying every moment with his new toys and the cartoon, I thought, maybe it would be great if we brought Blake to Sentosa's Underwater World to see all these beautiful sea creatures in real life! After all, we did bring him on his first trip to the zoo after seeing how much he loves playing with his zoo play sets – also from a cartoon series, The Little People.
So sometime back in May this year, we finally found the time to go! It was a beautiful day when we went. Nice sunny weather, with cool breeze every now and then. Blake slept along the way, so he was all energized when we reached our destination! Absolutely perfect!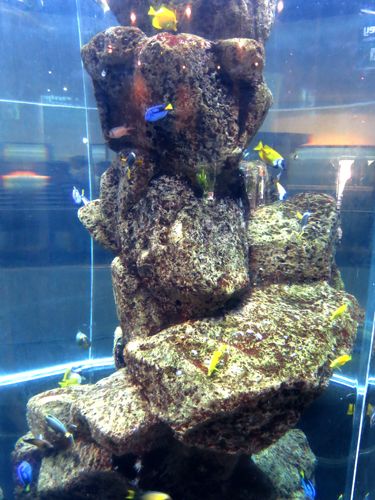 Upon entering, we were greeted by this delightful sight!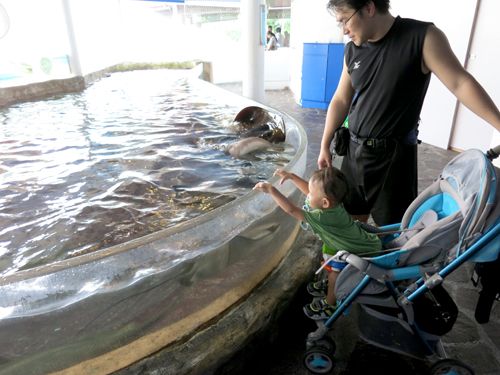 Blake enjoyed the most with the stingrays, cos they kept splashing water at him and they even looked like they were attempting to jump out! I was totally freaked out! I kept a distance from the tank. Haha. I suspect they were hoping we would feed them or something. If I didn't remember wrongly, there were actually food you can purchase to feed them. Do correct me if I'm wrong though!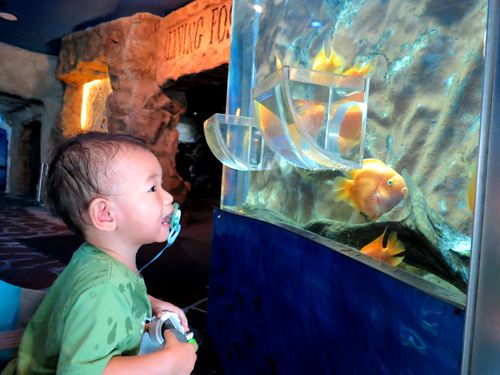 < Just look at how wet Blake had gotten from the time spent with the stingrays. Haha!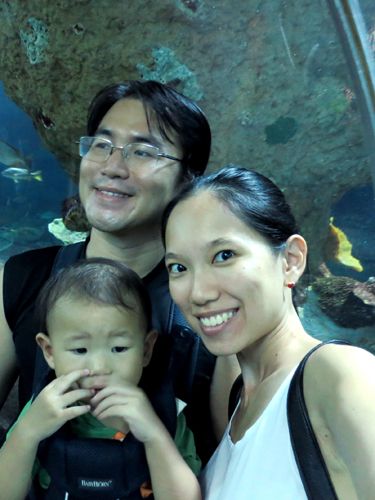 I'll admit one thing though, I was quite disappointed with the Tunnel, the exhibit where you just stand on the conveyor belt and you'll be taken for a ride, with sea creatures swimming all around you in the tank. I had remembered it to be more vibrant and colourful, when I last visited in my younger days. Oh wells!
It got really crowded soon, so we moved onto the Dolphin Lagoon. They had it shifted from a different part of Sentosa. I vaguely remember that the Dolphin Lagoon used to be an attraction on its own in Sentosa, and was closer to the beach. But now, it's combined with Underwater World! Two attractions for the price of one! Awesome!

Hi!
We were really lucky that when we got there, everyone was just streaming in to grab seats for an upcoming show, and the dolphin minders had allowed 1-2 pink dolphins out to swim in the pool for everyone to see! And about 10-15 minutes before the show started, the dolphins had made their way to 'backstage' to get ready for the show.

Grabbing seats before the show started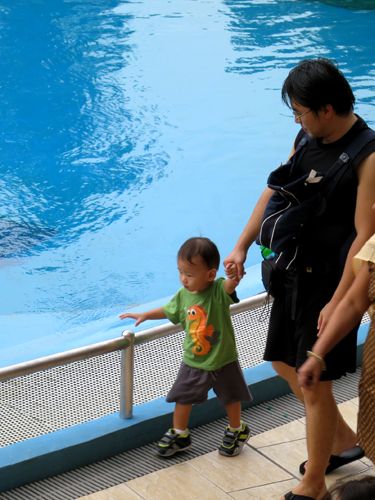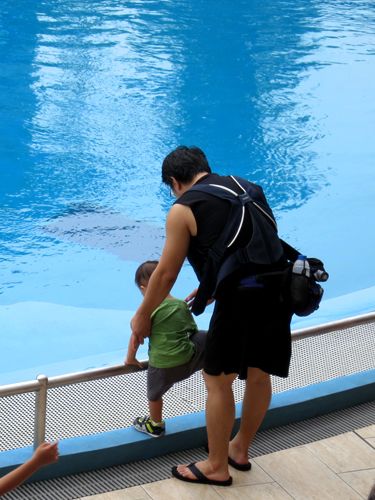 Yes, Blake wanted to take a dip in the pool with the dolphins.
Ever since he got over his fear of swimming pools and large bodies of water, Blake will attempt to get into whatever resembles water play.
Just like our first trip to the zoo, we failed to watch a single show. Blake was really determined to be in the pool. And every time Sean pulled him away, he would struggle and throw tantrums. We had no choice but to leave, dragging a very angry boy along with us. Needless to say, that left Sean and me kind of frustrated as well. I was disappointed, but I should have guessed as much. It's rather difficult to sit through an entire show with a young, active toddler. So imagine how surprised I was when Blake managed to sit through an entire show on his first school excursion to the bird park! Hehe.
In any case, after the huge struggle to pull Blake away from the pool, we took him to an open area nearby to run and use up as much of his energy as possible before heading home for dinner. It was not that bad an outing overall, but it was enough to make Sean and me think twice about bringing him on such outings again. I mean, considering that it was around that period when we found out about our second pregnancy. Haha.
Ending off this post with a Christmas episode from the Octonauts! Plus something extra below! Hehe.

Wishing you an amazingly Merry Christmas!!
From us to you
♥