Nothing screams "MABEL!" the way slippers does.
FYI: Slippers are my main footwear. I wear my trusty pair of Havaianas everywhere. I even wore it to a wedding dinner, hiding it under a long maxi dress! Oops!
So when my sister, Clara, asked us to join her and my brother-in-law, Nelson, in Project Happy Feet Slipper Race, the answer is a definite "YES" for me! We also managed to convince our mom and brother, Felix, to join us!
This race marks the first register-and-run-with-tag race for me (it would've been the SHAPE run – 2.4km Stroller Category, but it got postpone due to the haze), and I had so much fun!
It is also my maiden charity race, but consider me a regular now! I will take part in all future slipper race by Project Happy Feet for sure! Besides the obvious fact that I love slippers, this slipper race is so meaningful!
Education and our local transport system are two out of many things I used to take for granted, having lived in Singapore my entire life. But now that I am a mother of two, and have been exposed to underprivileged children in other parts of the world (via internet), made me realize how fortunate I am. So if by taking part in this race can help just one child to attend school more comfortably, count me in! You can read more about the meaning behind this 5km walk here.
I only had 2+ hours worth of sleep the night before, so I'm super shock that I managed to stay so hyper through the race, and for the rest of the day! Here's a very rough timeline of the day's event, held on Saturday, 31 August 2013 (my sister's birthday!) from my point of view 🙂

A good start to a race is a hearty breakfast!
My sister bought McDonald's for everyone before picking us up.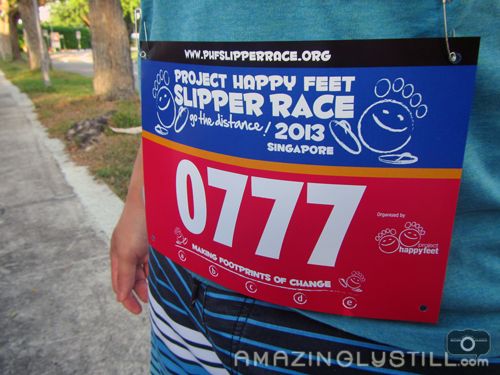 My brother's lucky jackpot '777' tag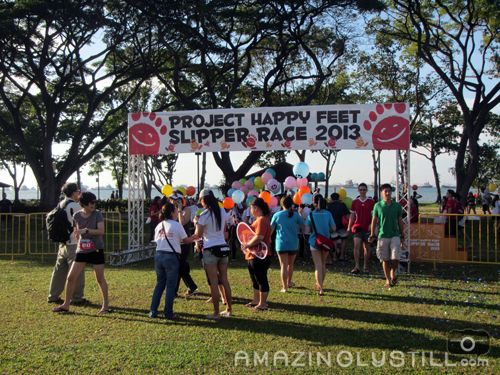 We were still having our breakfast when we heard the horn for the flag off,
but we were definitely not the last to start the race!

Group shot before we start the race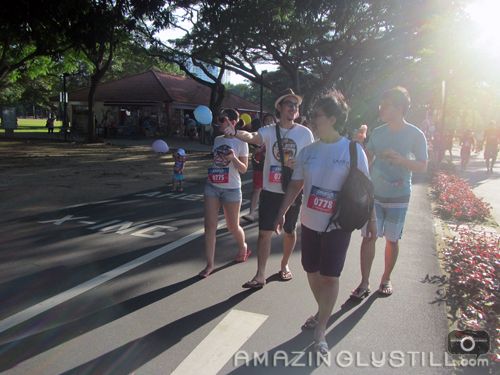 Beautiful weather that day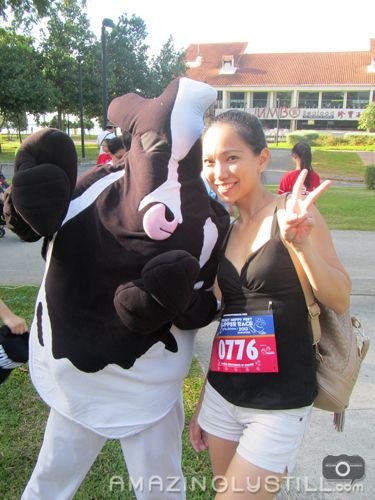 With Woody from Ben & Jerry's!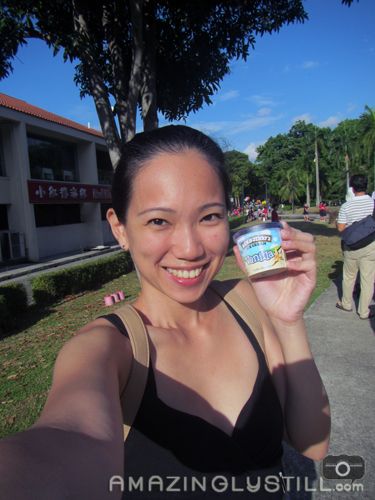 Yums! My mid-race snack!
There were two Woody at the race distributing ice cream, and one of them was very active (the one I took a photo with). By active, I mean… you have to chase him for the ice cream! I managed to get mine from the one everyone was crowding over, just by saying, "Can I have some ice cream please?" Hehe. This is also probably the only time I see parents happily allowing their even happier children have ice cream so early in the morning!

This beautiful flowering tree became a marker for us.
When we saw it again, my mom went, "We're near the end of the race!"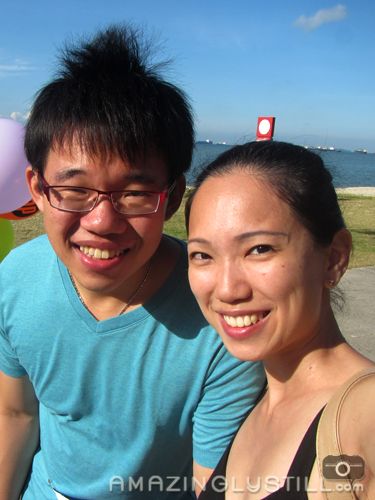 My brother and me, cos I wanted to take another group shot
but my mom said, "Just take with your brother."
Things got interesting at two parts of the race.
The first happened before we crossed the halfway mark. We saw an uncle doing taiji amongst the trees, but I didn't take any photos of him.
The second happened after we crossed the halfway mark. Out of the corner of my eye, I saw this uncle standing out in the sea, holding what looks like a wooden flute.
I was so shock, and honestly, I was so scared that he might be carried away by the sea currents! And then he played a tune.
I only managed to film this much as I had to catch up with the rest, and the crowd was coming, making it too noisy to continue filming. But are you able to make out the tune of the song he was playing? It is a very popular song, and very apt as the uncle was playing it while standing in the sea.
If you are not able to make out the song, it is 'My Heart Will Go On' by Celine Dion, from the movie 'Titanic'!
Both of the uncles we saw along the way are so in touch with nature and their passion! Amazing!
Before I was able to recover from the surprise entertainment of the race, I was handed this! Doubling the surprise!

First, I got ice cream, and now a free pair of Crocs? Wow!

I absolutely love this plant. It has such a dreamy feel 🙂

More selfies. Haha!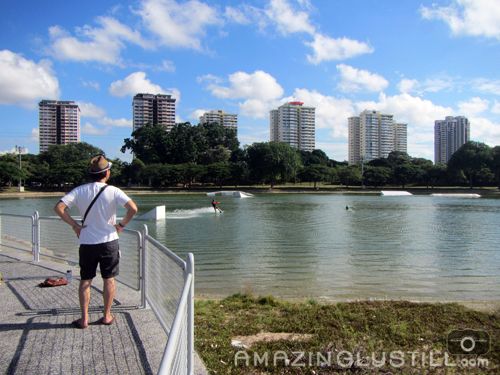 Stopped along the way to see some water action!

Photo by Running Shots towards the end of the race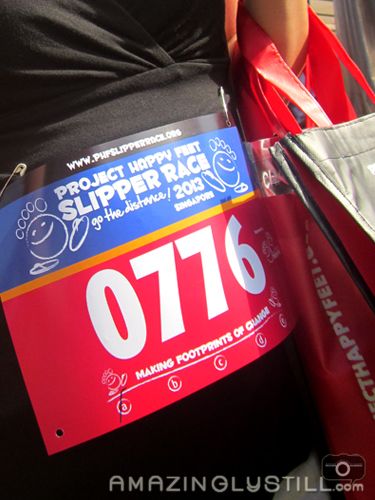 Completed the race and collected our goodie bags!
I also bought their 2014 calendar and tote bag 😀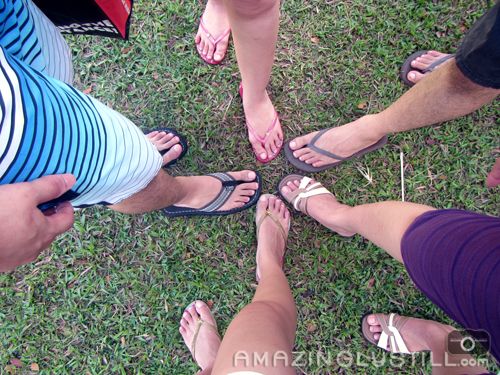 After walking 5km in our slippers
My sis and brother-in-law dropped us off at the club, where mom, Felix and I had a nice buffet brunch while waiting for my father and younger sister, Sonia, to arrive. After which, mom and I headed over to the Crocs outlet at Parkway Parade to redeem my free pair of Crocs! Hehe. Yes, we work fast that way 😛
And after browsing what seemed like forever, I finally picked a pair!

This pair is part of their new collection, retailing at S$89.90!
Free ice cream, free shoes, and tons of catching up with my family… Having this me-time to myself was awesome. Let's do it again next year! Who's with me? 😀
* * *

There is only one rule for Timeout Thursday, and that is,
STRCITLY NO KIDS ALLOWED!
Nope, not even the mere mention of their names or having them in the photos.
This linky is all about indulging us, the parents!

Grab the code below, link up back here with your post URL, and it's all good to go!
Linky party will be open for 3 weeks from the first Thursday of every month.
For more details, please read my first Timeout Thursday post