This post is two months late. And my brother has already returned to UK for his studies. Nonetheless, I think it's still worth putting it down in memory cos for the first time in a long long time, my siblings and I headed out for dinner together!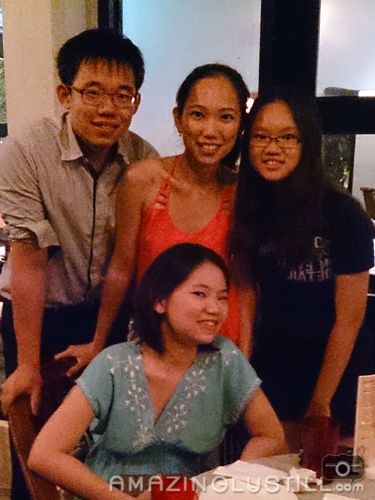 We had dinner alfresco-style at The Coastal Settlement, which my elder sister suggested (and very generously paid for. Thank you, 大姐!). Lucky for us, the weather was good, even though we felt droplets of rain while queuing up for a table.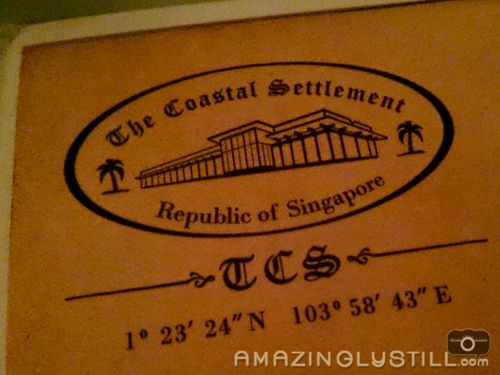 I actually took quite a number of photos, but because we were seated out, the lighting was poor which made some of the photos look horrible. I only had my mobile phone to take photos with, and it doesn't do too well in low light situations. But here are some I managed to salvage, a little.

Love the tin they used for the soup.

Thin-crust pizza topped with one of the more awesome wagyu beef I've ever tasted!
That night out with my siblings was nothing short of amazing. We talked about everything under the moon (so to speak), caught each other up to speed with our lives, and bugged our brother to add us on Facebook (Felix, you have yet to add us!). It was a good night out, one that I can still remember well.
It's great to have siblings around. That is for sure 🙂 More siblings night out when Felix is back!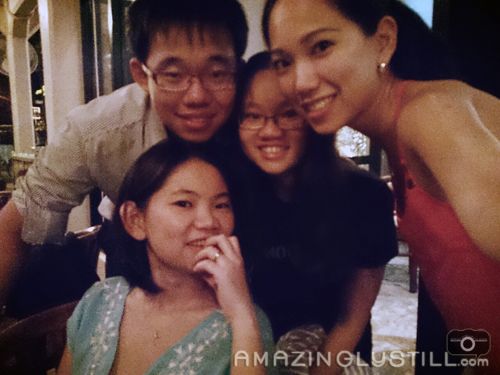 * * *
In one of my earlier Timeout Thursday posts, I talked about my drama days. And the week after the siblings night out, I met up with my drama pals!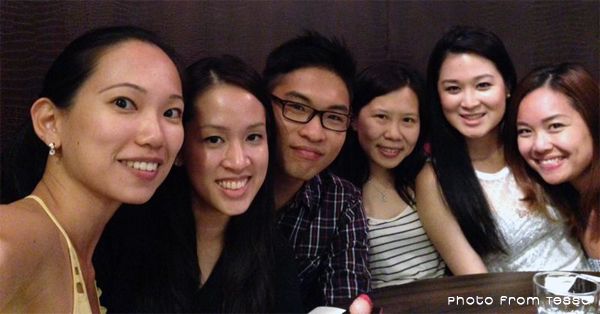 All in attendance except Ms Keat!
And yes, it seems as though I have become the unofficial selfie-photographer. Which means, I need to learn how to work an angle such that my head don't look so huge! Haha.
It was great meeting everyone, and I cannot wait for the next gathering! Hopefully, the next round will have all of us, including Ms Keat!
* * *
Strange, but it's only after we have two children did I start to make time for myself. I've been getting a regular day or two off a week, it's usually for a couple of hours, and most of the time, it's spent running errands. Regardless, the time out on my own to do anything is amazing. And these days/nights off were only possible because of Sean.
It may not be easy being a full time stay-home mom and working part-time from home, but I'm pretty sure it's not any easier for Sean, who heads to work before sunrise and only return home after sunset. Yet, he doesn't mind when I'm all set to leave the house the moment we wake up on a weekend or the moment he steps into the house after a long day at work. He even tells me to take all the time I need. I really don't know what I did to accumulate such awesome karma to be so fortunate. I think I should do the same in return. He mentioned that he hasn't been able to spend as much time in the sun as he would like. Hehe.
* * *

There is only one rule for Timeout Thursday, and that is,
STRCITLY NO KIDS ALLOWED!
Nope, not even the mere mention of their names or having them in the photos.
This linky is all about indulging us, the parents!

Grab the code below, link up back here with your post URL, and it's all good to go!
Linky party will be open for 3 weeks from the first Thursday of every month.
For more details, please read my first Timeout Thursday post