Sponsored
For the longest time ever, I've been wanting to try out two types of exercises – Pilates and Yoga – thinking that it's something easy to restart my once athletic self. I never got round to doing either as I was busy being a mother, until Pilates Fitness contacted me. It was like a reminder that popped into my inbox, and the timing couldn't be more perfect too with Nakayla starting school. I was over the moon!
For the first lesson, I went to the studio at Telok Blangah, and reached earlier than I expected. Trains move a lot faster early in the morning!

Changed into my exercise gear, which was a really bad choice…
I felt so self-conscious during class!
Before the introduction class started (it's a must to attend if you're new with Pilates Fitness), I took my weight and other body related measurements. As I want to track my progress, I'm going to put it all down right here.
Visceral Fat: Fat located in the abdominal area that surrounds the body's internal organs. (source)
Resting Metabolic Rate: Calories that are burned while the body is at rest.
These calories are needed just to maintain life. (source)

Paying my fullest attention during the introduction class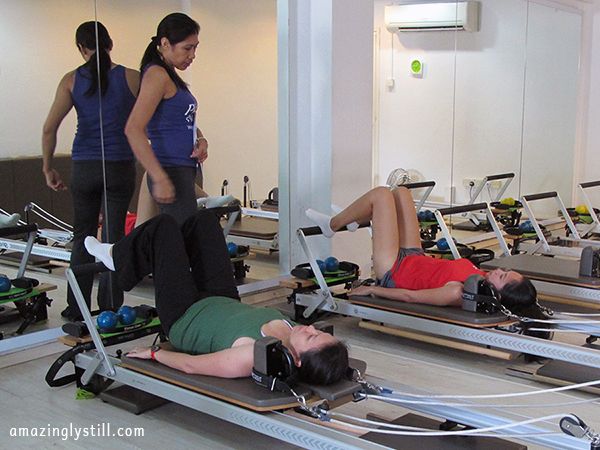 Trying out the reformer for the first time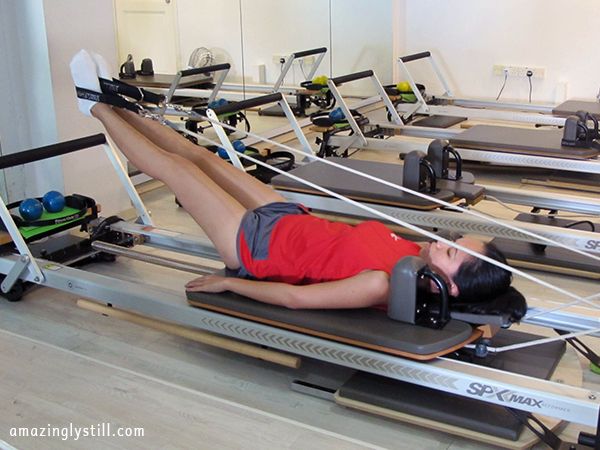 Attempting to keep up with my first real Weight Loss class!
Pilates wasn't as easy as I thought. I've always thought that by having children, I gained strength like never before, but the class proved me wrong. In less than an hour, I could feel burns in my arms, legs and stomach muscles, burns I haven't felt in a long, long time! I felt really good after the hour session! 😀
And that surprised me.
Normally, I would get really giddy, and sometimes nauseous, after lying down flat on my back for more than a period used for doing 5 sit-ups. I have no idea why, but it has been this way even at my peak during my athletic days. Yet, lying down for about an hour during my Weight Loss class had no such effect for me! Hurray!
The aches that came after a rather vigorous workout were bearable. I even managed to continue with my household duties of cleaning the floor and doing the laundry!
Two days after my first class, I was back in the studio for my second Pilates class. This time, I went to the studio at Serangoon Gardens Way.

Enjoying myself before class starts 😛

Black tea before my class. I had Fruit Infusion on the first day.

Not so self-conscious for my second class thanks to leopard-prints capri 😛
The second class was a little easier than the first, still tough though. I reckon it's because my body has somewhat been stretched out during the first class, and the muscles just continued stretching from where it was last left. There was still a little aches here and there, but definitely less than what was felt after the first day.
The third class saw me returning to Serangoon Garden Way's studio once again.

Additional equipment we use to up the challenge in our sets
By the third class, I realize that there are some things my body does pretty well and others that don't perform as wonderfully.
My breathing, for example, always starts out right with the first 2-3 repetitions, but I'll mess up soon after. Thankfully, the instructor reminds us from time to time during the workout which brings me back right on track.
Then there's my body posture for certain sets. I have the tendency to over bend my back too much (see picture of me on my knees above) and I put a lot of stress on my neck and shoulders when I'm supposed to relax! It seems like I barely use my abs and stomach muscles to hold my crunching position. This was after the instructor told me repeatedly to relax my neck and shoulders. I'll have to work on this aspect a lot more!
And then, there's that one set that I have never been able to complete. I believe it is called "The 100 Pulses".
It's where you put your legs up at about a 90° angle, and your body is in a crunching position, and you move your arms up and down (feet holding onto the ropes) by the side of your body 100 times. I usually give up when the count starts to hit 70-80.
While I'm still trying to improve to ensure that my Pilates workout won't go to complete waste, I'm definitely feeling the muscles in my body loosen up. And here's the best part. The day after the third class, I didn't feel any aches! Woohoo!
Now that my body has accustom itself to being stretched out, and I'm more determined than ever to get myself back into shape, I'll be upping the number of classes I take per week, from the current twice a week to a minimum of thrice a week.
I'm also looking forward to clearing the minimum of 5 Reformer Weight Loss classes so that I can move on to try the other more challenging classes – Hello Abs-Burn!
Oh, and can I just put it out there that the reformer is really fun to exercise on?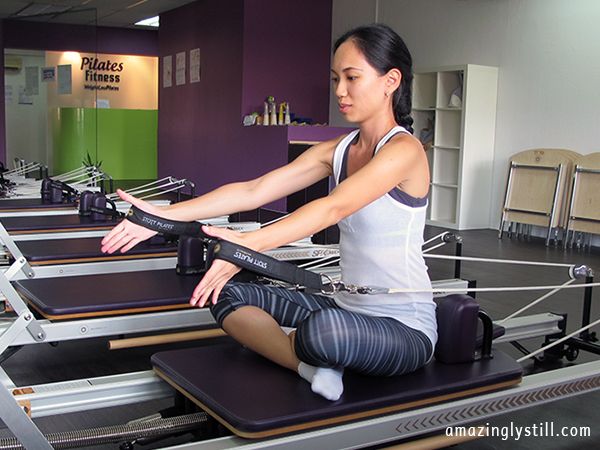 My favourite set! Hehe.
The use of springs for resistance training, using my own body weight, pushing myself to and fro on the board with either my hands or legs is really fun! Haha! I don't know how to explain the feeling, but it's similar to the kind of fun one will get when jumping on a bed or trampoline. Haha! Maybe that is why I don't feel so giddy as opposed to just lying on my back.
It also helps when the staff, from receptionists to instructors, are all very friendly and smiley! It sure makes a huge difference on what to expect in class. And with all the smiles around, it's guaranteed fun! 😀
I can't wait for the next class!
* * *

If you're interested in signing up with Pilates Fitness,
but not sure if it's your cup of tea, there's a 6 Days Reformer Trial available!

For more information, visit their website, or email them at enquiry@PilatesFitness.com.sg

You can also call and visit them at the following number, addresses and hours: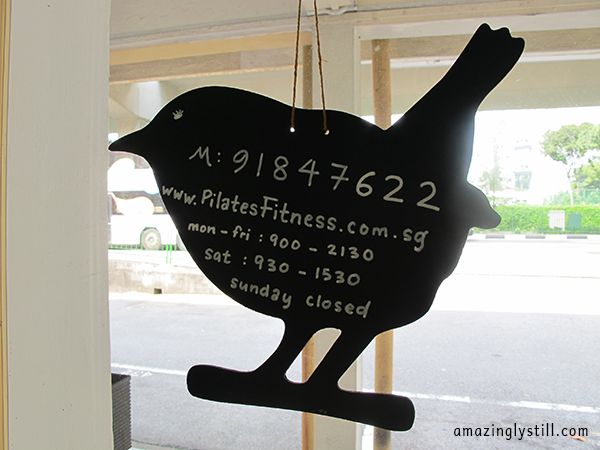 Located at:
434 Telok Blangah Road Singapore 098854, and
85A Serangoon Garden Way Singapore 555981
Disclaimer: This is part of a series of posts with classes sponsored by Pilates Fitness for the purpose of review and documenting my fitness journey with them. I'd like to thank the staff at Pilates Fitness for helping me capture these moments on camera 🙂