A MONTHLY SERIES DEDICATED TO FOCUS ON THE PARENT(S)
This month's Timeout Thursday was a little delayed because I wanted to write about the epic night out I had with my elder sis at Universal Studios Singapore (USS)!
I got free tickets to visit the theme park at night thanks to the husband! He bought me the new Xperia Z2, and weeks later, we received a letter from SONY to redeem a pair of tickets to visit the theme park 😀
As we didn't have anyone who could look after the children that evening, I decided to give the tickets away to my siblings so as not to waste it. Long story short, it turned out that only me and the sis were free (and crazy enough) to visit the theme park that late at night!

The first and most important ride of the evening!

We went on it twice 😀

I've never had the whole area to myself before!
The guy behind is a member of the staff.
The best thing about visiting so late at night, and the fact that only selected guests could enter the theme park, is that there's no queue at all! NONE! I was so delirious from that revelation that I went on full high mode for the rest of the night!
I was so high that I was talking to all the Transformers as they appeared in front of us, to which my sis commented (to the effect of), "You are so noisy on the ride!" Haha!

The canopy ride
I have taken the canopy ride before when Sean brought me last year, and I remember that it was pretty okay, nothing too thrilling. But taking it at night, and sitting in reverse, is absolutely crazy! I have no idea what's coming up next, and fell forward at the start when the seat climbed upwards, tilting our seats forward! It scared me for a moment, thinking I'll fall to my death or something, but it was so awesome! Haha!
I have never taken the Sesame Street ride before, but it's pretty cool! As per the Transformers ride, I was chatting to all the characters too, happily trying to get a selfie with them. It was rather impossible with the poor lighting and moving seat though!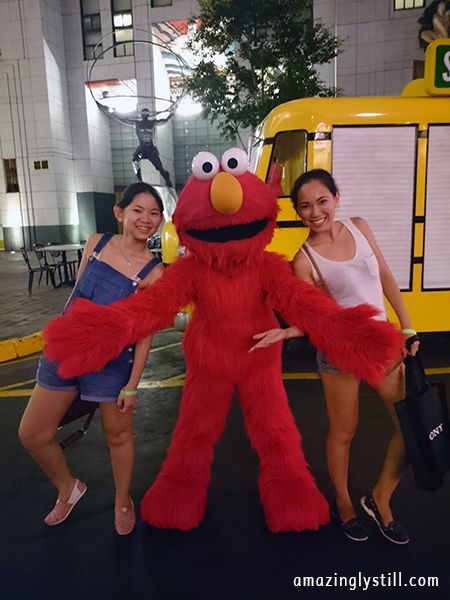 Then came the highlight of the evening to me. Me and the sis chasing the mascots to grab a photo with them. Haha! Again, something I didn't do when I visited last year.
We missed Shrek though! We had to choose between him and Puss in the Boots, and sorry, Puss wins hands down! 😛
After about one and a half hour of rides (there weren't many rides to begin with) and taking photos with the mascots, followed by about 30 minutes of shopping, we called it a night.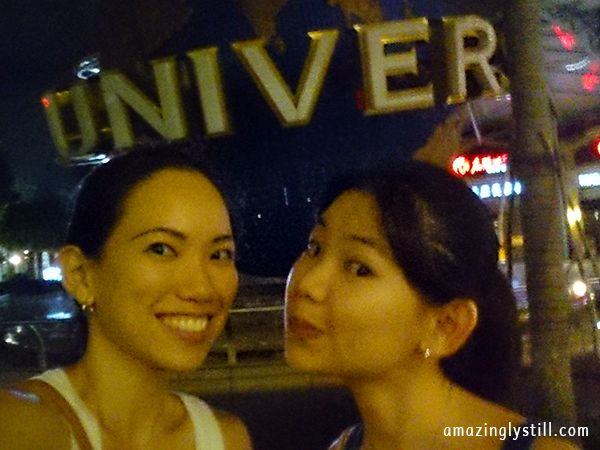 Thanks for accompanying me, big sis!
* * *

There is only one rule for Timeout Thursday, and that is,
STRCITLY NO KIDS ALLOWED!
This linky is all about indulging us, the parents!

Grab the code below, link up back here with your post URL, and it's all good to go!
Linky party will be open for 3 weeks from the first Thursday of every month.
For more details, please read my first Timeout Thursday post