Media Invite
Cold Storage Kids Run is back for its 8th consecutive year!
Not sure if any of you remembered, but last year, Nakayla and I participated in Cold Storage Kids Run, alongside fellow mommy bloggers Irene , Cherie, Ting's husband and their children.
And this year, more fun categories are opening up so that everyone can join in the fun!
There are a total of 13 categories, with children from as young as 6 months old up to 12 years old eligible for participation. There are competitive categories like the Sprint, and non-competitive categories like Family Fun, with the distance ranging from 800m to 1.6km!
Besides all that, this year's Cold Storage Kids Run also features a new 3Gen Family Fun Run category, aimed to promote inter-generation fitness and bonding! How cool is that?
With more categories to include more people in the family, we signed up as a family too! For the very first time Sean and Blake will be participating in a race together with Nakayla and me! We'll be running together as a family! Yay!
And with that comes another piece of exciting news!
We'll be conducting a race clinic for parents and children!
Come join us as we show you how you can get active and healthy while appreciating the great outdoors, without spending tons of money, right in the heart of Bedok Reservoir!

Race Clinic at Bedok Reservoir
Date: 11 April 2015, Saturday
Time: 5pm – 6pm
Location: Bedok Reservoir, Carpark A
(opposite Aquarius Condominium)

Progamme Outline
– Warm up
– Simple running techniques to get started
– Peek-a-boo games with kids!
– Appreciate the outdoors (Spot fish in the reservoir!)
– Fun time at the playground!

Note: Participants may bring sand building toys if they wish to.
There are no registration fees involved – it's FREE! All you have to do is sign up for Cold Storage Kids Run 2015, then email nicole.han@crowd.com.sg to register for this race clinic with me and my family. This race clinic is limited to 5 parent-child pairs only.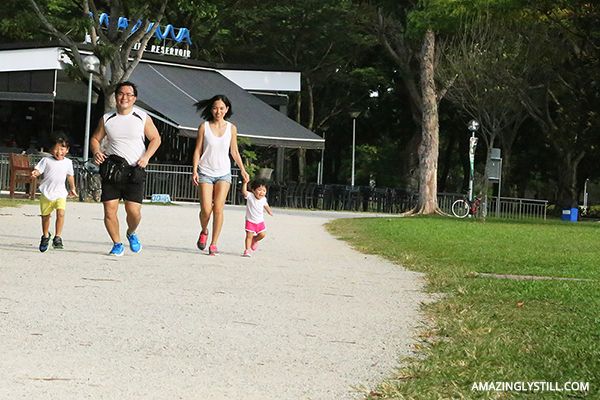 We hope to see you there!

And look! There's more!

Discount Code for Amazingly Still Readers!

Sign up for Cold Storage Kids Run 2015 using this code
G3TACTIV3MaB3L
and you'll be entitled to a 10% discount!

For sign ups before 9 April 2015, this discount will be on top of the early bird rates!
For sign ups from 10 April 2015, the discount will be off the original ticket prices.
Early bird rates are available now till 9 April 2015. Normal Registration period is from 10 – 16 April 2015.
To further encourage families to stay active, fun fitness classes will be held on every Saturdays in the month of April. Slots are running low for the Running Clinic and Dynakids Classes. So hurry and register now!
Running Clinic Details
Location: AXA Tower, 8 Shenton Way #01-02 & #02-02, Singapore 068811
Running Clinic: 4th, 11th, 18th and 25th of April (Saturdays) at 1pm
DynaKids Classes: 4th, 11th, 18th and 25th of April (Saturdays) at 2pm
Disclaimer: I was invited to be part of this collaboration with Cold Storage Kids Run.