Continuing from where we left off, the main reason we headed back to the Bird Park so soon was because of this…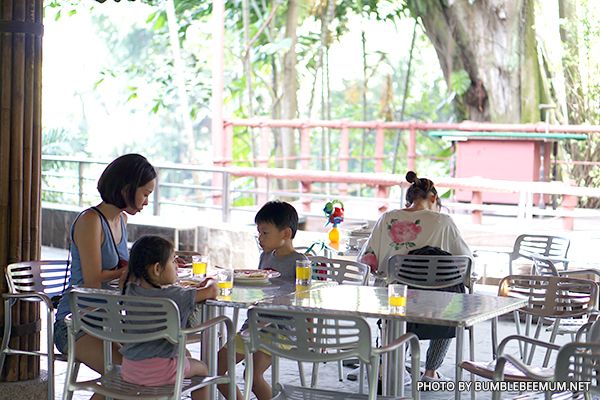 Lunch with Parrots!
It was something interesting, at a definitely doable timing, and I was super psyched to find out that my children can still dine for free at the moment. Cheapskate mommy alert! 😆
Blake and Nakayla were both really excited about it too! Which one will eat with us, Mommy? Can we play with the birds? Will they eat our food? Yet, the first thing they did when we got there was to play at the playground right next to the dining area. 😂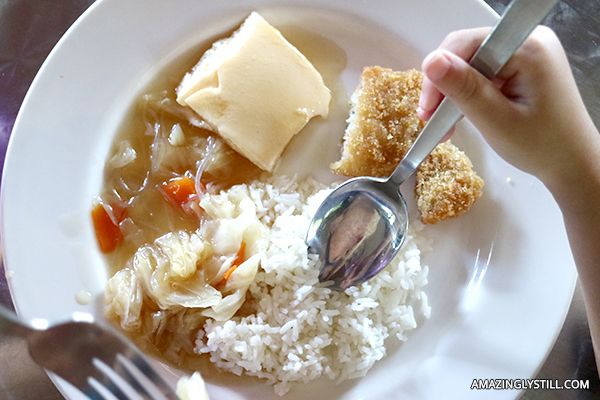 There wasn't much to shout about the food available, served in buffet style. About half of the selection were spicy, which had me worrying. But I was glad that we had breaded fish, steam egg and vegetables with carrots to make up our meal – a pretty well-balanced one too. These were appetizing enough for the children and myself to fill our hungry tummies with.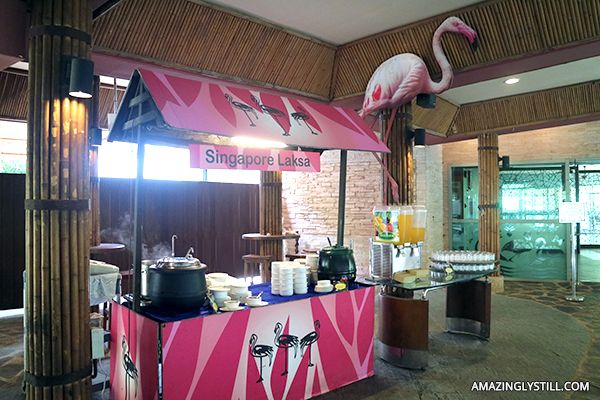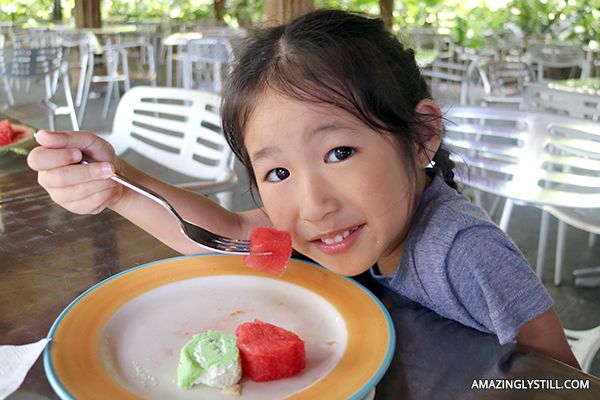 Of all the food available at the lunch buffet, the desserts were the best of the lot – fruits and ice cream for the children, caramel custard pudding for me! We just kept going back for more! 😋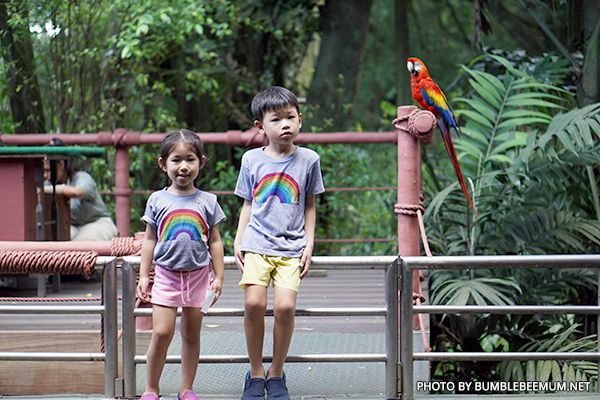 Just before the 1pm show, we saw trainers and their birds going up the stage to get ready for show time.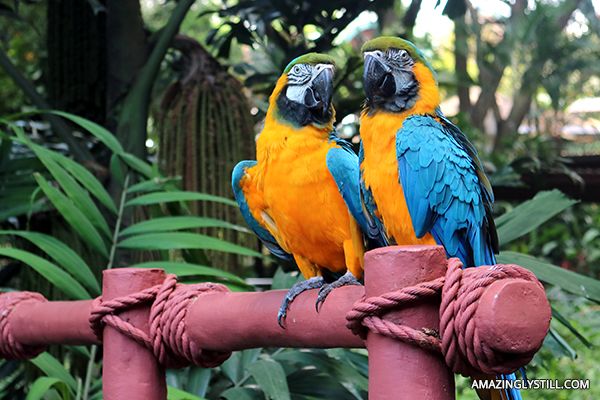 "Let's put on a show for her, since all we do is stand here!"
The children got a little more excited, and we managed to move to the very front for the best view.
The change of tables had us at prime location and Blake was able to participate in the show at one point!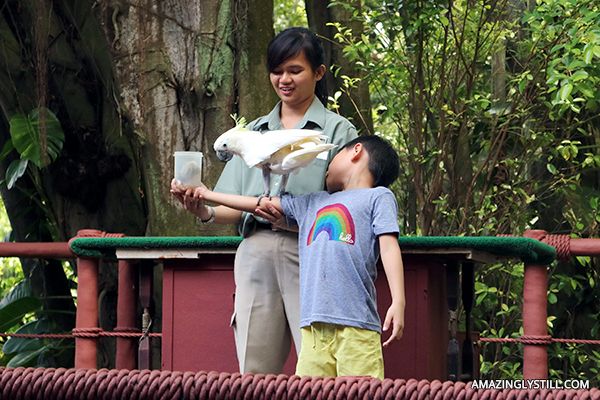 He was so happy from the experience that he couldn't believe it happened! When I showed him the photos, I asked him about his facial expression (it's hilarious!) and he said he thought the bird was going to land and poo on his face! This boy of mine… 😅
The show continued with the birds performing more tricks for us and before we know it, it was over.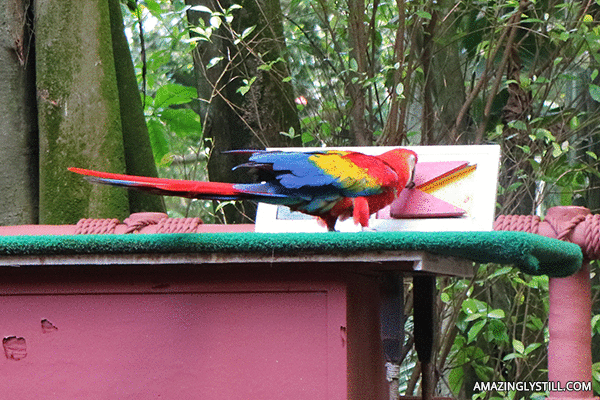 Or so we thought.
The next thing we heard over the speakers was that the trainers will be carrying out their training session with the birds, and while it's not a full show, we're welcome to listen in and watch as well.
And then this happened…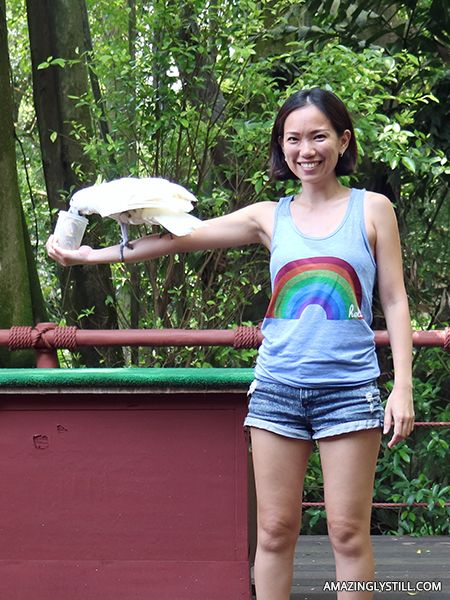 Almost everyone left after the show, but I was still savoring my caramel custard pudding while Lin Ying and the children were all at the playground.
I continued watching the training session and then it happened… The trainers asked if I would be keen to participate in their training session and I answered in absolute disbelief, "For real? You're serious? OMG! YES!" 🙌
If you do head down to lunch with parrots, do stay back a little after the show cos they might just hold a training session and you'll get another chance to participate! There's no guarantee that a training session will take place on the day you visit, but there's a chance it might!

You might even get to see some old or new tricks that's not part of the show,
if the trainers permit!
And if you think that's all to our epic day at Bird Park, you're wrong. One more post coming up to conclude our epic trip to Bird Park!
* * *

Check out what Lin Ying has to say about her own Lunch with Parrots experience!

* * *

Jurong Bird Park
2 Jurong Hill, Singapore 628925

🕣 8.30am – 6pm daily
(Last ticket sale at 5.30pm)

Lunch with Parrots
Songbird Terrace
🕧 12.30pm to 2.00pm
(Show time is 1.00pm to 1.30pm. Last seating is at 1.30pm.)
💰 $25.00 (Adult), $20.00 (Child)

☎ +65 6269 3411
🌏 www.birdpark.com.sg