After I wrote about our crazy one-day trip to Bird Park and Night Safari, I messaged Lin Ying to remind her that we have to absolutely return for Lunch with Parrots. We set a date there and then.
Days leading up to the trip, I fell ill. We were considering postponing the trip, but I decided to push on as the children were really looking forward to it. And I am so glad we made it! It was a day we'll never forget!
As with all of our trips to Bird Park, a must visit was Lory Loft.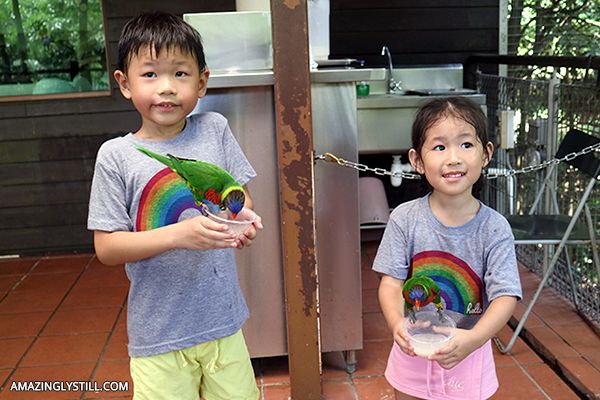 The previous trip made me realize that two children sharing a bowl of food was a little unrealistic and troublesome, with the passing of bowl back and forth. So this time round, I got them a cup each.
Even before the children got hold of their bowl, the Lory birds have already made their way down. The staff had to pass the bowl and the bird over to the children in one slow and smooth motion. Haha!
Nakayla has come a long way from our first Lory Loft visit, a little over a year and a half ago.
I remember back then, she would scream or cry the moment a bird comes near her…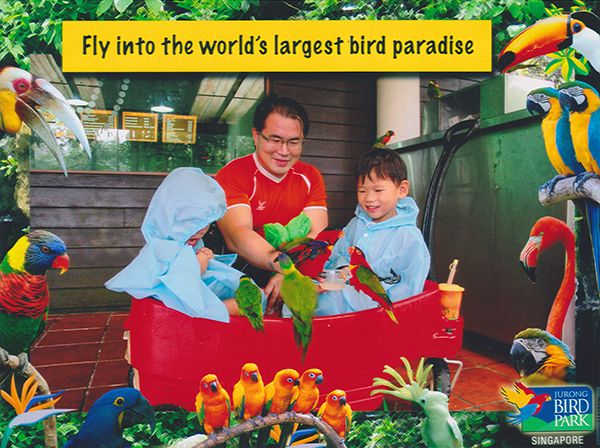 You may not be able to see her facial expressions,
but check out her "scream" and arms pulled back!
It was so traumatizing for her that I never expected her to dare step foot into Lory Loft again! But she did. Again and again. She has become so brave that even when a bird flew to the top of her head this time round, she was able to get over the initial surprise and continue as per normal.
"Stand there all you want. Just don't poo on me, ok?"
When the children had enough of the birds splashing the food all over them, I took over and birds started flocking towards me!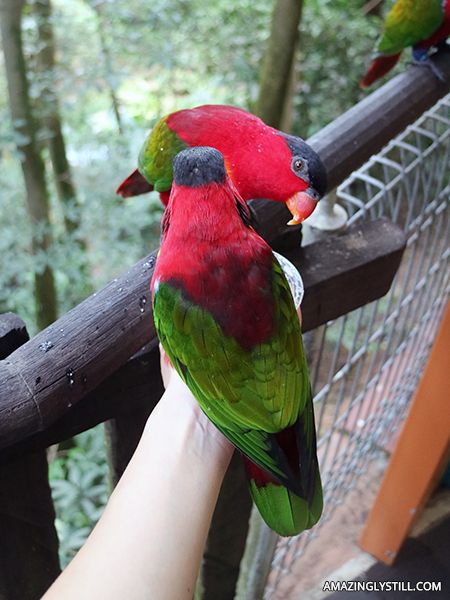 "Don't have any funny thoughts! I'm waiting my turn to feast!"

Woohoo! Two birds!
The children were hurrying me while Lin Ying was helping me take some photos. They wanted to explore the entire loft again – "Let's cross the bridges, Mommy!" – and they were smart enough to wait around for me to be done instead of running off on their own. Haha!
I'd yet to be done, and couldn't find any immediate feeding tray to place the bowl in. So, I handed it back to the staff, complete with the birds, and off we went to cross the bridges!
And one point, Nakayla got worried about the bridge and didn't want to cross it without holding Blake's hand. And once they started holding hands, they continued to do so for the rest of our stay in Lory Loft.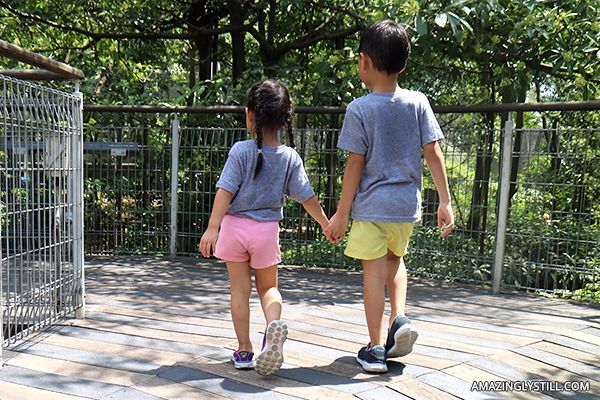 My two little precious, Mommy hopes that the both of you will forever support one another come what may.
More happened that day, but it's all too much to put into one post, so this is a to be continued…
* * *

Jurong Bird Park
2 Jurong Hill, Singapore 628925

Lory Loft is located opposite Tram Station Two – Lory Station
💰 $3 per cup of feed

🕣 8.30am – 6pm daily
(Last ticket sale at 5.30pm)
☎ +65 6269 3411
🌏 www.birdpark.com.sg