Media Invite
The children embarked on a different kind of experience when we stepped into Butterflies Up-Close at Science Centre Singapore.
In the first part of the exhibition, the children learnt about the live cycle of the butterfly and even watched a time-lapsed video of how a caterpillar transformed into a butterfly!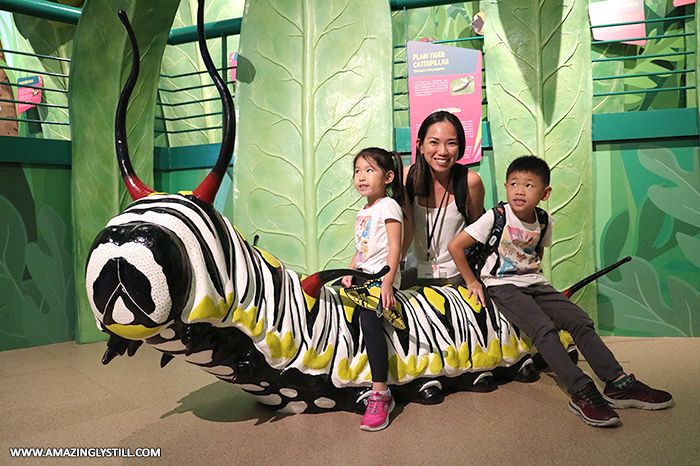 But the part they couldn't wait to visit was the area where they could interact with live butterflies. Haha!
The staff in the live butterfly exhibit were very helpful and upon seeing our arrival, they brought out freshly cut fruits to attract the butterflies so that we can admire their beauty in full glory! Thank goodness for that as some were too high, while others fluttered by really fast, we could only catch a glimpse of them!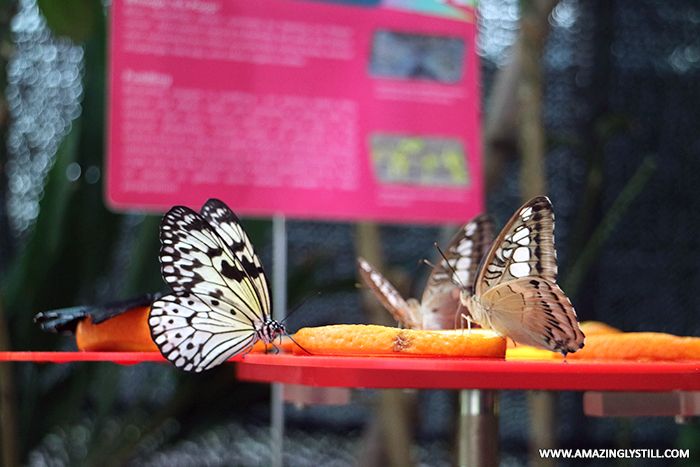 Following that, the staff taught us how to get even closer to the butterflies!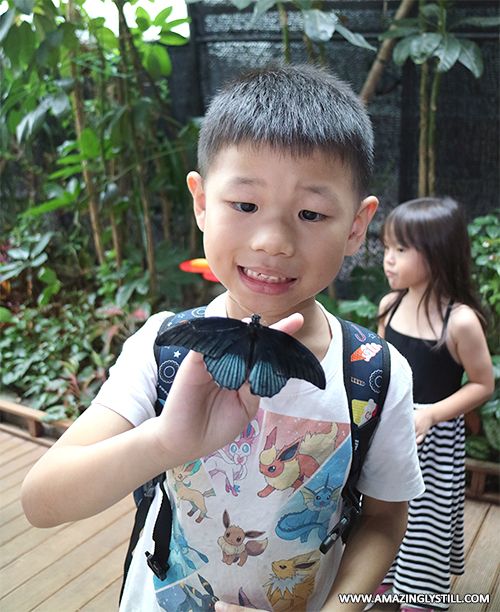 My animal-loving boy was super excited to be able to hold a butterfly and almost couldn't bear to let it fly away. We walked around the exhibit to find other butterflies that were willing to walk onto his finger.
Alas, instead of going to him, one landed on my back!
Sorry for the blurred photo, but this was the clearest shot I managed to get while shooting blindly. The butterfly flew off before I could get someone to help me take a photo of this rare moment for me!

Didn't manage to get a photo of you with me, but I got you now! Hehe!
After many attempts to get a butterfly to land on or walk onto his finger, Blake was close to giving up when the staff offered to show him a newborn butterfly!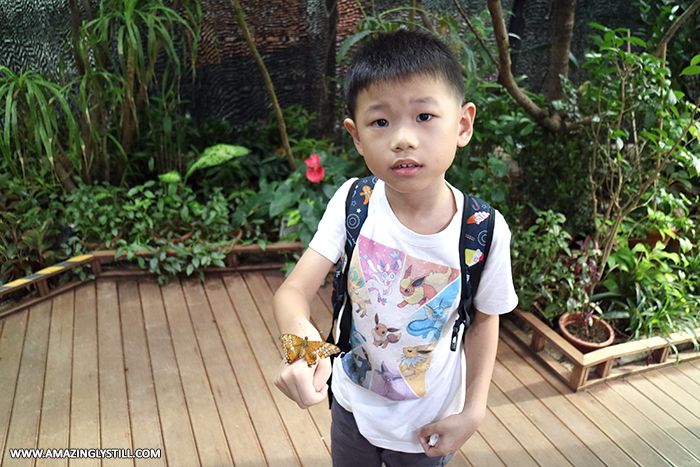 You can't tell from this photo, but Blake was super happy!
We didn't get to spend much time with the butterflies as closing time beckons. Shortly after Blake's encounter with the newborn butterfly, we had to say our goodbyes. The children clearly did not want to leave, so I promised them… We'll be back!
* * *

Butterflies Up-Close
15 Science Centre Road
Singapore 609081

☎ 6425 2500
💰 Admission Charges apply
(in addition to Science Centre admission rates)

For more information, please visit their website.
Disclaimer: We were invited to Science Centre Singapore for a day of fun.