Media Invite
Our last stop for our day trip to Sentosa was none other than Skyline Luge Sentosa! Haha!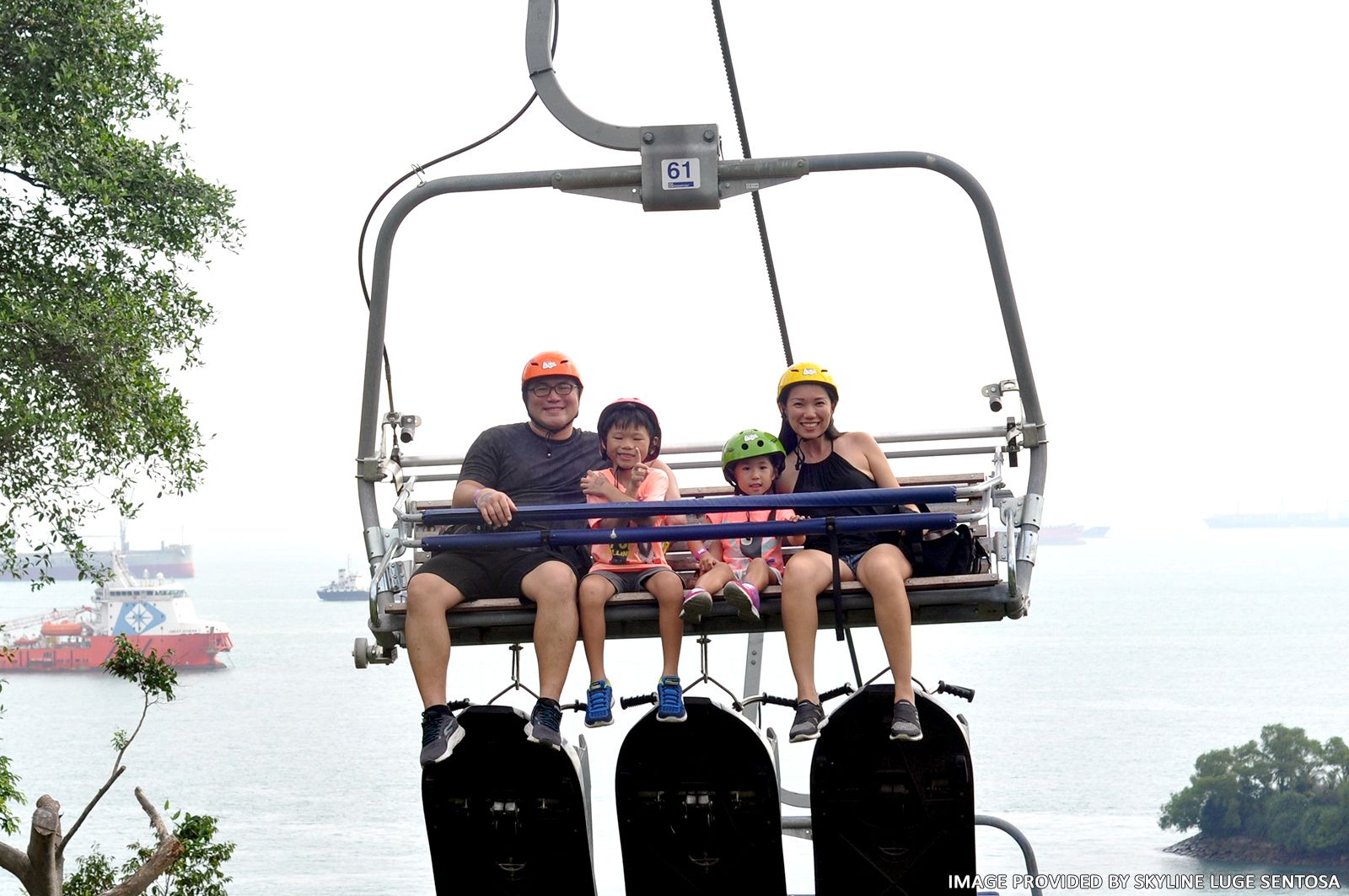 New Skyride

Old Skyride
In their latest upgrades, a new Skyride was built. Both the old and new Skyrides are in operation. We took both that day and found ourselves to be loving each Skyride for their own points.
For one, the wait for the new Skyride is a lot cooler now with shelter and fans, if you board at Siloso Beach entrace. And the new chair lifts are awesome! I had boarded the chair lifts and reminded everyone to "open your legs or you'll get hurt!" which had the staff laughing as he said, "Don't need. The new ones don't have anything blocking." There's no longer a triangle plastic (seen in the old Skyride photo above) present! Woohoo!
When it comes to the photo-taking, the new Skyride wins hands down. The background is not as cluttered and there's a beautiful view of the vast sea behind you with some greenery bordering the sides.
However, the new Skyride is significantly lower than the old one, which pretty much has most of the scenery blocked from view because of the trees. Depending on how much you fear heights (or don't), this could good news (or not). We definitely miss the views we had on the old Skyride when we rode on the new Skyride!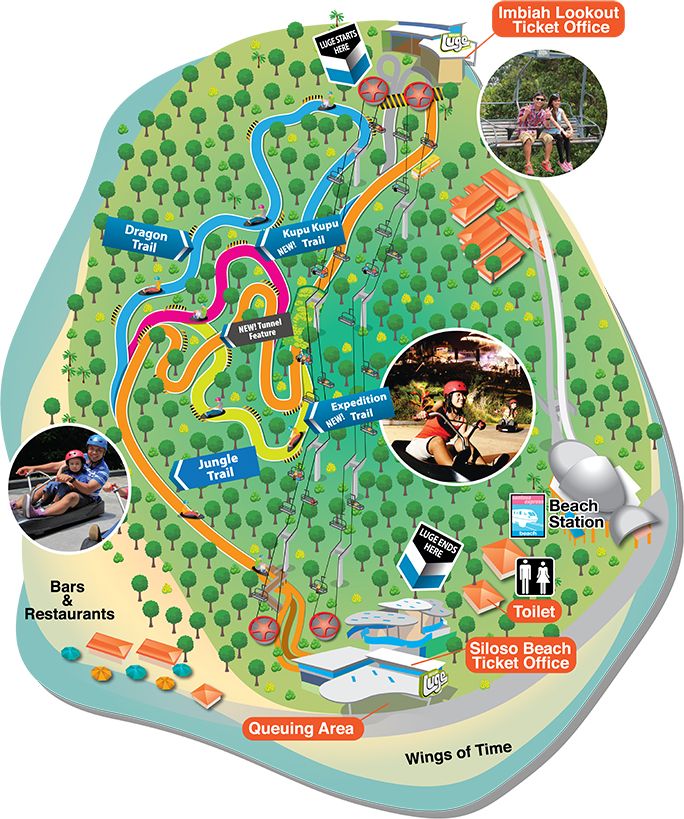 Image source
Along with a new Skyride, Skyline Luge Sentosa also unveiled their new tracks back in October. The children had been super excited about the new tracks! After about two rides down unplanned, they decided to study the huge map placed at the new waiting area, which is also sheltered, carefully before each ride down to make sure we went on all the new tracks together.
It's funny how the children would shout out loud the route we're taking at a junction, as we had agreed before moving off. The children could be heard shouting out loud, "Left! LEFT! followed by "Right! RIGHT!". Haha!
Having new tracks is an incredible idea! It gives guests more space to go at their own pace as we can split into different routes. Like, if I see that a huge group is heading down one route, I can take the alternative route to zoom my way down!
Whilst I did my best to catch up with Sean on every ride down, he will also slow down towards the end so that we can enter the photo zone together. The only ride we didn't bother with the photos was the last ride down as it began to drizzle. We managed to make it back into shelter before the full onslaught of the rain hit the island. What awesome luck we have! Haha!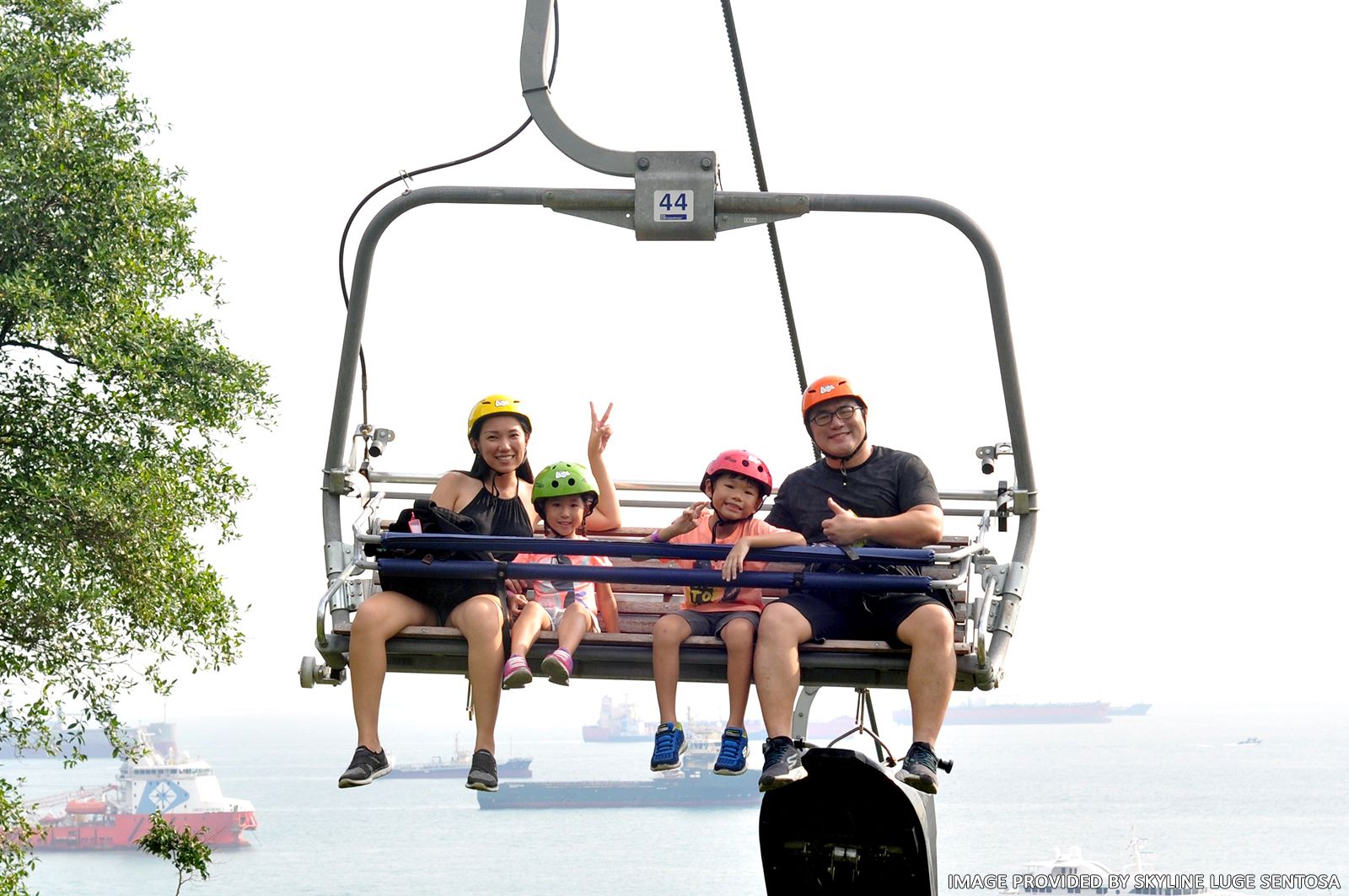 This is truly one of our family's favourite activities, and honestly, I'm very tempted to buy the annual pass! But until Blake can confidently drive the luge by himself, it's gonna be tough bringing both kids on my own (not easy for the hubs to apply for leave, even during school holidays, and we prefer going on weekdays).
Until then, I'm contented with keeping our visits as a year end treat!
* * *

Skyline Luge Sentosa @ Beach Station
45 Siloso Beach Walk, Sentosa, 099003

☎ +65 6274 0472

Opens daily 10am – 9:30pm
Disclaimer: We were invited to Skyline Luge Sentosa for the purpose of this review.