Media Invite
Finally, we made it to Pokémon Run Carnival this year! We had missed last year's edition but we're so glad to be part of it this time round, and what an experience it was for us!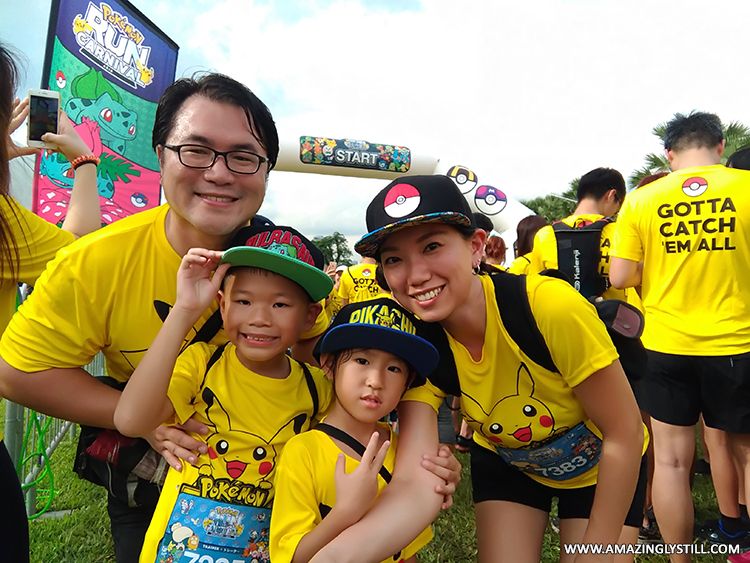 It's all about Pokémon, so we donned our theme-related caps for the run. Haha!
I was a little hesitant to enter the starting pen at first as it was muddy, but the hubs and kids were getting a little impatient so I told them to move as lightly as we possibly could to minimize the splash and mud that would get on our Skechers and legs. Haha!
From what I heard, it was raining the night before the run, and with constant movement by the large crowd, it only got muddier as the day went on. How unfortunate!

All set for the 5km run in our Skechers!
The race began at the top of Marina Barrage and we headed towards Gardens by the Bay where photo-ops were available at the U-turn. It was a fantastic spot with an awesome view behind us! It was also lovely to see all the participants helping one another with the photo-taking! Such great vibes at the start – love it!
After the U-turn, we headed back to Marina Barrage for the first obstacle course – Fire Zone.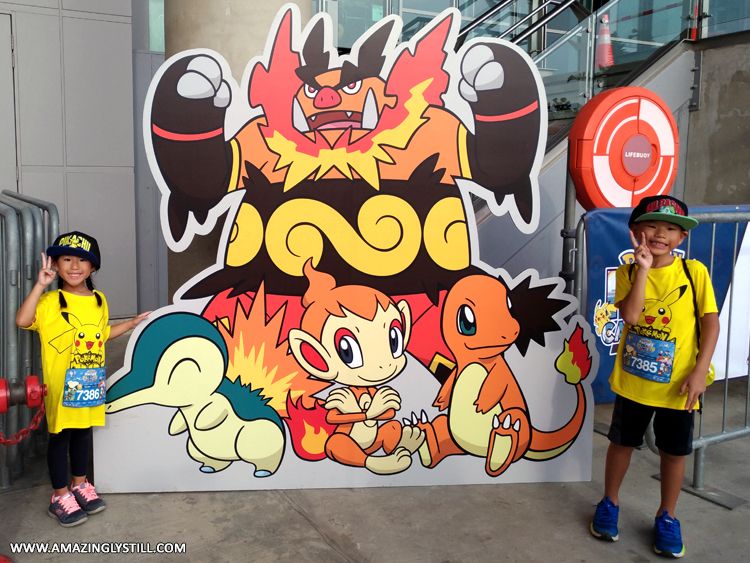 This obstacle would've been mad awesome, if our shoes weren't muddy to begin with. We had to squeeze our bodies horizontally into the giant inflatable and streaks of mud were left all over the entrance and exit. It was really tight too! So tight that our race bibs and safety pins came off as we entered and exited.
But the children had fun in it, so that's good! Haha! They loved how it was a ball pit and bouncing castle rolled into one! And it's been a long time since I went into one and felt like a little kid again!

Taking in the sights as we crossed over to Gardens by the Bay East
The Water Zone came up shortly after we crossed the bridge, and this meant only one thing – MORE MUD!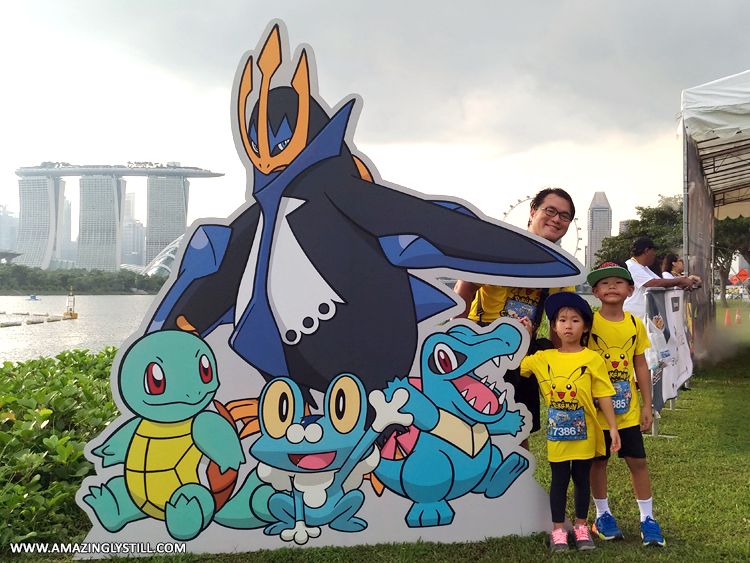 The children were having fun teasing the crew who were shooting water at them, and shrieks of laughter were heard when they were hit with water.
Me, on the other hand, I was walking slowly, doing my best to avoid the muddier parts and hoping they'll skip me as I was holding my phone – Nope! No chance of that happening! I was hit a couple of times!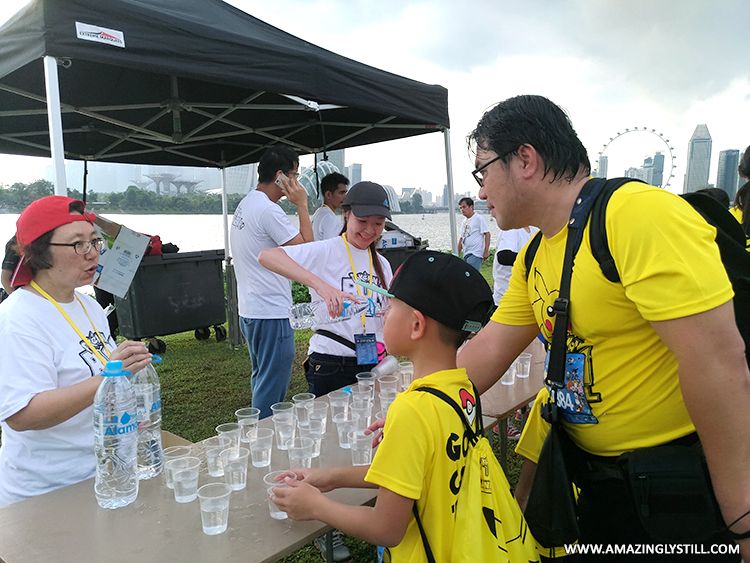 Water Zone = Water point 😂
If I remember correctly, this was the only water point throughout the 5km run.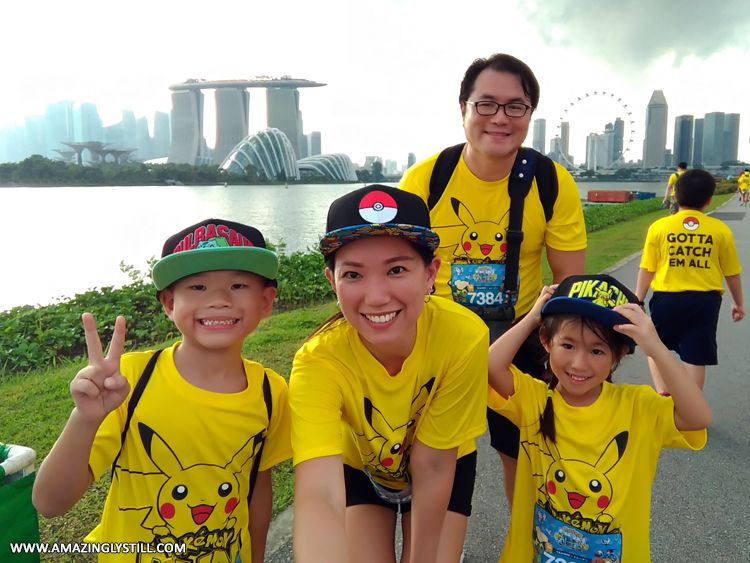 The route down Gardens by the Bay East was really beautiful, and the children were enjoying the cool evening breeze as we half-walk, half-jog the stretch. It seemed like forever before we reached the next zone – The Electric Zone!
This zone has got to be our favourite amongst all, not because of Pikachu but because we got to climb up and slide down the inflatable – super fun!
Throughout the run, we also spotted a couple of distance markers that's a little different from what we usually see.

Who's that Pokémon?
You'll know what I mean by this phrase if you watch the cartoon series. Haha!
The children had fun guessing along the way, and while they were guessing, I was mentally taking note of the distance, and I am super convinced that the actual run was a lot longer than the stated 5km. The hubs had started hatching his Pokémon Go 5km egg when the race began, and it hatched a little after the 4km mark!
At the same time, I remembered we had to be back by a certain time to get the medal (yes, there's a cut-off time to receive medals for fun runs too) so we quickened our footsteps to complete the run. And of all times, Nakayla had to use the toilet! So while the boys ran ahead of us to secure at least two medals, baby girl and I headed to the nearest available loo, which had quite a queue. Thankfully, the other ladies saw how urgent Nakayla was and let her go first.
After which, we ran with all our might to the finishing line, up a slope, with no time to take photos in the last zone – Grass Zone – at all cos the hubs and Blake were shouting, "10 more minutes! Faster!"
Once we had our medals in hand, we went back to the grass zone and asked the crew if we could head back in just to take photos. Haha! No matter what, we need to get some photos in this zone because it has Blake's favourite Pokémon – Bulbasaur!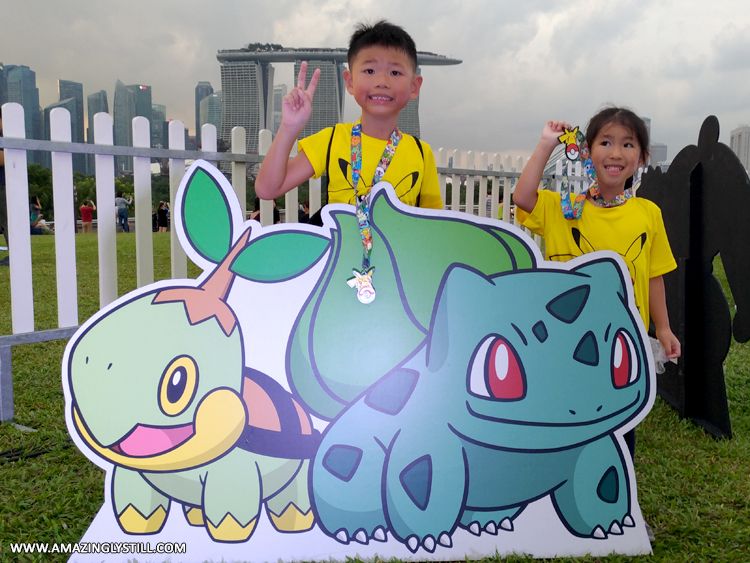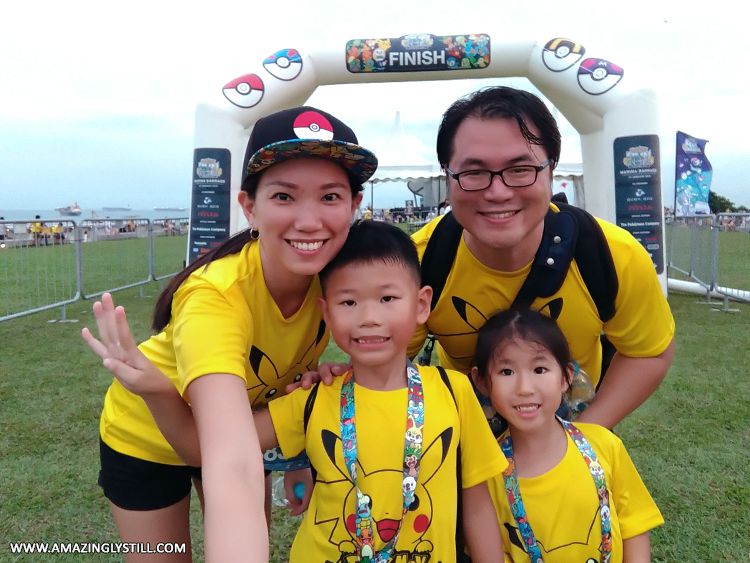 And of cos, a finishing line photo with the family!
Despite the rush, cos we took far too many photos along the way, our first Pokémon Run Carnival experience was, overall, pretty awesome. It's definitely something different from the other runs we've been too, with the mini obstacle courses along the way.
Blake was so sad to leave that he cried, which took the hubs and me by surprise! He said he really wanted to stay and wished we could come every weekend to play! He even asked me if I could write to the organizers to include other zones for the other types of Pokémon, such as Fight Zone, Psychic Zone and a special zone just for Eevees and all its evolution!
But I guess I don't really have to write in to anyone, as the organizer had already mentioned in a recent news article that they'll be bringing in a new concept for next year's run, so here's hoping for some good news! More zones and more obstacle courses please!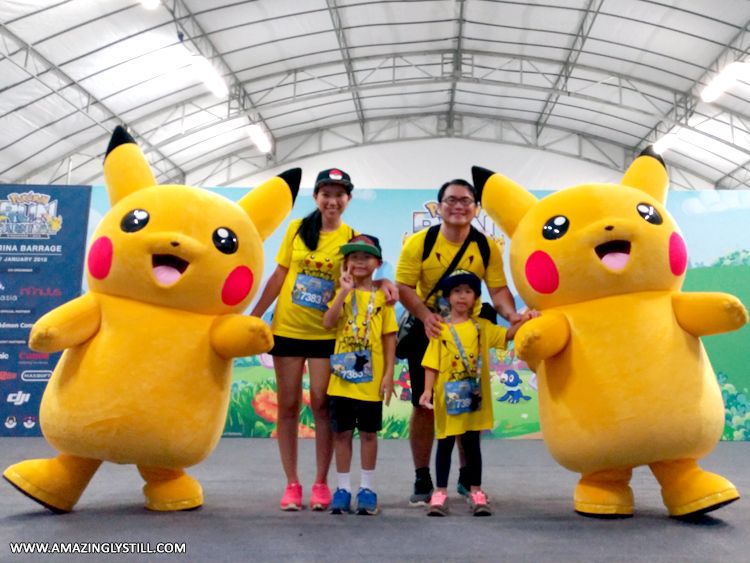 Until the next run, fellow Pokémon trainers, continue to catch 'em all!
Disclaimer: We were invited to Pokémon Run Carnival for the purpose of this review. Skechers have also kindly sponsored our shoes for the run.