For this year's family photoshoot, we went back to Fort Canning Park!
Our last visit there had been rather unpleasant towards the end because of the mosquitoes. But thanks to that experience, we came better prepared this time round! Besides bringing mosquito repellents along, we also avoided the area with the most mosquitoes.
Seeing that it's our second visit there, our photographer pretty much gave us full control over where we'd like to have our photos taken (first-timers will usually let him lead, just like we did the first time round).
The first thing I mentioned was to re-take some shots from previous photoshoots.

2014 : 2018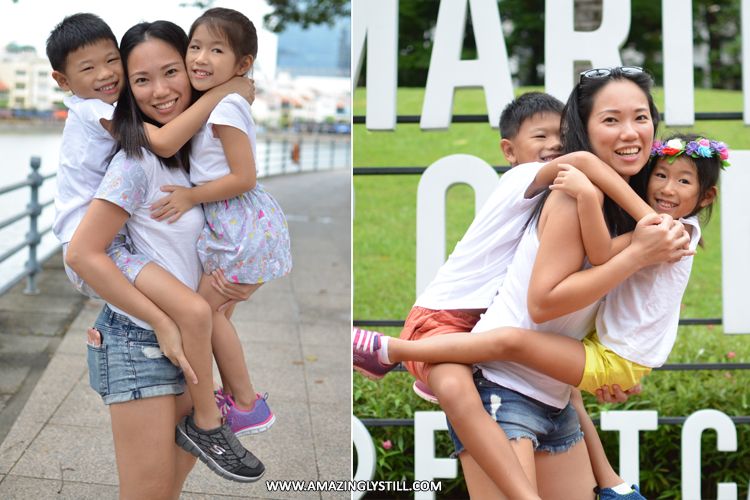 2017 : 2018
I said I'll carry the children like this for a photo every year for as long as I can… I don't think we'll make it next year. Haha! Their legs will be even longer!

2016 : 2018

2015 : 2018

2016 : 2018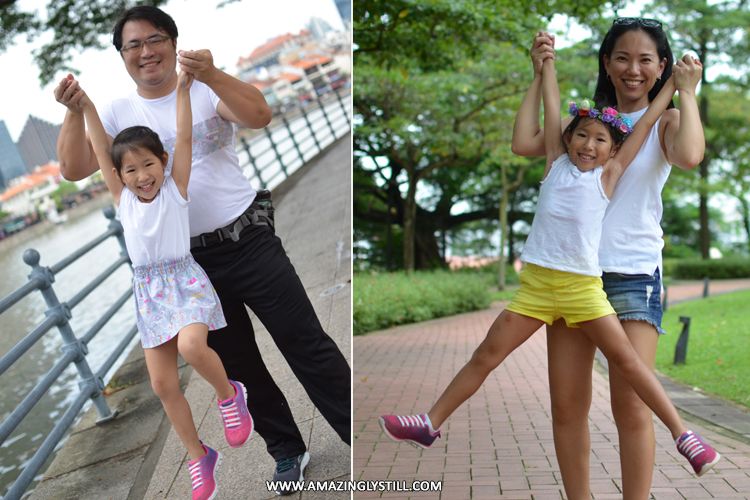 2017 with Daddy : 2018 with Mommy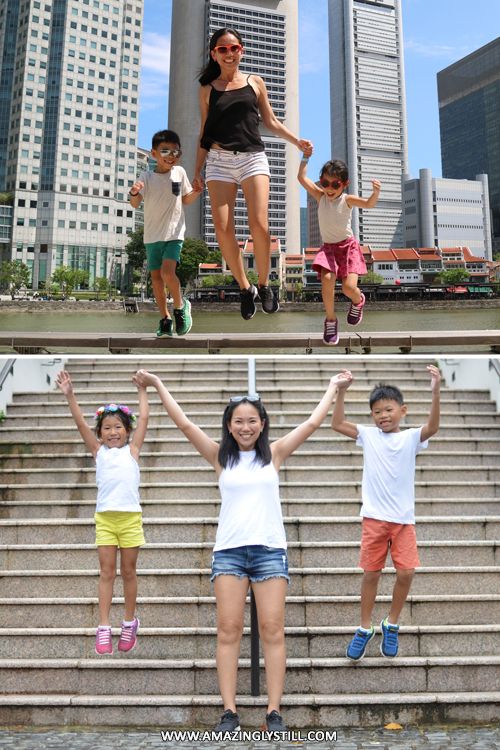 Okay, that above is not exactly from a photoshoot, but it was a pretty awesome shot taken by Natasha! And I remember loving the photo so much that I thought to re-create it when it was my turn to take photos with the children!
Besides, the children love doing jump shots and it's guaranteed to get a smile or laugh out of them. Yay!
In addition to re-creating some of the older photos we had taken before, we also explored different parts of Fort Canning Park and took photos en route to our chosen spot.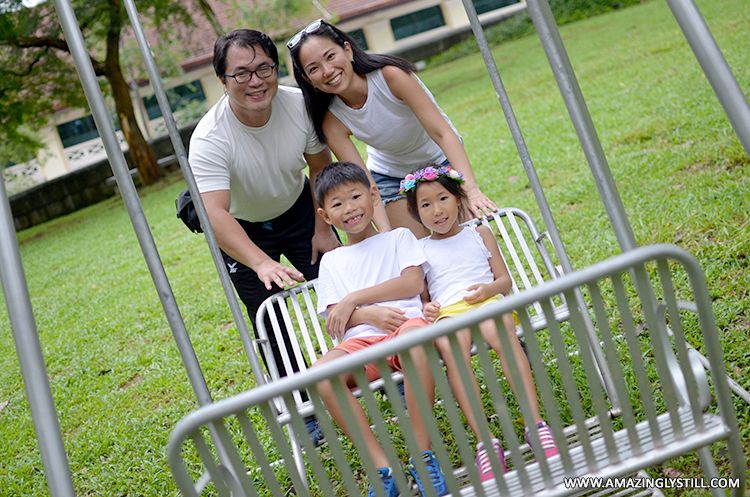 Swings! Wee!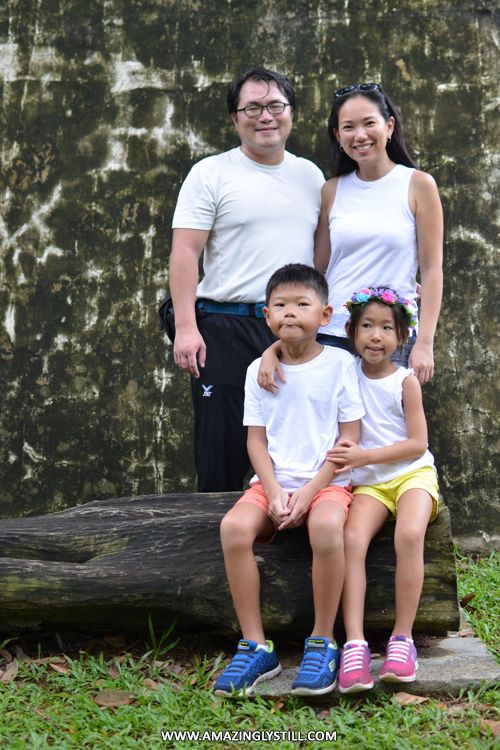 And right next to the swing is this pretty huge log. And almost instantly, the photographer and I were like, "Here. Here's a good spot for photos." Haha!
Only problem was, one part of the log was filled with bugs and the children weren't very pleased when we told them to sit on it. Hence, the faces. On hindsight, the husband and I should've sat while the children stood. But then, the composition of the photo may not turn out as well cos the children aren't that tall yet. Hmm… Maybe we'll return in 2020 for another round?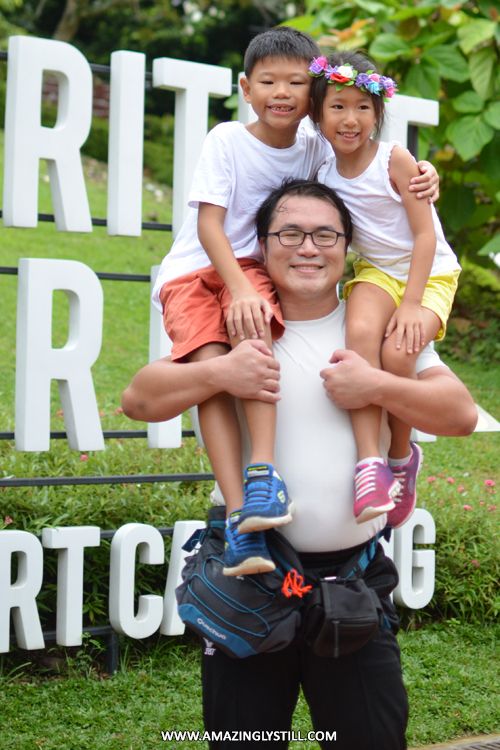 Will the children still be able to sit comfortably on the hubs' shoulders by then?
Our chosen spot for the photoshoot was suggested by the hubs – Fort Canning Lighthouse. And what a wonderful choice it was! I love how the photos turned out!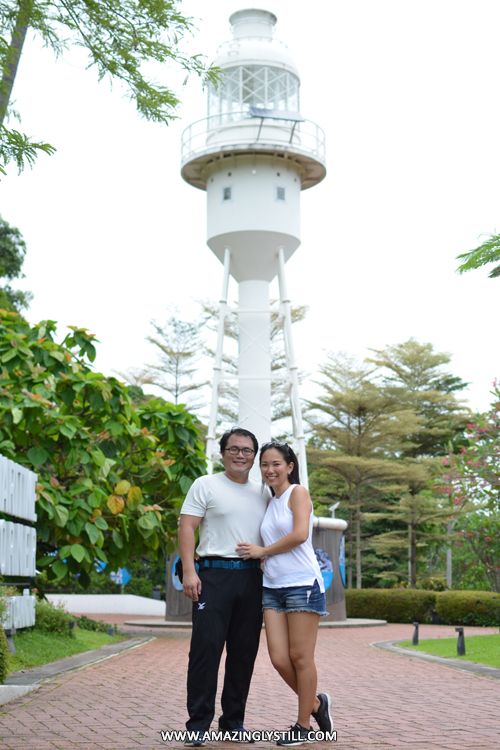 Now I'm wondering, why on earth did we not pick Fort Canning Park for our outdoor wedding photoshoot back in 2005/2006. Lighthouses are so pretty!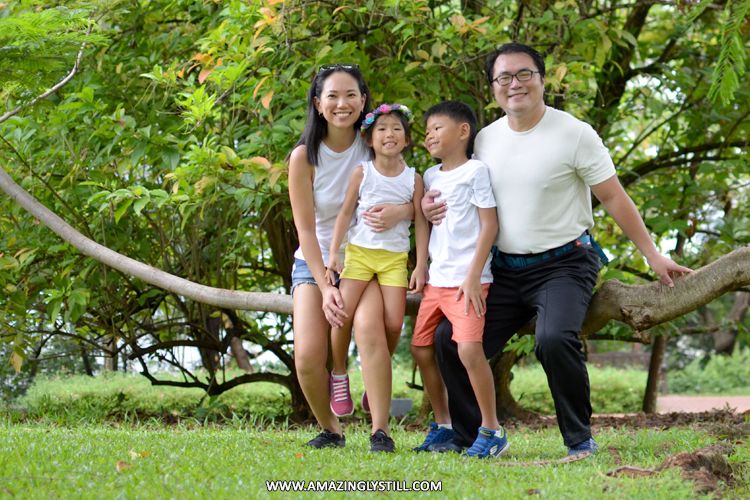 In the same area, I spotted this tree branch. After surveying for a bit, we concluded that it wasn't strong enough to hold a child's weight, let alone our entire family! But I couldn't let go of what an awesome backdrop it'll be! So, we did the next best thing. We pretended to sit on it. Haha! Toughest squats I've done in a long time! Totally worth it though!
The hour-long photoshoot ended with everyone happy, albeit a little sticky cos of the humidity, but I'm so thankful for the good weather! Yay!
* * *
Our photographer, QJ, has been taking our family photos since 2016. We first found him on Groupon, which has now become Fave, and have been using his services ever since.
I'm neither paid nor sponsored to do this (in fact, I paid for this photoshoot and all previous photoshoots with QJ). Just recommending his services as photos are really precious to me, and an annual family photoshoot is one amazing way to keep track of the children's growth, made even more obvious with our pretty consistent outfits worn through the years. But, photoshoots can sometimes be pricey. So, if any of you are interested in taking similar photos, and need a wallet-friendly option, you can check out their listings on Fave.