This mommy-son outing to S.E.A. Aquarium at Resort World Sentosa is a little over a month old, but the day's events are still fresh in my mind! 😀
After dropping Nakayla off at my mom's place (she was on leave and happy to watch Nakayla for me), I carried a rather sleepy Blake to the bus stop to begin our excursion!
The first thing we did after reaching Vivocity is to eat. We had McDonald's so that the boy can have his fries and toy to play with. Haha. But we were a little too early, the lunch menu wasn't up just yet. So, we waited. And the boy got a little cranky cos all he wanted were his fries and toy.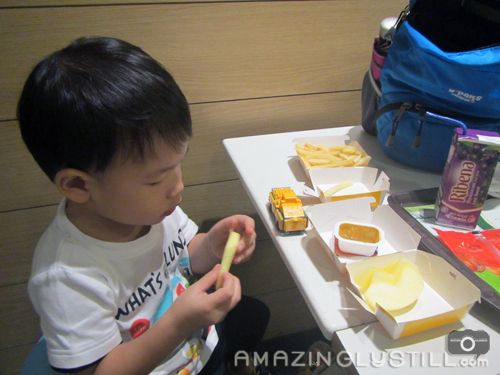 Finally! Fries!
After two happy meals, we took the skytrain over to Resort World Sentosa. I'm pretty bad with directions, if I'm not holding a map, so it took us a while to make our way to the aquarium. The signs weren't very helpful cos the arrows all seem to be pointing in all sorts of directions – at least that's how I remembered it!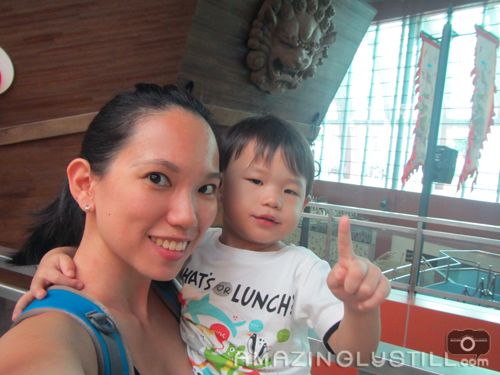 Upon entering, a huge Chinese Junk greeted us! I didn't know they had an exhibition for all the old Chinese pirates! Haha. It was pretty interesting, but it wasn't fascinating enough for Blake, so we headed straight towards the aquarium, a level below.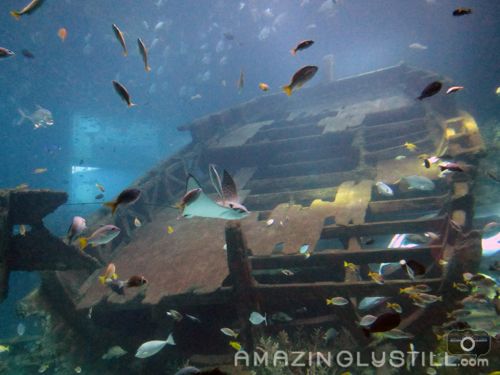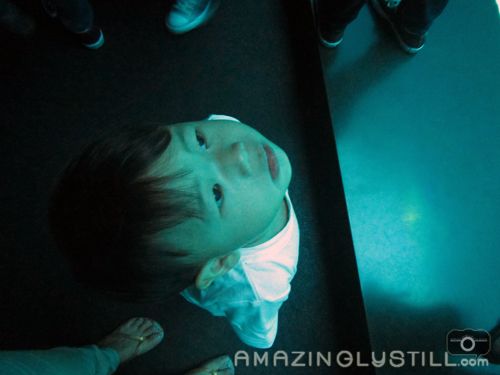 Blake finally decided he wanted to explore the place on his own when he saw the first huge display at Strait of Karimata & Java Sea. He was super excited to see the fishes! We stayed in this area for quite a long time because Blake was so enthralled by it all.
We then moved on to Strait of Malacca & Andaman Sea. I initially thought it would be fun to have Blake go touch some of the sea creatures, but boy oh boy! The queue was rather crazy and I don't think Blake was in much mood to queue up!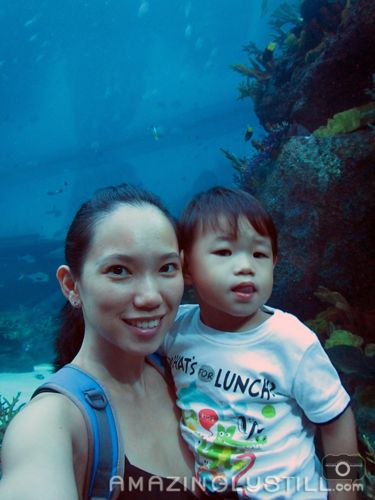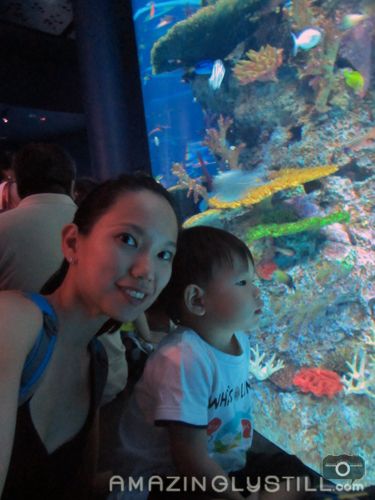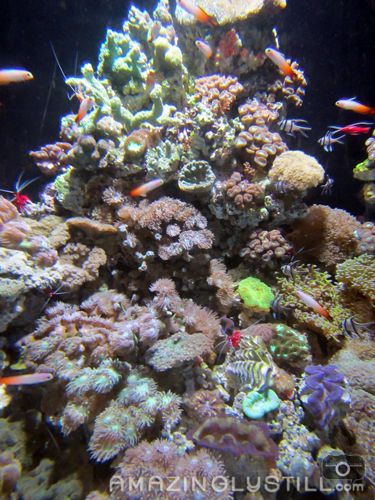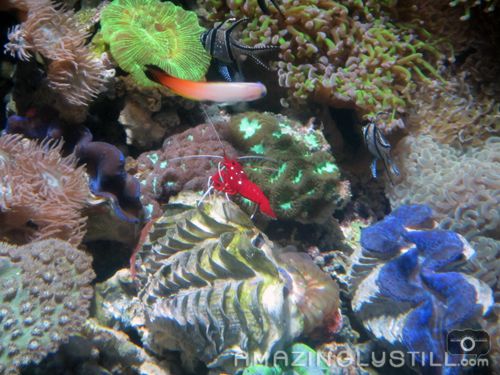 I believe these were taken from the Bay of Bengal & Laccadive Sea area. Haha.
After a while, it gets a bit tough to remember what's what 😛
Then came the highlight for me. Dolphins. The highly controversial wild dolphins from Solomon Islands.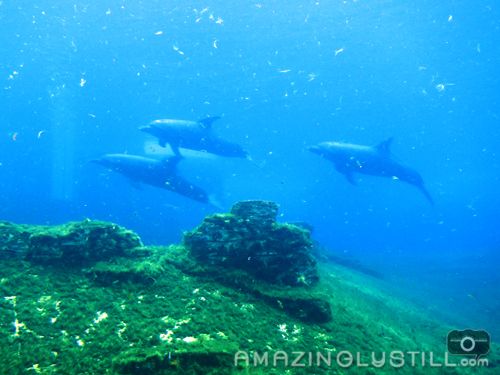 Honestly speaking, with so much controversy surrounding the dolphins, actually going there to see them is extremely disappointing. Not only do the water they live in look dirty and disgusting, but there were only two small windows for you to see the dolphins, and everyone was trying to squeeze their way to the front to have a better view! It also didn't help that the dolphins swam anywhere but near the glass windows. I had to crop and edit the photos above just so you could see the dolphins beyond their yucky waters!
Blake got really frustrated trying to have a look at the dolphins, but he couldn't stand the crowd, nor wait for the dolphins to arrive nearer to the glass windows, so we left shortly. I think we had a much closer look and better interactions with dolphins (pink ones too!) when we went to Underwater World and Dolphin Lagoon last year!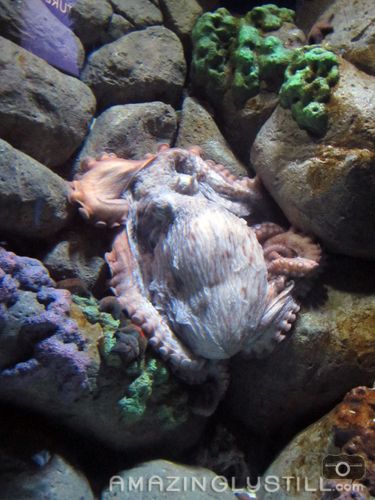 I was really creeped out by the octopus, but I must say, this is probably the best photo I had taken that day! The colours, the quality of image… For such a sea creature, it sure is photogenic!
Also within the Ocean Journey section, are the sea jellies!
The displays of the sea jellies are amazing, and there were so many different shapes and sizes of them! I was really amazed! But by about this time, Blake got rather cranky cos most of these displays were small and had tons of people crowding around it. I don't know how I got in and out with ok-looking photos, while carrying Blake!
Then, we walked into the Open Ocean.
Blake got excited again and asked me to bring him straight down to the display. He just sat there, and tried to move beyond the yellow line that had been drawn. He inched little by little, while I tried to pull him back. And yes, he got angry with me for doing that a few times and tantrums ensued. I had to drag him away because it was really quite the scene. In my mind, all I could think of was, "Thank goodness Nakayla's home with mom!"
After we left the second big display, Blake calmed down and was a little more cooperative. It also helped that it wasn't so crowded anymore. It seemed like most of the crowd got stalled at the big display.
We rushed through towards the end, cos I could see Blake was getting tired (don't know why he was when I had been carrying him like 95% of the time!), but we managed to see this diver cleaning the tanks!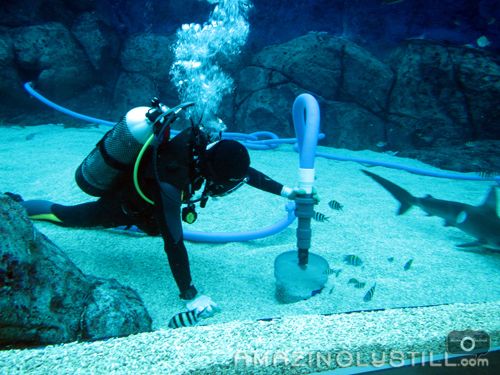 When I finally got through all the displays with a sleepy Blake on my arms, we reached the souvenir shop. And in a typical 'Mabel' fashion (when the husband is not around, that is :P), despite the tantrums thrown, I thought it would be nice for Blake to have something from the souvenir shop, just like when he went to the bird park.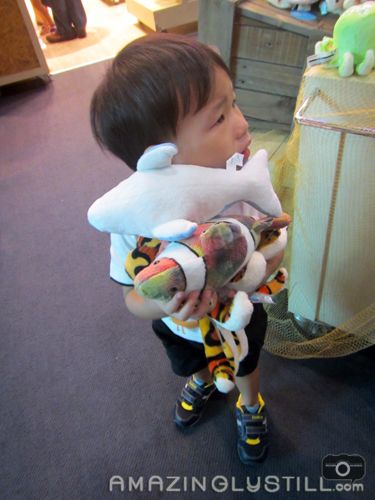 Greedy little fella!
He knew what he wanted. He didn't just take any soft toy within sight. He walked one round before picking up the soft toys he wanted. And when I offered soft toys of the same design but different colour to him, he would say, "NO!", if he didn't want it.
I also asked him to find a soft toy for Nakayla, and showed him many pink items – mostly turtles or octopus – and he said, "NO!" to all of them. Having picked out a blue dolphin soft toy for himself earlier, he asked me to bring him to where he took the blue dolphin soft toy (I was carrying him again), pointed at a particular pink dolphin and said, "Meimei!" ('Sister' in Chinese). He then reached for that particular one, totally ignoring those that were much nearer to us. I really don't know whether to laugh or cry at this point.
After queuing like forever to pay, which made the tired Blake cranky again, we finally left the place to make our way home (I didn't get to go to The Maritime Experiential Museum™ and Typhoon Theatre!). I'm super thankful that the other customers in the queue had looks of concern rather than annoyance. And they didn't move away when Blake started screaming. They waited patiently, with no 'tsk' sounds or 'black' face. I'm very grateful!
Before we even got to the train station at Vivocity, Blake fell asleep. So here I was, at the gantry to the trains, tired, carrying a bag of Blake's necessary items, the soft toys we just bought and a 14+kg sleeping child. I decided to take the longer train journey home so that I can rest more and walk less.
When we got back to my mother's place, my mom told me that Nakayla was different from usual. She didn't sleep at all, which meant my mom had to play with her the entire time we were out! We're guessing cos she's a little older and needs less sleep. Either that or she's wondering, "Why didn't you bring me along? See! I'm wide awake!" Haha. I had Blake give Nakayla the pink dolphin, and she was super happy with it! This made her brother very happy too, though he didn't show it there and then.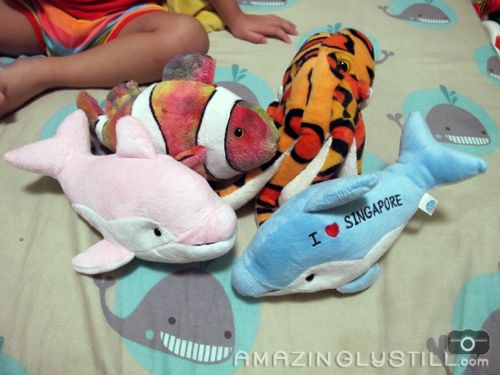 The loot

Blake showing off his new soft toys, and the one he picked for Nakayla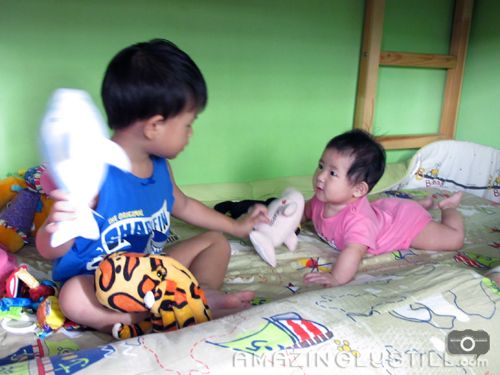 He passed the pink dolphin to Nakayla so that they can play together
I think I pushed myself really hard on this trip. I thought the trip to Happy Willow would be the longest I'll ever have to carry him, with him walking part of the time!
Which reminds me of the trip to the park… It wasn't the longest trip out, being only an hour and a half (or a little more). But I had gone with both children, without the stroller and Sean. And I had to carry both of them home after.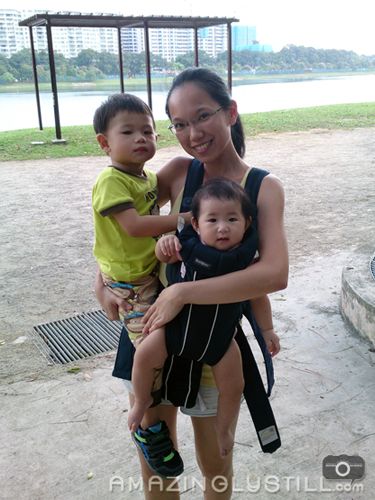 Asked a nice dragon-boater to help us take this photo. Hehe.
Being a mother, and wanting to bring our children out, really brings out the super human strength in one sometimes.