If there is one thing, besides standard academics, that the people in our family have to learn, it is swimming. It's the one thing that our parents teach us from as young as 6 months old. Both Blake and Nakayla had undergone their first step to learning how to swim after they turned 6 months old. You can read about their experiences here and here respectively.
I never attended formal swimming lessons. I was taught by my dad. He's a swimming champion in his younger years, and is still taking part in competitions to this day! The amount of trophies he has from swimming alone is more than all of us 4 children combined, with all our different activities! He had to throw some away when we moved because there were just too many. Despite that, he thought it would be best for Blake (and eventually, Nakayla) to attend lessons by certified coaches. Apparently, he didn't think he did a very god job with us. I can assure you though, as much as I dislike swimming (cos it's always so freaking cold for me!), I can swim to save my life.
After waiting anxiously for a couple of months, Blake finally started his first swimming lesson. And my dad brought him.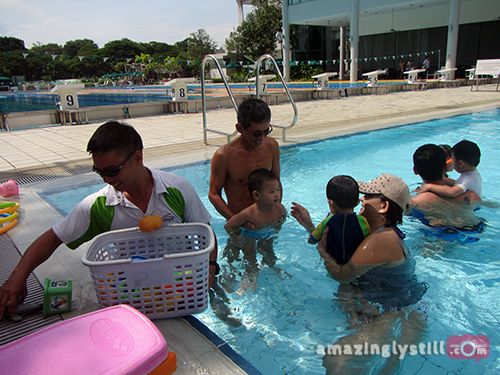 Meeting his new friends and classmates

Getting all warmed up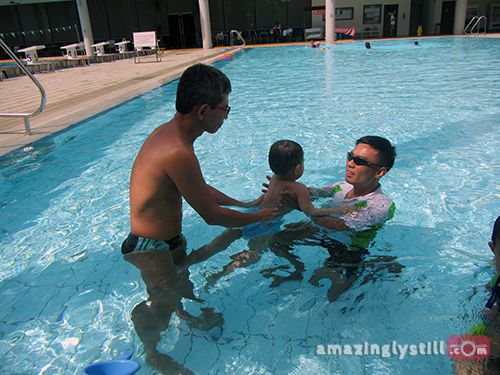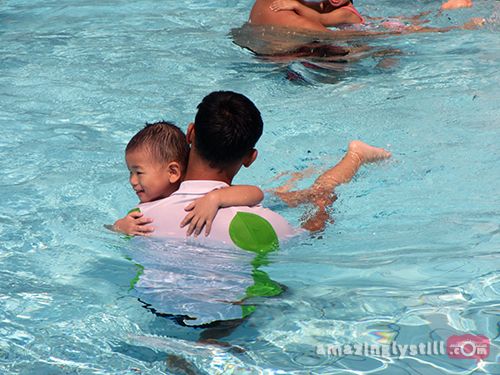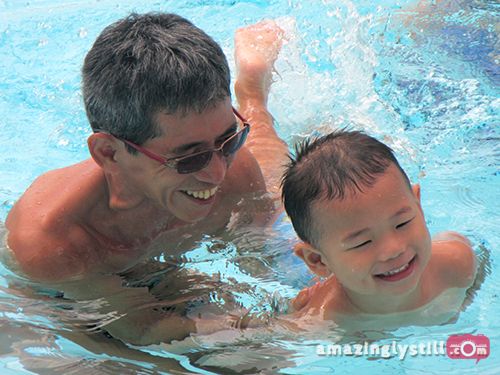 They sure look like they're having a lot of fun!

If my dad had a Facebook account, I'd put this up for him as a cover photo.

Blowing bubbles in the pool. One thing we need to practice with Blake more often.
Blake had so much fun that he didn't want to leave the swimming pool after the lesson was over! So what do you do when a 3 year old toddler says "No" to leaving the swimming pool? Well, because it's my dad in the swimming pool with him, he got to stay.
Here are some videos taken post-training, and my dad's way of enticing Blake to learn how to swim.
That's my dad swimming his favourite butterfly stroke leisurely
What they were doing for at least another half an hour post-training
Prior to swimming lessons, we were already bringing Blake to the swimming pool at least once a week for the past one year. And during our trips to the pool, Sean would be playing with him, and subsequently, teaching Blake how to kick in the pool. Now, our once a week would be playing and practicing what he learnt in his swimming class!
Just in case you're wondering why neither Sean nor I went with Blake for his first swimming lesson, it's because I had a class to attend, and Sean stayed home to watch Nakayla. But the main reason was this: the boy listens to grandpa very obediently!
This is the first time I missed out on a big 'first' in Blake's growing up years. I'm pretty bummed for not being able to be there, but thank goodness for my mother, who was more than happy (I think) to help me take photos and videos to document everything! She said everyone was staring at her like she was, erm, mad cos she was just clicking away non-stop. Haha! But mommy, it's well worth it seeing all these photos and videos again, right? Hehe.
Now, we're considering if we should start Nakayla too. They have classes from 12 months old and above. Hmm…
P.S. After the first lesson, I went out to buy Blake some new swim suits. I was only supposed to buy one set, but…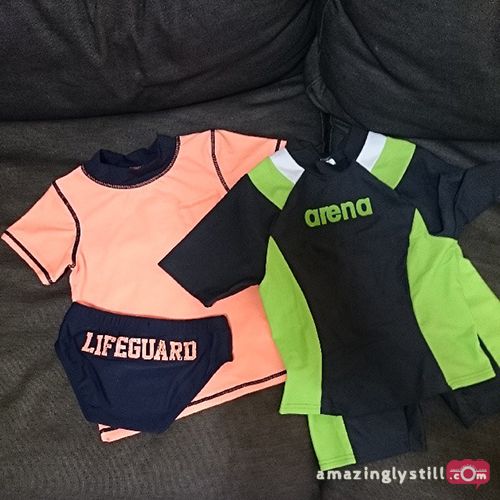 … I ended up with two!
He'll be wearing the orange 'Life Guard' set first
because the other set is a little too big for now.
P.P.S. Today is also marks our 8th wedding anniversary! Love you, hubs!

♥