After a year of struggles, including two very terrible DIY haircuts by yours truly and the husband, Blake finally sat on his own to have a haircut, without much of a protest! I say a year because for the first two years of his life, Blake never needed anything done to his hair.
It was also the second DIY haircut, which turned out worse than the first, that turned everything around.
It all started with a certain hair cutting tool I got from Daiso. This tool: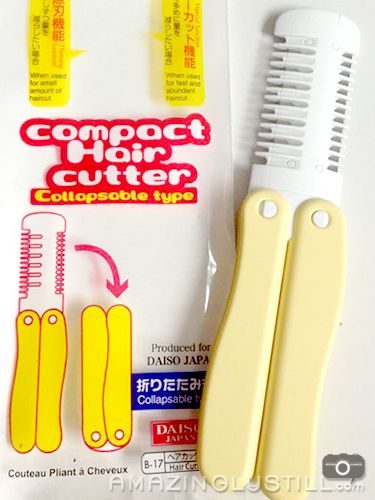 I was told that it was fairly easy to use, and that the children will think you're just combing their hair, but you're actually cutting it! After having it around the house for a long time, and Blake finally grew out his hair, I thought it was time to put this tool to the test. So D-day was 23 September 2013.
While it feels just like normal combing to me, it's quite painful for Blake from the drag-and-cut during the process. He struggled a lot and eventually, I gave up, leaving his hair in a horrific state, quite similar to his first haircut by me. Then the husband came home, he said it'll be easier if he used his electric shaver's little trimmer. But what he didn't expect was to cut off a whole bunch of hair instead of the little bit that he's used to, when he trims his own side burns.
Needless to say, Blake's hair was a state of disaster.
As it was really late, there was no way of going to any hair salon to get a proper cut, so Blake had to go to school with that disastrous hair. Sorry, my boy!
The very next day, after school, Sean and I took Blake for a proper haircut. We normally go to the EC House at Bedok Point, cos up till then, the hair dressers there were really good with Blake. They were able to cut his hair through all the struggles! But alas, it wasn't meant to be. They closed early for their annual dinner and dance.
Honestly, I was at quite a loss. In the midst of my panicking, Sean remembered seeing children getting their hair done at Tampines 1's Hair Club. We made our way there only to find a really long queue of men waiting for their turn.
We didn't want to wait, cos we know the longer we prolong the waiting period, the more Blake will struggle. This was when I remembered that there was a kiddy salon in the same building – The D's Kiddy Salon!
We quickly made our way up, and to our delight, the shop was empty. Hehe. We told the hair dresser of Blake's past hair salon history, and upon seeing Blake's hair, he immediately comfort us by saying, "This isn't the worst I've seen. It can still be saved." Haha!
Sean was just about ready to sit on the chair with Blake when the hair dresser (I never got his name!) put a booster seat on it, and told us to let Blake sit on his own. He then pulled another chair and asked one of us to sit on it.
And then, something magical happened…

Throughout the hair cut, the hair dresser spoke to Blake

Having daddy hold his head, and phonepad playing Lilo & Stitch helped too

When signs of potential struggle showed,
the hair dresser will get Blake to starting counting with him (it works!)

And soon, Blake would forget that he's there for a haircut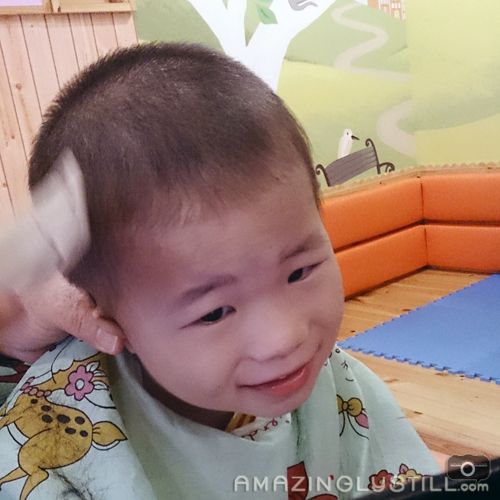 He was even smiling towards the end!
Blake sat through the session with no struggle! He whined a little here and there, but with the hair dresser's expertise and phonepad, he was calmed down almost immediately. I can't quite put it down in words, the happiness I felt when Blake sat still minute by minute. I was just going crazy taking photos to capture this moment!
While it's double the amount I'm used to paying for Blake's haircut, I'd say that it is worth every single dollar spent! There is also a loyalty card where the 6th haircut is free (think bubble tea loyalty card). What's even better is that the card is not limited to just one child, it can be shared among siblings!
At the end of it all, I realize that the hair dresser definitely had more confidence in Blake (and himself, I'm sure) than I had, when he said to let Blake sit on his own. And knowing myself, I'll probably call to make sure this particular hair dresser is around before I bring Blake down for his next haircut. Now, if only I can find out his name…
Oh yes, there's also an indoor playground just next to the hair salon (and a water playground a level or two up!), so I think when time isn't an issue, I'll let Blake have a go at either one after each haircut, just to reward him for his bravery. Hehe.
* * *

The D's Kiddy Salon

NOTE: This particular outlet at Tampines has closed down

Tel: 96838556
Email: Rina.lee@thedskiddysalon.com
Disclaimer: This is a personal review of the place which I experienced with my boy, Blake. Neither paid nor sponsored. Just sharing a gem of a place I found for kiddy haircuts!