I think a routine now, a routine to dedicate a special post to the hardworking people who helped to make this party complete.
In this post, I want to give a huge thanks to one of my favourite bakers, Natasha from Tash Bakes, for the lovely cake she made for Nakayla (and accommodating to all last minute change of ideas and designs).
And not to forget, the photographer who took all the lovely photos you saw in the party post, Nadia from Itchy Fingers!
And OMG. Allow me to sidetrack a bit, but anyone else notice what they all have in common? All their names, including Nakayla's, start with the letter 'N'!
THE CAKE by Natasha from Tash Bakes
The original plan was to have a rainbow cake shaped like a huge candle, similar to the one Blake had (and was pretty horribly done by another baker). First birthday, one candle – get it? But when more and more parties of 2013 focused on rainbow cakes and similar theme, I decided to forgo the whole plan.
It got me thinking that I constantly craved for cupcakes during the last few weeks of pregnancy and throughout confinement, I thought I'd reignite that season of craving again! That, and also cos cupcakes are considered to be quite a very girly theme. I doubt this party theme will sit well with Blake, since he knows how to choose already. Haha!
And since I was going to bake cupcakes for the party favors, I showed Natasha a picture of the cupcake cups I'll be using, the colour of the cream and what decorations I'll be using, and asked her to decorate the cake similarly. And the result is this!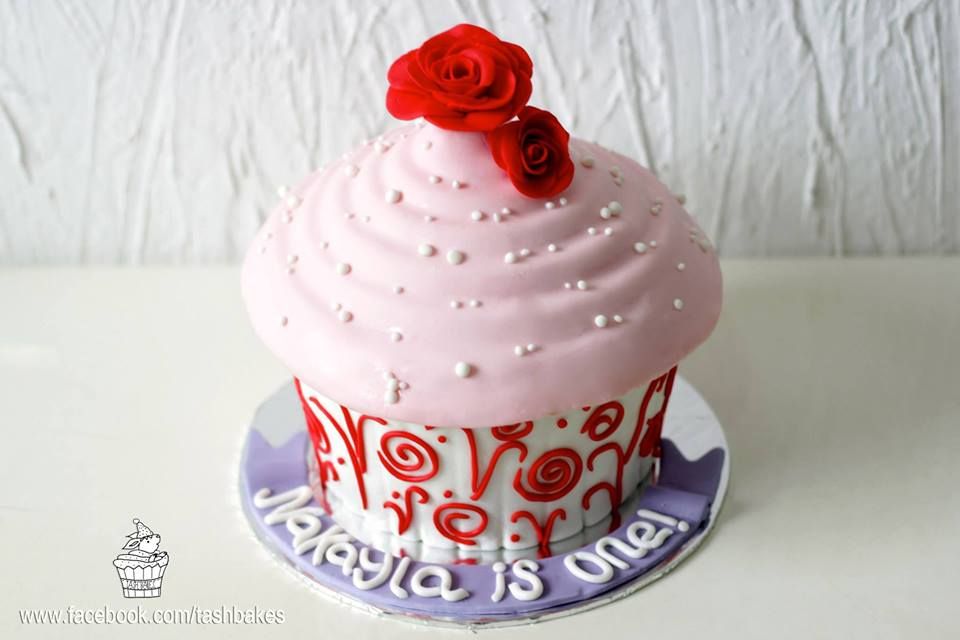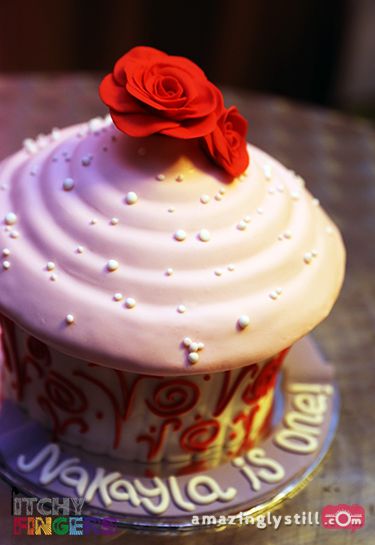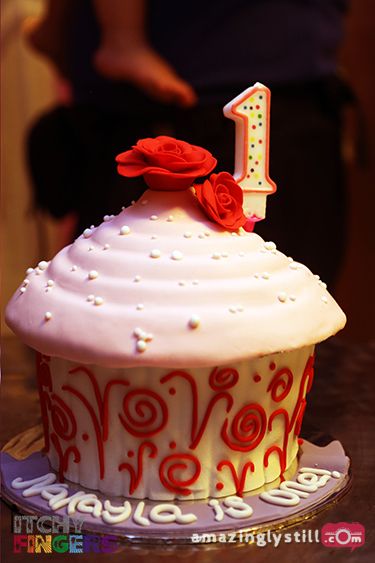 I love it so, so much! And the cake – Chocolate Cake with Heavenly Chocolate Ganache – is as divine tasting as ever! All my guests love it!
This cake size was also just nice for the party. Everyone got a nice slice each, thanks to Shirley's superb slicing estimation skills. And there were about 2 slices left for us to chomp down the next day! Perfect! Hehe.

Thank you for bringing the cake down, Natasha and Thomas!
THE PHOTOGRAPHY by Nadia from Itchy Fingers
Words cannot describe how grateful I am to Nadia.
After finding out about the photography glitch at Blake's party earlier in September, Nadia contacted me after my cry for help on Facebook – I was scrambling to find affordable and awesome photographers for Nakayla's party. And she offered her professional services to me as a friend!
Sidetrack: Winston from The BlogFather extended his help too (but by then, I had confirmed with Nadia already). He's not a photographer by profession, but he wanted to help cos we are friends. Then he said my standards very high. Haha. I will no longer deny it. I do have high standards when it comes to photographs! And thank you for offering your help, Winston! 😀
Nadia asked me about the kinds of shots I like, and what I want out from the whole party. I was never asked this before. I normally just let whoever's taking the photos do what they do best – don't interfere with the pros, know? And besides, Nadia was doing this for me out of goodwill, as a friend. So embarrassing to be making requests!
It took me a while to put what I wanted into words. Eventually, I told her I wanted people-focused kind of photos. I asked her if she's ok with grabbing the guests, and bringing them to the 'photobooth' and make them take photos – I know some people who like to have their photos taken, but are shy – and she said, "No problem".
But I didn't want it all to be so 'formal', I also wanted slightly more casual photos for all the families who attended (parties are great opportunities for family photos!), the children at their happiest, and of cos, my baby girl and our little family!

Party Favors by yours truly, under Party Favors Singapore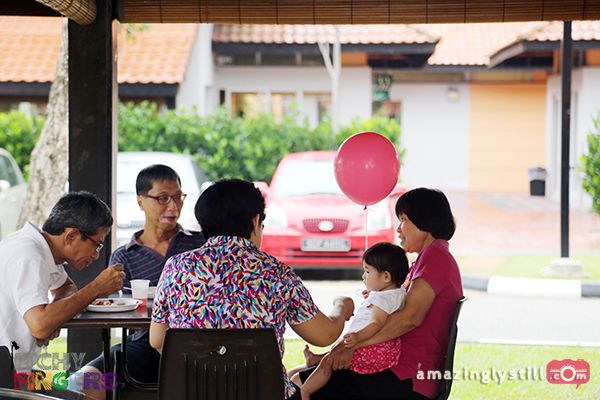 One of my favourite shots

Liam, Natasha's little boy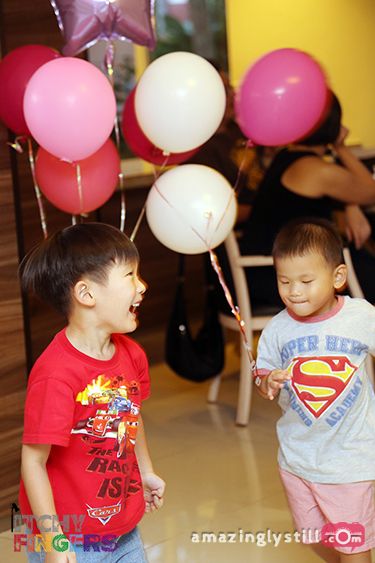 Xander, Liza's boy, and Blake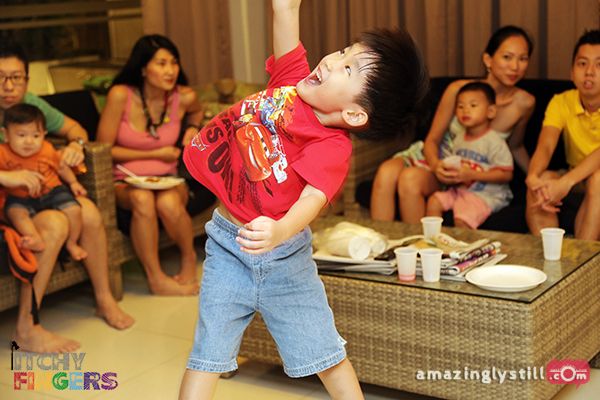 Xander again, Winston's boy, jumping to grab the balloons. Haha!

My aunt and her family with Nakayla

Cherie and her boys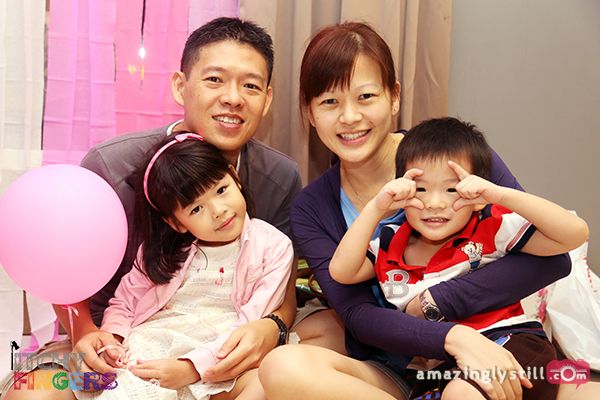 Ruby and her family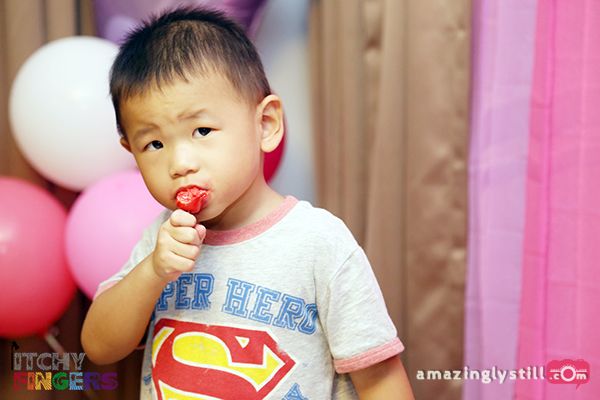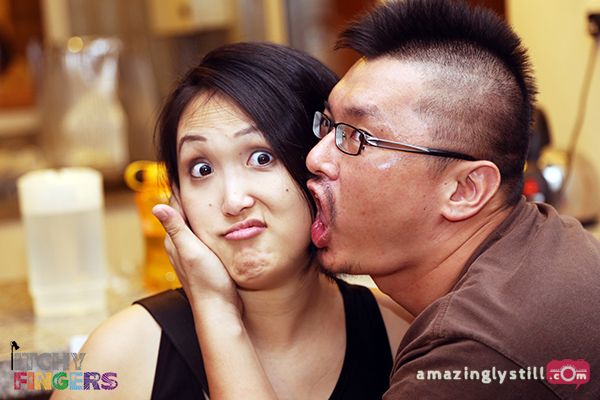 Liza and Winston
Good to have guests who aren't shy to take photos. Hehe!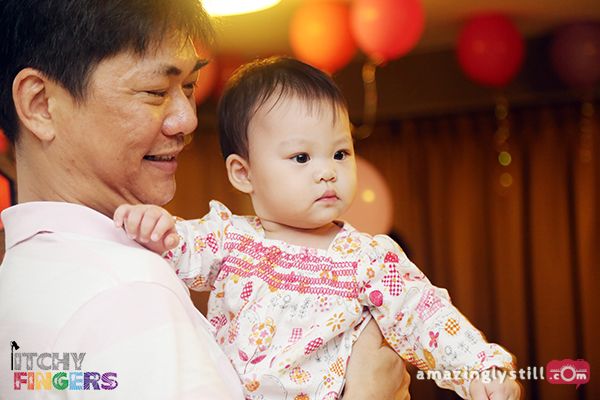 My uncle and his daughter, Ella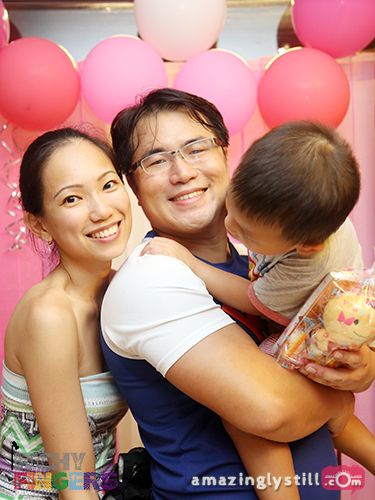 With our boy, who had just recovered from the massacre of his balloons
And she did it. Nadia exceeded all my expectations! Almost all the photos have this bright and girly vibe to it, and it just makes things look so pretty and happy! Some of the photos have the lights a little tone down, which created a certain romantic ambiance to it (for example, the photos of the birthday cakes right on top). Each photo really captured the atmosphere and emotions at that particular point in time!
And then she surprised me further later that night, with this video. I didn't even know she was recording videos during the party!
A couple of days later, she sent me a screen capture of how our DVD looks like. She had wanted to surprise me with it, but till today, I have yet to collect it cos I kept changing our meeting time. After this crazy year end season, I will definitely have time to meet you, Nadia!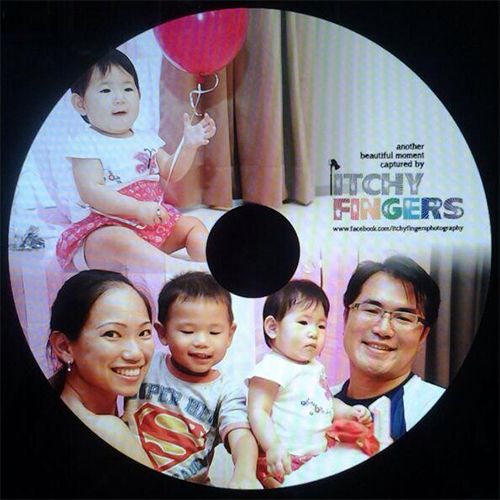 I AM IN LOVE!
If you're wondering how I have the photos without the DVD, Nadia very kindly sent me the photos online early in the morning, when I text her and told her I'm super excited. I think I woke her up from slumber land in my excitement. Hehe.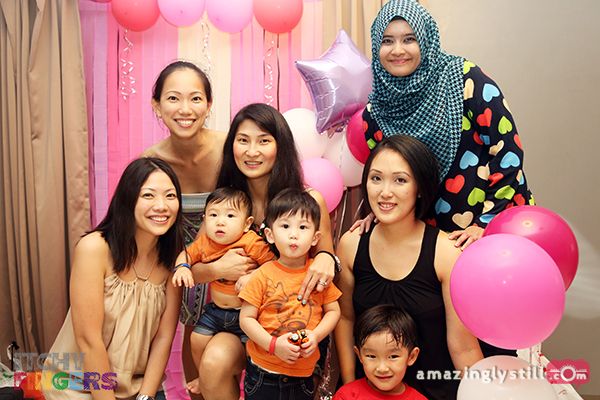 Group shot taken by Winston
Top (L to R): Me, Cherie and Nadia
Bottom (L to R): Natasha, Jerome, Jerry, Liza and Xander

Thanks for all your help, Nadia!
I really don't know how I got so lucky in meeting all these lovely people! Maybe it's the power of 'The Secret'. Maybe.
Disclaimers:
– I paid for the cake out of my own pocket. I even bought the cake mold for it. I receive no compensation for blogging about it. All opinions are 100% my own. Just blogging about it to share Natasha's very awesome baking skills with everyone. I really need her to be in the business for a long time!
– Nadia from Itchy Fingers offered to her photography services for Nakayla's party in her capacity as a friend. I was in no way asked or obligated to blog about it. I receive no compensation either. All opinions are 100% my own, and I'm very sure her skills as a photographer is clearly spoken for in the photos above.
– Also, I cropped some of the photos from here, and in the earlier post on the party. Haha! See how much freedom I have with the photos? No further editing was done though.