SAHM Survival Tips Blog Train
Being a stay-at-home-mom (SAHM) for the past few years has led to many amazing memories, from Blake's first step to giving birth a second time without epidural (yikes!) to having the siblings play together… It has been an amazing journey filled with ups and downs, that's for sure!
And through these ups and downs, I'd like to think that I picked up a couple of new skills along the way.
One of things that I'm pretty proud of is that I am able to pick out the different types of cries my babies are making. This will allow me to decide, while half asleep in bed, whether or not they really need me. More often than not, I'm able to sleep through the cries peacefully (or just sleep through completely without hearing their cries!) cos I know they are okay. Hehe. Either that, or the husband gets up to check on them instead. Haha! Thanks, dear! 😀
While the above skill is not really recommended for anyone to learn and follow (do it at your own risk!), I have a couple of others up my sleeve on how to ease one's life as a stay-at-home-mom (or dad!).
Tip #1

I don't sweep. I don't mop. I SWOP!
Instead of spending time sweeping or vacuuming the floor of the house followed by mopping, I combined the two together and do it all at once. With some practice (and whole lot of lazy), this magical mop can pick up all the dirt on the floor while swopping!
I usually do this early in the morning after Blake has gone to school and while Nakayla is still sleeping. Not only am I more energized in the morning, but it's super awesome to start the day with a clean floor 😀
Tip #2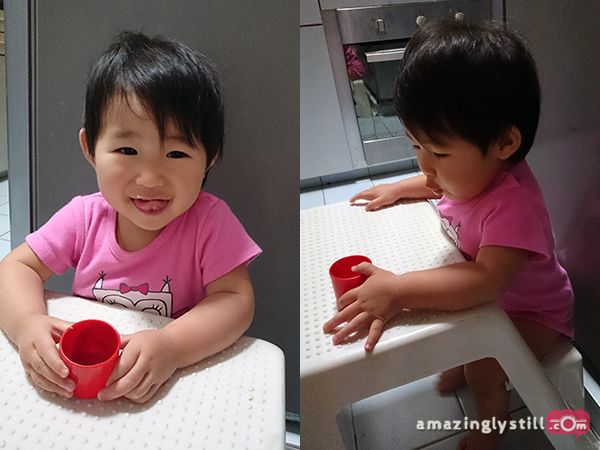 The Step-Stool… Table?
This type of step-stool is awesome! We placed ours in the kitchen so that Blake can climb up safely to reach the sink and wash his hands all by himself, but Nakayla discovered a different use for it.
During one of the times I was busy with laundry, she got herself into the step-stool and used it as a table! Ever since that day, should Nakayla be in the kitchen with me while I'm preparing lunch, I'll plonk myself next to her and use the step-stool as our table top. With all the mess contained in the kitchen, I only have one spot to clean up! Yay!
Note: Please remember wipe and disinfect before having meals on the step-stool. Not exactly the most appetizing spot when you know your child's dirty feet had been all over just before.
Tip #3

Working with the Children
A pretty common sight when I have to work and both children are clamoring for my attention. I include them to reduce the noise level in the house, so that I can work in peace (sort of). It's also fun to take a break and do something hilarious like turn on the webcam and take a couple of photos! The children get some attention, and I have my mind totally refreshed. Win-win!
And when they realize that it's really boring to just sit on my lap, watching me type black words onto white backgrounds, they'll soon find activities to busy themselves with. Hehe.
Tip #4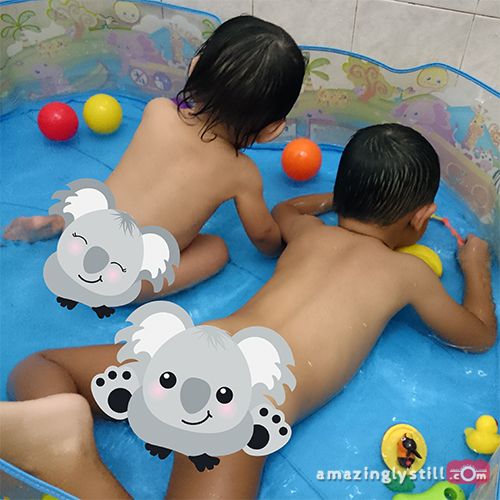 The Ultimate Me-Time Device
This has got to be the best $12-13 spent on a child-related product – a portable swimming pool! Both my children are water play junkies, and by putting them in with toys, I can easily score myself at least 45 minutes of me-time. I usually sit on my bed while they play (they are still in my line of vision), and will only move when one tries to attempt something funny, or when they're ready to come out.
During the time Sean went overseas for work, I put out two bath tubs so that while they play in their own area (less fights and knocks), I can shower in peace alongside them! Haha! Yay for big bathrooms! 😀
Tip #5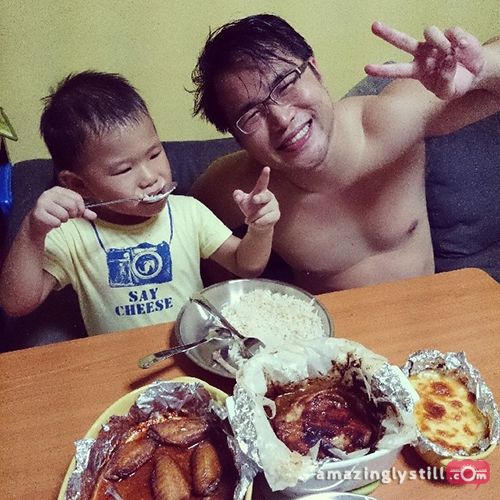 As long as they are happy eating it, it's considered a success!
A lot of the meals I cook are baked in the oven. I'm terrible at controlling the fire over the stove, and in many ways, I just don't have the patience to stand and cook. Never mind the endless cries and screams that come along with it. But by using the oven, I can play with the children while our meal is being cooked! 😀
Some of the dishes I bake are Lemon Garlic Baked Fish with Mozzarella Cheese (sometimes I add honey to sweeten things up), Char Siew Wings, Baked Chicken topped with Bacon and Cheese, Pizza (using bread as base), Roasted Teriyaki Chicken, Honey Lemon Chicken, Honey BBQ Chicken/Wings, Sweet Soy Chicken… When I have the time to sit down and type out the recipes, I will share it. But they usually consist of similar ingredients for the marinate, sometimes adding more of this or that to switch things up a little. Hehe.
Even the most complicated dish I come across and really want to try, I will find ways to reduce the time spent preparing it – like Beef Lasagna and a really play cheat version of Claypot Chicken Rice by The Accidental Mom Blogger, where I skipped some steps and got similar results! Hehe.
Tip #6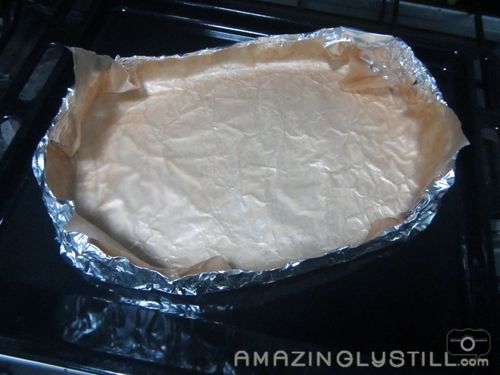 Reducing Washing
This is particularly important to me because I have hand eczema and soap is one of the few triggers. I know, right? SAHM with allergic reactions to soap! Sigh. If you're going, "you can wear gloves for washing!" I'm allergic to those as well. Double sigh.
Thankfully for me, I have an awesome husband who will do the bulk of the washing for me. But I still came up with ways to reduce washing because it isn't very nice to come home to a sink full of dirty dishes after a long day at work!
Now, this tip is not exactly very environmentally-friendly, so it is most ideal for those who cook or bake only 1-2 times a week.
First, I portion the meat before packing them into individual ziploc bags (sandwich bag size) and freezing them. Each portion is good for one person (i.e. myself. I'll have to grab 2 bags for the husband's portion), so I just need to grab accordingly and I'll have enough food to go around without having to worry if I made too little or too much!
After thawing (I put them into a basin of water for quick thaw) and draining the water out of the bag, I pour in all the ingredients to marinate the meat. This is all done in the morning, when I'm have the most time to myself.
While the meat is marinating in the fridge, I make the individual 'baking trays' required for the different dishes using aluminium foil (as seen above). I normally make the trays in various shapes such that I can fit all my dishes onto one big metal tray. Bake all the dishes at one go! Hehe.
Once marinating is done, and the family is almost ready to eat (most of the time it takes about 40 mins to bake in the oven), I'll just pour everything out onto the trays I made and throw the ziploc bags away. Hurray!
And the final tip I have to give can be used by almost anyone and everyone. And while I'm not sure if it really is a survival tip for SAHM, it sure made my life a whole lot easier by reducing the pinch on the finances when it comes to raising two children!
Tip #7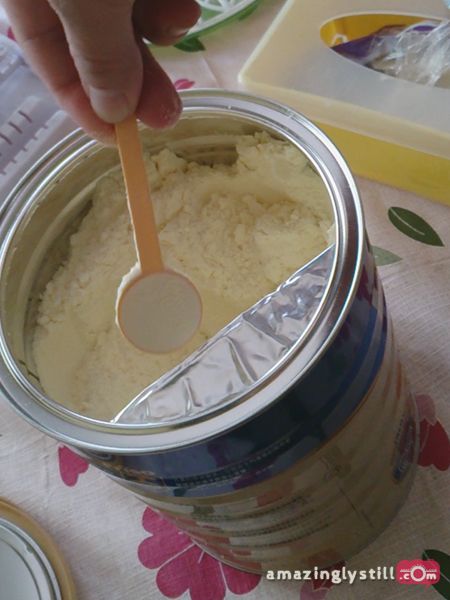 Buying the big tins
While the smaller and more expensive milk powder tin comes with a leveler of some sort, the bigger and relatively cheaper tins do not. Between cost saving and convenience, the husband and I decided to go for the former for practical reasons.
Then, he did something amazing one day. He made our own leveler with the foil used to seal the tin!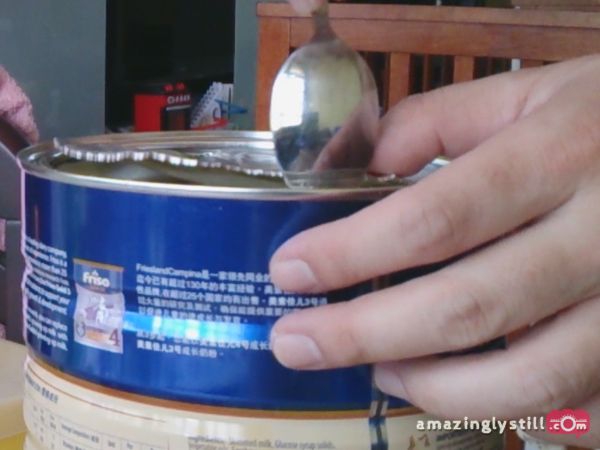 Step 1: Trim the edges off, leaving a small portion intact

Step 2: Gently pull the foil (be careful!) towards the part that is intact and fold inwards to get a straight line. Continue to fold the rest of the foil to reinforce the structure.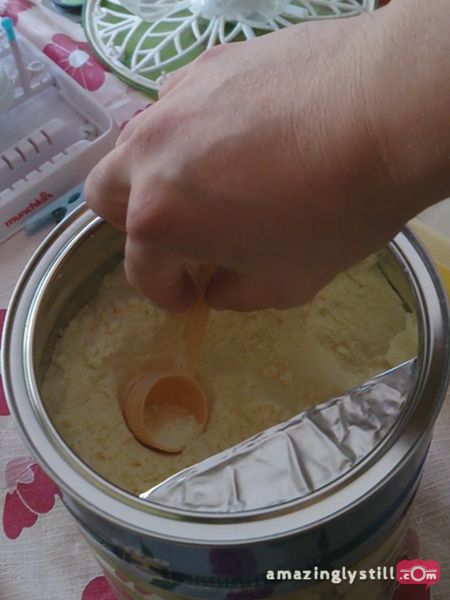 Step 3: Test it out and adjust accordingly!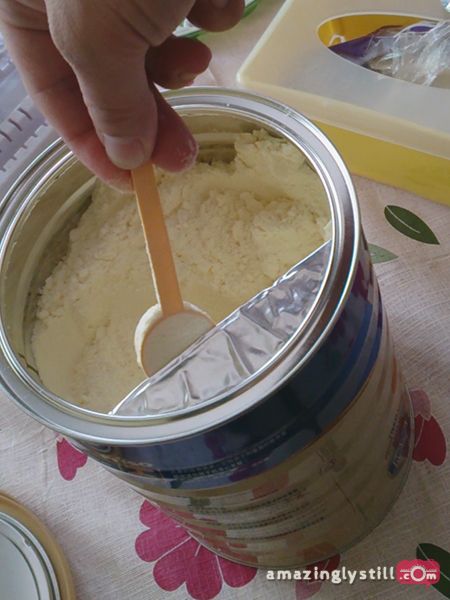 TA-DAH!
Okay, I lied. There's one more tip. But this isn't my own. This tip came from a fellow SAHM whom I confided to when I was having a hard time as a new SAHM:
Do only what is necessary first. Prioritize.
You don't have to do everything all the time.
And I've been taking on that advice ever since. Things like packing and keeping the toys, I normally do it on weekday nights (the toys tend to stay all over through weekends). I try to get as many wrinkle-free clothes as possible so that I don't have to iron (ever!). And because I'm not that regular a chef, the husband packs dinner home on most nights. Hehe.
So fellow SAHMs, or SAHMs-to-be, sometimes you'll just close both eyes (and ears) and take that breather you need in the bathroom. Holding in pee and going hungry just to do a bit more is not healthy at all! I've been there, done that, and I know it's no fun at all! Must think long term, ok? 🙂
* * *
Next up on the SAHM Survival Tips blog train is Elizabeth! Do check out her website tomorrow for the post! 🙂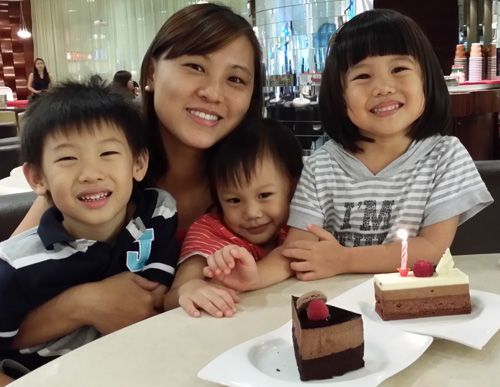 "Elizabeth is a mother to three rambunctious kids and wifes, moms and writes at motherkao.com. She also loves to flail her arms and do the crazy shake every day to keep her sanity. Read her survival tips here."
* * *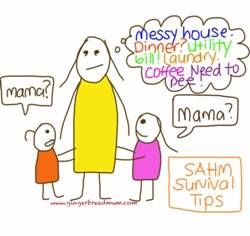 31 moms share their SAHM Survival Tips!
This post is part of a blog train hosted by Gingerbreadmum where 31 stay-at-home mums share their survival tips. We hope that you'll find our tips useful and remember that you're not alone!