Product Review
Our most recent family run at Cold Storage Kids Run had us all dressed up in our DIY rainbow outfits.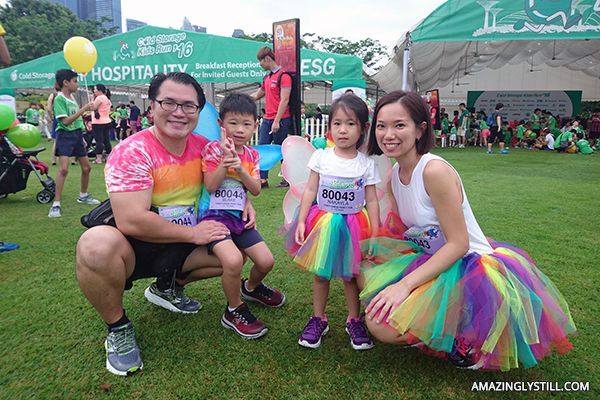 And accompanying our not-so-sensible outfit for a run, are sensible running shoes from Skechers.
The race might be considered a short distance at only 800m, but wearing proper footwear for running is really important to us – a good habit to cultivate from young!

And this brings me back to my earlier post, where I mentioned that one of the reasons our family loves Skechers is because of their continuous effort in upgrading their products in terms of technology and design.
The newer range of shoes we receive from Skechers have gotten a couple of compliments, mostly about how beautiful the colours are. As the wearers, we can tell you that the beauty goes beyond the looks.
Nakayla's Skechers Girl, $69
Nakayla has finally upgraded to a pair of shoes with laces! She has been yearning for a pair like this for quite some time now, but her feet was to small. Can you imagine her delight when her wish finally came true? Hehe.
What I like most about this pair from the Skechers Girls series is that it is light-weight.
Given Nakayla's slightly petite size, I really appreciate when additional weight is removed, without compromising the comfort, so she can run and jump freely without anything weighing her down. She has been the utmost trooper whenever she wears her new glittery purple Skechers. She's able to walk hours on end with them!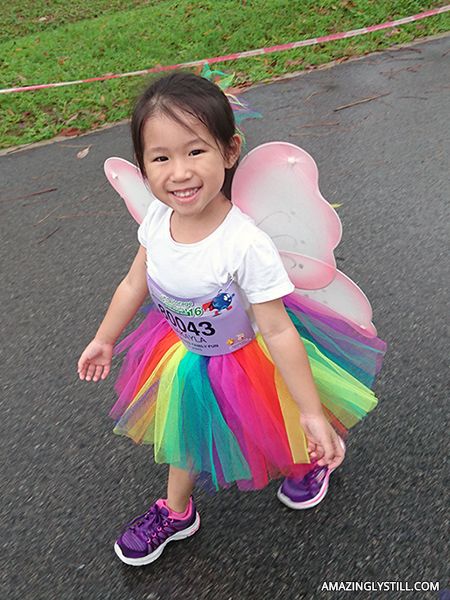 Besides being light-weight, it is also well-cushioned on the inside with soft fabric shoe lining, padded collar and tongue. The insole of the shoes are made with Ortholite which helps keep things cool and fresh.
Blake's Skechers Boys, $65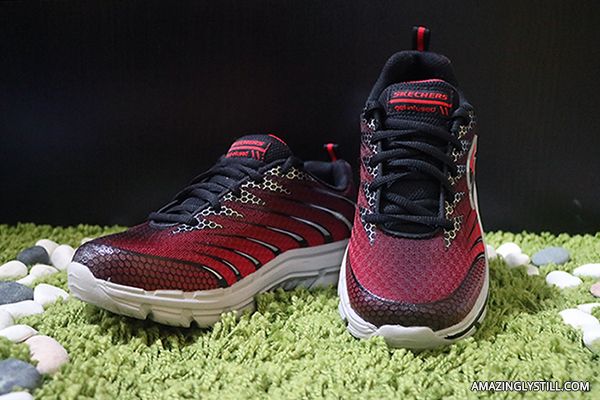 Breaking the trend of naming his Skechers after Transformers, Blake simply calls these his shoes. When you tell him to put on his shoes cos we're going out to have fun, this would be the pair he puts on. I guess that is what happens when you have a pair of go-to shoes.
Similar to Nakayla's pair, Blake's pair from the Skechers Boys is light-weight and lined with soft fabric with padded collar and tongue too.
There are, however, two main differences.
The first is the breathable one piece mesh on the training shoes. This particular benefit is awesome, especially for a young boy who is full of energy and ready to tackle any outdoor activity with gusto! This keeps the shoes pretty dry and free of any sweat odor.
The second is the insole. It's made out of the same material in my other pair of Skechers – Gel-infused memory foam!
I know exactly how comfortable Blake is feeling and I can see it through him as well. He enjoys walking and running on his own a lot more now when we're out and about.
GOrun Ride 5 – Women, $159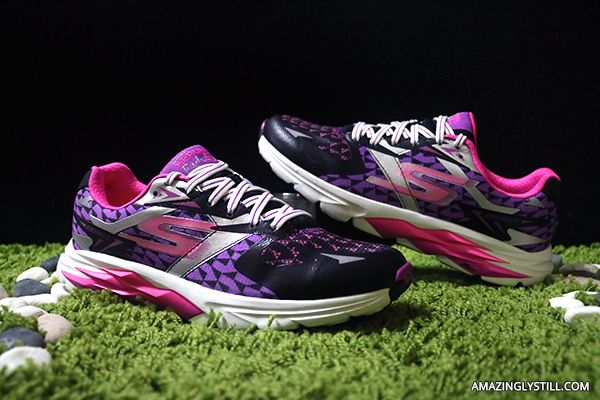 Out of the three colours I could choose from the series, I picked the purple and black combination. It was ranked last at first, but when I saw how Nakayla and I could probably have a pretend mother-daughter matching shoes moment, along the lines of our shoes being 'purple', I decided to go for it and thank goodness I did. No regrets at all! Hehe.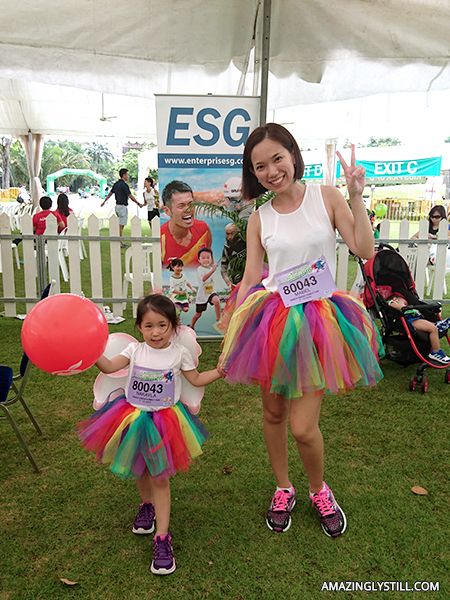 Colours aside, the new generation of Skechers GOrun Ride upped its game in comfort and impact protection by increasing the Resalyte cushioning, without adding more weight to the shoes. It's still light-weight!
Along with the flexibility of the shoes, this encourages a more natural running style of mid to toe strike (i.e. landing flat on your feet without feeling you're stomping to the ball of your feet)
Note: Most who do not take note of their running gait and ends up landing heel first (or heel strike) tend to experience pain in their knees.
I'm also really pleased by the cut of the shoes. The front of the shoes is slimmer than usual, giving the shoes a more streamline look. This makes my broad feet look smaller than it usually is, without compromising comfort. My feet didn't feel squashed at all!

Two colours of laces to choose from
Oh, and I almost forgot about this very important detail… For all in-between shoe sizes ladies like myself, the GOrun Ride 5 comes in in-between sizes! I strongly believe that this played a huge role in the overall comfort I get.
GOrun Ride 5 – Men, $169
As reviewed by Sean:
It is well-fitting because of the cushioned sides. The feet stay cool and well-aerated. It absorbs impact well and seems to have some kind of stored energy to spring the feet forward, when you lift off the feet to move forward.
Overall, our family's experience with Skechers' new series of shoes for adults and children have been amazing. Here's to wearing more not-so-sensible outfits for a run, and always wearing sensible shoes from Skechers!
Disclaimer: Skechers kindly provided us with running shoes for our Cold Storage Kids Run. However, this review was written on a voluntary basis. No further compensation was received.