The stars aligned for all of us one day, and we were able to pay the zoo a visit together with Lin Ying and Natasha, along with their children and superhelper! Woohoo!
Our initial plan was to meet as early as possible so we can spend more time together exploring the zoo and feeding the animals. I had thought maybe the usual 10-ish would be good, but we ended up reaching the zoo even before it was open!
It was a good thing too, because this meant we can have Jungle Breakfast with Wildlife, which is essentially dining with the Orang Utans. I never thought we'll have the chance to experience this because it's so early!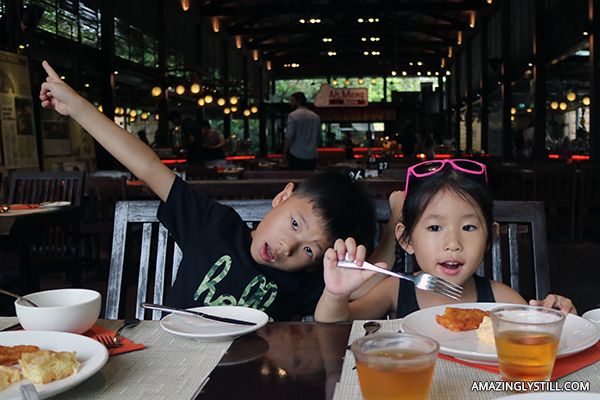 The food available at Jungle Breakfast with Wildlife more than surpassed my expectations after our Lunch with Parrots experience. The children were spoilt for choice and basically took a little of everything that fancied them – cereal with milk, picnic ham, eggs, apple juice etc.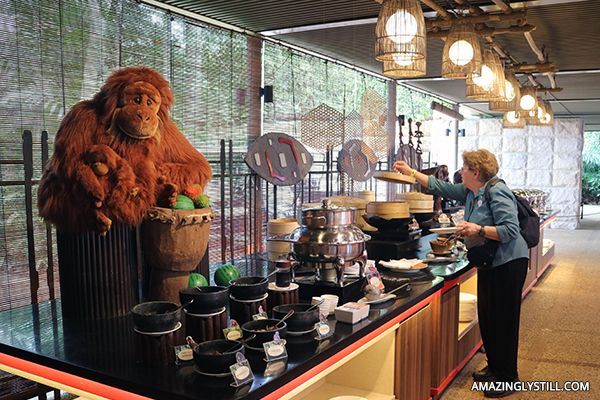 I fell in love with their chicken porridge and polished off three bowls of it. This was on top of everything else I ate. Haha! I was such a glutton that morning!
Between eating and waiting for me to get them more food, the children spotted a peahen and a squirrel. They were so intrigued by the free roaming animals that they kept asking me to snap a photo of them. I didn't manage to get the peahen, but here's the squirrel munching on some snacks.
But that's not the reason why we specially dined at Ah Meng Restaurant that morning. This was: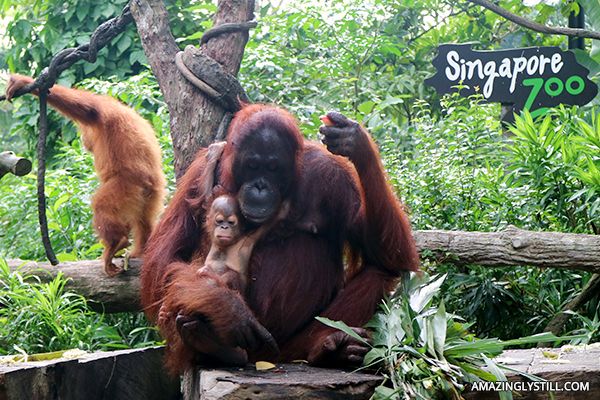 We got up close with the Orang Utans and what a treat it was for all of us!
And because photographers from PictureAir were present, we got carried away with the photo-taking. We didn't hog the place, mind you. We simply queued up multiple times for the many shots. Haha!
So you know what that means, right?
BOMBARDMENT OF PHOTOS AHEAD!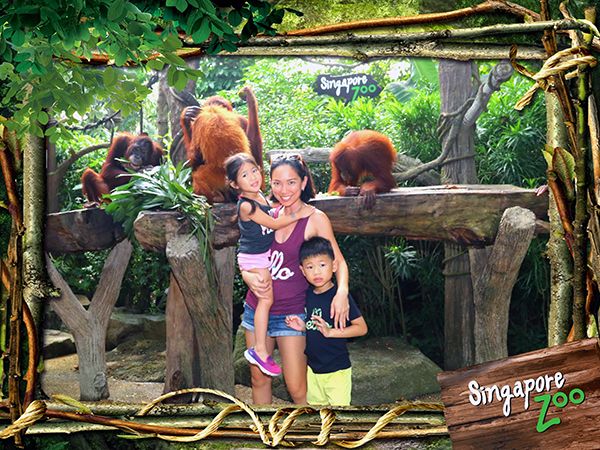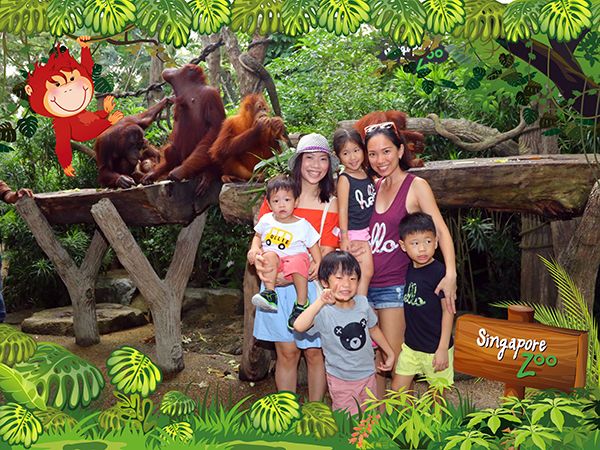 After the Orang Utans went back to their homes, we continued with our breakfast till the buffet ended at 10.30am. Haha! We most definitely ate our monies worth because we were so full for the rest of the day!
It was a great start to our day at the zoo for sure!
* * *
Check out what Lin Ying has to say about her own Jungle Breakfast with Wildlife experience here. She went in July!
* * *

Singapore Zoo
80 Mandai Lake Road Singapore 729826

🕣 8.30am – 6pm daily
(Last ticket sale at 5.30pm)
☎ +65 6269 3411
🌏 www.zoo.com.sg

Jungle Breakfast with Wildlife
Ah Meng Restaurant
🕘 9am to 10.30am
(The Orang Utans will make an appearance from 9.30am to 10am)
💰 $35.00 (Adult), $25.00 (Child, 6-12 years old)
Free for children under 6 years old

Admission tickets to the zoo is required to participate in this activity.