Media Invite
We have completed our very first Safari Zoo Run, which also happens to be our family's first run of the year!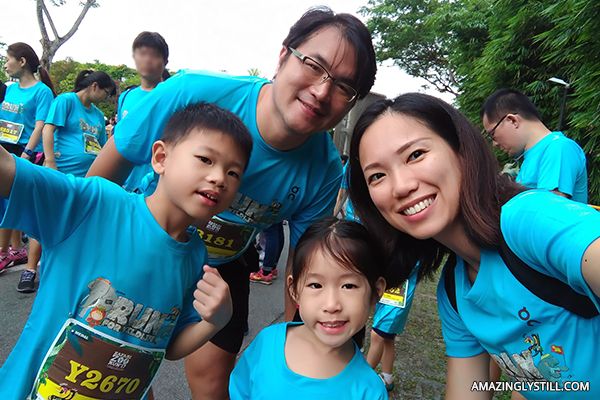 Seeing how we had been visiting the zoo regularly before 2016 ended, only to stop abruptly once the new year began, the children were excited to return once again after a long break.
The days leading up to the run, Nakayla was declaring to everyone who would listen that she was running for Team Chawang, the Sumatran Elephants. While Blake follows up with, "I'm running for Sunny!"
In case you have yet to catch up, Safari Zoo Run 2017's theme is 'Run for Wildlife', which focuses on raising awareness for wildlife conservation. Each animal icon team supports an endangered wildlife species that the zoo would like to raise awareness for, and participants choose their animal icons in the hopes of garnering more funding support for their teams.
The four animal icons selected for this year's run are Ah Meng the Orangutan (Singapore Zoo), Sunny the Hornbill (Jurong Bird Park), Chawang the Sumatran Elephant (Night Safari) and Canola the Manatee (River Safari). Together, these four animal icons helped spread the conservation message at Safari Zoo Run 2017. And for our family, we each joined one team – the husband (Team Canola), Blake (Team Sunny), Nakayla (Team Chawang) and myself (Team Ah Meng).
This year, participants also played a more active role in deciding the division of funds for conservation when they chose a team to join. Each team champions a species of critically endangered animal. Running on a new points system, participants were given opportunities to collect points for their team. The team with the highest points would then lead to a larger allocation of funds for the conservation of the championed endangered species.
So exciting, right? It's no longer just a stroll around the park!
In all the excitement was a scene familiar to us. Except that Pikachu. Haha!
The queue to get into the race pen and to get to the starting line was a long and arduous wait. We had to listen to about 4-5 flag-offs (maybe more!) before we were finally on our way, except we couldn't really run because in the final flag-off there were still way too many of us. I guess this is what happens when the particular race is popular with everyone from all ages and walks of life.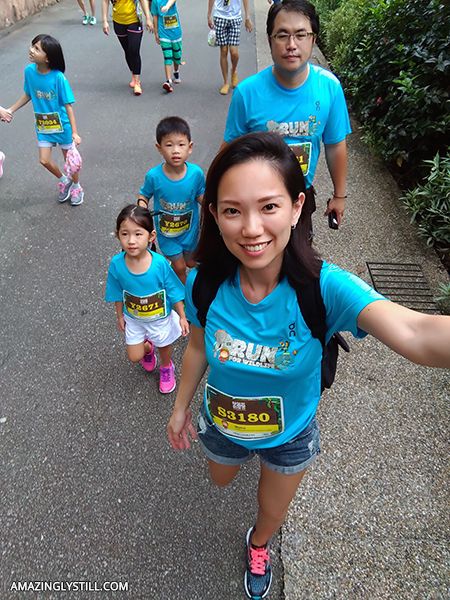 Once we entered the zoo, people started to disperse. A good majority of everyone broke away from the route to stop and take photos of the animals. Blake and Nakayla stopped a couple of times along the way as well, recalling all the fun things we had done before.

Nakayla all comfy and stylish in her Skechers Girls, and happy to see a standee of Chawang 😀
Despite the numerous visits to the zoo, I don't think we have ever walked the whole of the zoo at one go before. We took the trams whenever we can, because why not? It's a perk Friends of Wildlife have! Haha!

Blake in his unqiue knit fabric Skechers shoes, looking all cool with Sunny's standee!

The children totally photo-bombing the sweet moment between Ah Meng and me.
And check out my colour matching Skechers GoRun Ride 5!
By the way, I just found out that runners representing Team Ah Meng came out tops (WOOHOO! MY TEAM!), garnering additional funding support of $40,000 for Sumatran orangutan projects. Wildlife Reserves Singapore will also commit an additional $20,000 each to regional projects supporting helmeted hornbills, Southeast Asian freshwater turtles and Sumatran elephants — all critically endangered wildlife, which were represented by Team Sunny, Team Canola and Team Chawang.
Oh me, oh my! I totally forgot to take a photo of the hubs with his team's manatee standee, Canola! How careless of me to not notice it until we got home. Sigh.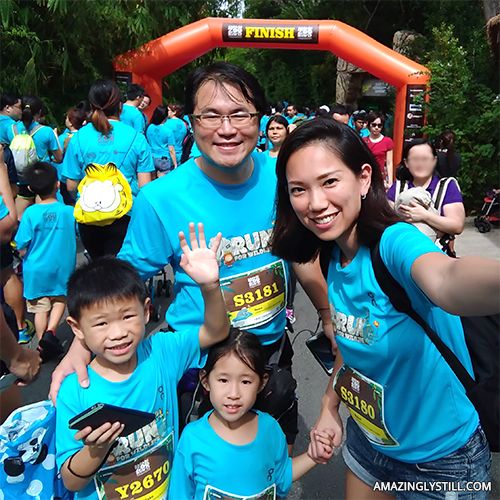 Here's one before we finished the race.
And one of Sean with his race bib. Can you see Canola?
While we have never clocked the distance we walked around the zoo in our previous visits, 2.5km don't seem too far of a distance for the children. They were going strong and were left wanting more! Either the distance is relatively short to them, or their Skechers made it a breeze to walk and run such distances. Either way, maybe we should've opted for the 5.5km walk, then we would've been able to see some parts of Night Safari in the day too!
Till the next one, I guess 🙂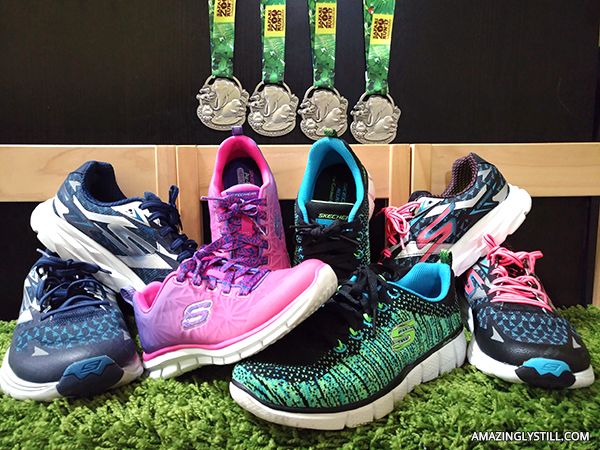 Our Safari Zoo Run medals and shoes that kept us comfy throughout!
P.s. The hubs and I wore the trusted model GoRun Ride 5. Read our earlier review of it here.
Disclaimer: We were invited to the Safari Zoo Run. Skechers Singapore provided us with a new pair of Skechers each to make this run a truly comfortable one. No further compensation were received.