Just a couple more days to go before it's the June holidays! Woohoo! And yes, we're staying put in Singapore again. Haha!
Over the past couple of days, the children and I have been talking about places we want to visit and things we hope to do during the 4-week break. They vary from shows to sightseeing to hands-on activities! And because this is a 4-week long semester break, we'll be taking things slower as compared to the short week long term breaks, limiting to a maximum of 3 outings per week.
Note: This list is written in no particular order..
Butterfly Park & Insect Kingdom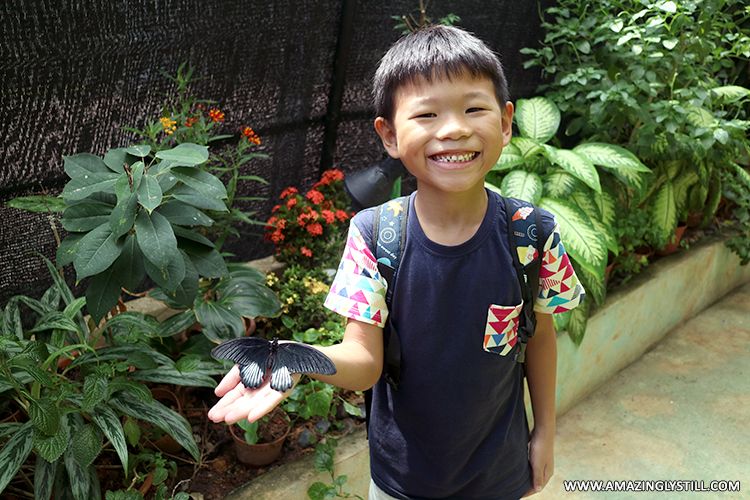 Ever since the children's first visit to Butterflies Up-Close at Science Centre Singapore last June, it sort of became a must visit for them at every school holiday. Blake is especially fond of the place, whilst it's a hit and miss with Nakayla, depending on her mood that day. This June holiday though, I've decided to face my fears of the creepy crawlies and bring them to Butterfly Park & Insect Kingdom at Sentosa!
Animal & Bird Encounters
I was browsing through Sentosa's list of attraction when I came across this particular activity. This is something that I'm sure the children will love. I showed them the website and their resounding "YES!", when asked if they want to go, was deafening.
Gardens by the Bay
The children's memberships are expiring in June, and I don't have any plans to renew them at the moment, so we're gonna go down for one last hurrah at the domes and OCBC Skywalk!
Rock Climbing at Clip 'n Climb
Another pass we have to finish up this school holiday! I had purchased the Saver's Pass (10 climbs) from one of our visits to Clip 'n Climb at the end of last year, and we still have a few climbs left to go before the 6-months validity is up.
Snow City
After failing to drop by Snow City over the last two school holidays, Blake is determined to make it there this June. It's been almost a year since our last visit, and given how hot the weather is during this time of the year, I'm pretty sure the children will welcome it with open arms! We might even drop by KidsSTOP after our play time at Snow City too!
Dragon Kiln Pottery Workshop
Chanced upon this workshop while I was browsing around KLOOK and showed it to Blake. He was interested in it at first, then started to have second thoughts about it. After a good night's sleep, he told me that he definitely wants to go for it. And so we will! It'll be a new experience for all of us!
Tabby McTat Live on Stage
In my continued effort to expose the children to a wide variety of shows – be it sitting at home watching TV, going to the cinemas or theatres – we'll be adding Tabby McTat Live on Stage to our list!
Peter & Blue's Forest Adventure
Speaking of variety, another genre to add on to our list would be ballet recitals. Whilst Nakayla had watched a ballet recital before, Blake has yet to (he's not into ballet like Nakayla).
Nakayla was left pretty confused by her very first experience because there weren't any dialog. Perhaps she was a little too young for it, so when I found out about Peter & Blue's Forest Adventure, something that's more suitable for her age, I bought the tickets – for Blake as well – without hesitation!
Incredibles 2
This has been like more than a decade worth of wait, but it's finally here! And in that 14 years worth of wait, I now have my own mini-mes to watch the movie with. That is if they want to. Haha! Nakayla has expressed interest while Blake is still undecided. Guess we'll only know if we're going to the cinemas when the movie is released!
Besides all of the things listed above, I have also set aside stay-home movie days, neighbourhood playgrounds and park days, and of course, the dreaded homework/revision days. As much as I hate homework and revision, I can't take the work part away completely or the children will have a hard time adjusting back to school when the holidays are over. I just hope it's all spaced out well enough for them!