It's been a while since we've visited Skyline Luge Sentosa, and for the first time, we all decided to take a leap of faith to let Blake have a go at driving the luge on his own.

December 2017, the last time Blake rode in tandem with us
He was well above the minimum age of 6 and height limit of 110cm, but we were still a little unsure if he'll be able manage it on his own. With the encouragement from the Skyline Luge team, and with them making sure he can operate the luge properly on his own, we went off, and he did it!
Blake went from being hesitant to absolute exhilaration in a matter of seconds and the adrenaline rush from all of it is clearly written on his face!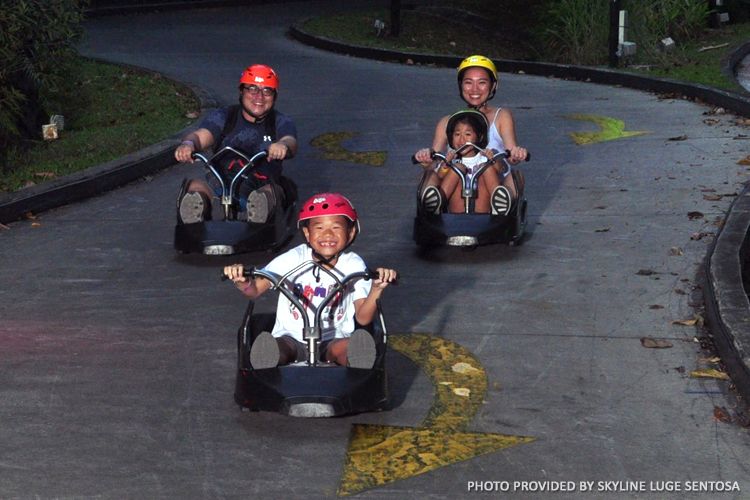 He was laughing and screaming the whole way down, while I was shouting after him to be careful, to slow down at turns, and telling Sean to keep up with him whenever he zooms out of my sight at turns… Clearly, you don't need weight to zoom that fast!
After seeing Blake ride on his own, Nakayla is determined to play catch up to go on her first solo ride too, which I reckon will be some time next year? Oh, my babies! You're both growing up too fast!
* * *
This precious memory of Blake's first solo luge ride was almost lost, but thanks to the team at Skyline Luge Sentosa, they managed to retrieve the photos. I'm forever grateful to them for everything – from our first family ride four years ago to being part of their 10th Anniversary to helping me when my computer died last year and everything else in between… They have been nothing but the best! And I believe that as long as they're operating, we will continue to support them come what may!
Disclaimer: We received complimentary tickets for this particular visit.